Along with the arrival of modern digital marketing methods, the use of Instagram and tools that aid in its improvement is on the rise. Webstagram is an Instagram viewer tool that isn't an Instagram growth service, but it can help you keep track of your own account or that of your competitors.
The Webstagram site and information on it may be confusing. We've written this post to assist you in understanding what Webstagram is and how to use it. Yet since one of our primary concerns is to assist you in expanding your online presence on Instagram, we would like to introduce you to an outstanding service called AiGrow.
This service includes a human-based staff, which will undoubtedly come in handy.
So stick around to learn more about Webstagram, and the most outstanding and most comprehensive alternative, AiSchedul, the best social media monitoring tool for Instagram.
What Is Webstagram
Based on their site's information, Webstagram is an Instagram web viewer. Webstagram is also an Instagram search account tool. You can analyze and track your Instagram account using this platform.
The platform will give you some statistical information when you put an IG username or a profile link in the Webstagram search section. This platform works as an Instagram monitoring tool and also allows you to compare your Instagram account with your competitors.
In order to acquire further information, you'll need to go to the socialauditor.io website and sign up for an account. These data are not very helpful when you don't have a team behind you to get advice from.
So, why not use AiGrow, which offers an incredible growth service along with a lot of features. Using Instagram growth services to get followers is worth it when using AiGrow.
Additionally, if you need a monitoring tool, AiSchedul works well for you. In this post, I will go over both services in further detail. So, keep reading.
How to Use Webstagram
Webstagram allows users to view Instagram accounts without having to use their mobile devices. Watermarked Instagram sharing is also available on Webstagram, which is a helpful way to repost photographs while keeping your company's brand displayed.
Additionally, you can manage your likes and adjust a few sections of your account. You can also use it as a browser for Instagram. But, using this platform is really confusing. There are several Instagram monitoring tools like AiSchedul that work better.
As a demo to learn more about what this platform has to offer, you can click on a renowned Instagram account like NASA or Lady Gaga that is on their site. You can also use the Webstagram search area to look up any other Instagram account to evaluate it; for example, you may look up Ariana Grande in the Webstagram search section.
However, as previously stated, the data is not comprehensive and does not provide a clear picture. It is preferable to seek a more practical alternative.
How to Register on Webstagram
You need to enter the essential information and click the submit button to register for Webstagram. However, the signup process has been criticized by several users as being difficult or not working at all.
The captcha code does not show no matter how many times you try, as can be seen in the screenshot above. You may avoid these issues by using a service like AiSchedul, which offers a good website and service.
Webstagram Features
Webstagram capabilities are limited in number; however, we have collected all of the functions that this site offers.
Social Media Analytics Tool
You can keep track of the development of your IG profiles. This platform provides you with statistics and figures based on the activity on your Instagram account and the progress it has made.
Growth Statistics
Instagram account tracking may provide you with day-to-day information to help you increase your IG followers, following, engagement rate, and other essential metrics. In this way, you can build a future outlook based on the statistics given by this.
Email Reports
They'll also provide you with email alerts about the status of your IG accounts. And providing you with access to all daily metrics as well as the ability to generate statistics for each account in their database.
On their website, they offer PDF exports of the generated report as well as a comparison tool.
Unfortunately, we've discovered customer reviews that complain about the platform's inefficiency, which we'll examine in the next section.
Webstagram Reviews
There was a site with the address Webstagram.com. This site is now suspended and isn't accessible anymore. However, Webstagram's service is not well-received. According to the reviews we've found, one of them said "I cannot post fresh updates, and the adverts down the edges of the screen are annoying,". Another customer said in a Webstagram review, "Overall, it's just an Instagram browser viewer."
We found no reviews for the website webstagram.org. However, as we saw in this piece, it isn't worth using if the service isn't comprehensive and integrated.
now, by analyzing different growth service reviews, as we've provided before, you can make a better decision.
Also available on our website are a variety of helpful resources for business success.
In the following, We'll go through two services you can implement to monitor your Instagram and grow it organically.
AiGrow the Best Webstagram Alternative
As you can see, Webstagram is a simple tool that just analyzes your Instagram account. This service doesn't help you to grow your business on Instagram.
Alternatively, AiGrow is a service that gives you all these features in addition to a strong team, including Instagram experts that are behind you 24/7.
AiGrow Features
Using AiGrow is like having a never-ending Instagram growth service at your disposal. The broad features of AiGrow will suit your requirements. Some of AiGrow's notable features are as follows:
Manage Your Instagram Account Completely
AiGrow is a manual follower and engagement growth service that combines powerful AI targeting and an expert team to manage your Instagram growth fully. This is to deliver real people that will engage with your page.
Schedule Posts for the Feed, Story, and IGTV
Smart IGTV, story, and feed scheduling help you to optimize engagement with little effort. There is also a desktop-enabled, full-featured editor included. As a bonus, you can schedule and post to numerous accounts at the same time.
Send DMs and Response via Email
DM to Email lets you send and receive direct messages from your email client. You may mass DM your target market on Instagram. You will never miss a DM as a chance to communicate with your fans. With the DM Inbox, you can manage and organize your DMs from your desktop.
All in One Bio-link
Change your Instagram bio link into a multi-link page. Add as many buttons, contact forms, discount request forms, and feed posts as you want. This way, your posts get more views, and URL bio links will get more clicks, leads, and sales.
These features are simply a sampling of AiGrow's features. Additionally, you can benefit from services such as
YouTube video sharing on Instagram,
Mass Instagram unfollowing,
Content reposting,
Hashtag monitoring,
DM to email and vice versa,
Contest and giveaway picker,
Content calendar,
Bulk direct massaging,
Competitor analysis report,
AiGrow also doesn't save any information regarding your Instagram login. It's built to meet the most demanding security requirements and keep your most private information safe from prying eyes.
For reposts and awards, AiGrow is the greatest social monitoring tool. AiGrow also provides content recommendations, hashtag tracking, and reward post automation. There's also a social calendar with major dates and hashtags.
The report mentions feature will inform you when you are tagged or mentioned. You may organize contests with Post & Reward without keeping track of tags and activity. This is while Webstagram does not provide such a full solution.
So, Give AiGrow a try now and get guaranteed results.
AiGrow Packages
AiGrow offers a variety of customizable packages to suit your needs. Based on your needs and financial constraints, you can personalize your plan.
Among the many features included with their "pro managed weekly" plan are tools for scheduling posts for Instagram's feed, IGTV, stories, and giveaways.
The pro-managed quarterly plan includes a dedicated account manager, AI hashtag research, tournaments, and more.
This method gets more than 300 new followers a month through manual efforts. Postmate 3-month plan, which costs $474 per month, offers greater advantages and faster growth.
If you're an Instagram professional user, AiGrow also offers "mass unfollow" and "bulk erase pro" options. It's for anyone with a huge number of followers or posts who wants to get rid of them all at once.
We have a terrific service that will be introduced in the next section for users who need a professional Instagram monitoring tool.
AiSchedul; The Best Monitoring Tool for Instagram
Monitoring social media might assist you in gathering information about your company. Additionally, if a company wants to grow its reach on social media, it must concentrate on persuading its audience to interact with the company's account.
You can monitor your audience, collect useful and precise data, and finally determine what's best for your industry on social media by using the correct social monitoring tools.
Your audience may unfollow you if you do not respond to their expectations on social media. As a result, if you're new to social media, keep an eye on Hashtags and Mentions.
There's no need to be concerned; AiSchedul is here to assist you. Each day, you can use this to discover relevant and fascinating content and repost it. You may also keep track of #hashtags and @accounts.
Additionally, you can set up daily or weekly email alerts according to your preferences. It's also possible to save content for later use! So, don't waste any more time and sign up for AiSchedul.
AiSchedul Features
Instagram scheduling and monitoring app, AiSchedule is one of the most valuable services for Instagram. You'll have plenty of time to work on original ideas when utilizing this service. As a result of using this service, you'll be able to keep track of everything you need to.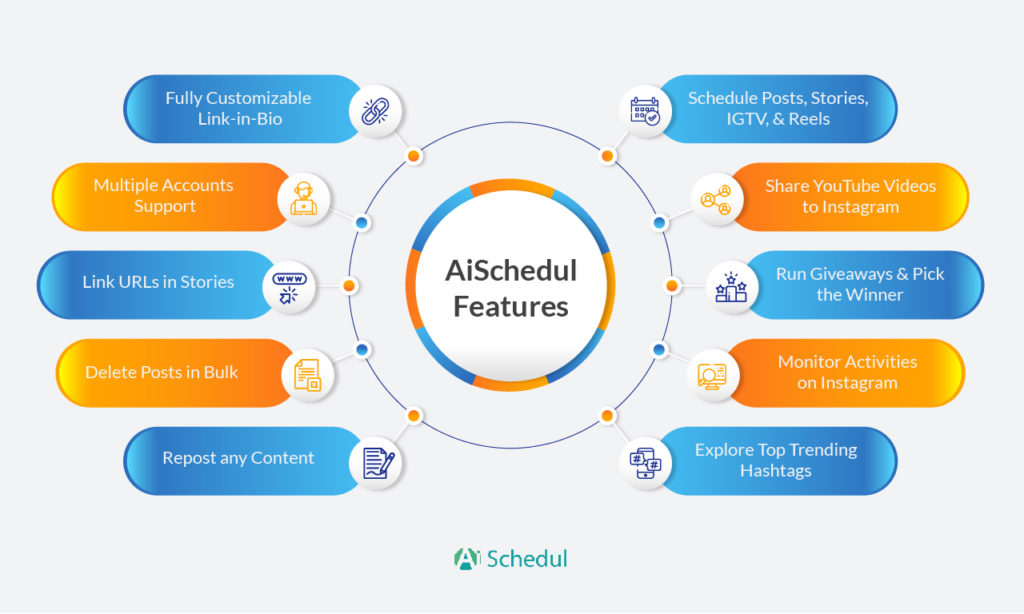 AiSchedul features include:
Instagram Hashtag monitoring
Contest builder and giveaway picker
Automated feed & story scheduling with grid visualization
Account monitoring
Repost feed & stories
Mention
Saved media
Scheduling posts and stories
MyURL
Bulk post deletion
They provide a free trial so that you can see how well the service works.
Additionally, using the Instagram link-in-bio tool, you may connect all of your other social media profiles and your website to your Instagram bio.
AiSchedul is the most comprehensive Instagram post scheduling and marketing toolkit available, with plans starting at just $9 per month.
So, what are you waiting for? Register for it here.
AiSchedul VS. Webstagram
AiSchedul is an Instagram monitoring tool with several features to help brands grow and gain more loyal customers. Their customer service staff, which comprises human-powered Instagram experts, will provide you with the best advice possible.
Webstagram, on the other hand, is a simple Instagram viewer that offers little to assist you in expanding your IG account or raising awareness for your brand. Differences have been highlighted for your convenience in the table below.
| Features | Webstagram | AiSchedul |
| --- | --- | --- |
| Contest builder and giveaway picker | ❌ | ✅ |
| Hashtag generator tool | ❌ | ✅ |
| Advanced filtering & targeting options | ❌ | ✅ |
| Instagram analytics & social monitoring tools | ✅ | ✅ |
| Managed growth plans | ❌ | ✅ |
| Support in developing your Instagram content strategy | ❌ | ✅ |
| 24/7 Support | ❌ | ✅ |
| No password required | ✅ | ✅ |
| Content design template (feed/stories) | ❌ | ✅ |
| Convert video from Youtube or IGTV | ❌ | ✅ |
| Automated feed & story scheduling with grid visualization | ❌ | ✅ |
| Scheduling Tool | ❌ | ✅ |
| Multiple links in bio | ❌ | ✅ |
| Instagram post deleter tool | ❌ | ✅ |
| Instagram unfollow tool | ❌ | ✅ |
| Mass DM marketing | ❌ | ✅ |
| Organic growth method. No bots, spam, or fake followers | ❌ | ✅ |
| Safety | ✅ | ✅ |
FAQs on Webstagram
Webstagram may generate a slew of inquiries. We answered a couple of questions that might help you.
Is Webstagram Safe?
We found no evidence to support the assertion that the facility was dangerous. Personal information isn't required. However, the information they offer isn't very useful compared to other monitoring tools.
Are There Other Sites Like Webstagram?
There are a lot of IG viewer sites that also offer Instagram monitoring, like picuki.com, webstagram.netlify.app, inflact.com, etc. But no one of them is as efficient as AiSchedul.
Final Words on Webstagram
Every marketer and business owner needs to monitor, schedule Instagram posts, and build their online business in order to succeed. So pick wisely, and you'll be the one who reaps the benefits. Webstagram does not provide a comprehensive picture of your circumstances.
As a result, the Webstagram is an ineffective tool. So, it would be best to consider using another program that will assist you in all aspects of your social media presence. AiSchedul is a great way to do Instagram listening and hashtag monitoring; don't miss it!