"DM for business" is a brand new interaction style, providing brands and industries the opportunity to reach out to people in new ways!
So why not use this feature more in our Instagram marketing attempts?
Instagram Direct Message marketing, or Insta DM marketing, is a strategy that centers on utilizing Instagram DM features to improve ties and business initiatives privately. 
This article will review the art of direct messaging and how brands can utilize the followers' "need to connect" for their business!
So, stay tuned!
Posts that you might Like:
9 Creative Ways to Use Instagram DM for Business
Business DM can do an excellent job for your brand. The most interesting point is it can provide results that are difficult to recreate by other means. Despite the power of DM for business, most Instagram marketers neglect the "instant result" direct messaging brings! Which is the key to opening its many benefits.
Definitely, an "Instant" Way to Grow Your brand is using Instagram DM for business.
In the following, you are going to learn how to use the Instagram direct message for business.
So, keep in touch!
1- Generating Network Marketing Leads with Instagram DMs
Generating Network Marketing Leads with Instagram DMs for business is vital.
In brief, it is essential to pay attention to followers and consumers who spend time writing DM to express their interest in your brand. Actually, these can be a bunch of your best leads for future purchases. That DM conversation might lead you to a great business down the road. 
2- Cash in on DM templates in DMs for Business
To increase the ratio of Instagram popularity, it is best to make most of the DM templates.
You can download Instagram Direct Message Templates for your own business here.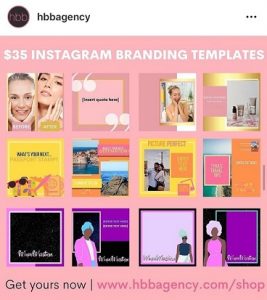 3- Interact with Your New Followers Utilizing DM for Business
To interact with your new followers, you can send Welcome Messages and your catalogs to them. However, as a business marketer, you might be too busy to manually send business DMs to your new followers. 
Unfortunately, it is impossible to send business direct messages automatically on the Instagram official app. 
But, don't worry, a third-party app comes to help you:
How to DM New Followers Automatically
AiGrow is a complete Instagram growth service that helps you manage all the Instagram marketing activities most smoothly. 
You can quickly login to your account in this app and start sending Direct Messages to your followers. Moreover, you can create and send automated Instagram DM using this app.
It is an excellent way to DM New Followers Automatically instead of manually sending them DM Messages.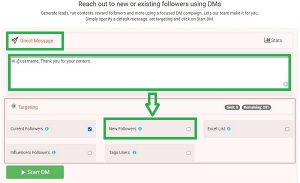 4- Expand Your Email Marketing List Using DMs for Business
Generating email leads on Instagram is one of the best network marketing ideas to grow your business on Instagram.
In this case, you can publish your bio link by DM to all Instagram followers and also collect their email. 
5- Offer Popular DMs Coupon and Promotion Codes
Who doesn't relish delicate treatment?
So why not provide that treatment to your loyal customers and top followers on Instagram? Instagram DM Promotions are easy content to share with some of your most engaged followers and reach new clients!
The key to promoting the DM is to promote your business by the value you offer, through the personal impact you give by talking to followers directly, and through the captivating content, you share.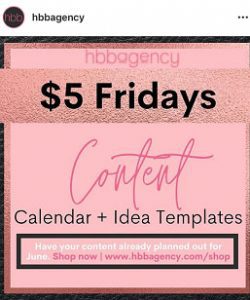 Discover the newest and best DMs coupon codes for giveaways and discounts, Instagram DM promotion codes, and discounts for the best savings. In this case, to use a promo code, copy and enter the coupon code when shopping. Then, ask them to inform you if the coupon worked successfully by voting and polls. That is, you can provide the best shopping experience for your customers. 
Sending DMs coupon codes to one by one of your customers is really time-consuming. On the other hand, the Instagram official app does not support you to send bulk DMs. Moreover, there is a limitation to the number of messages that you can send daily on Instagram.
But, your Hero is here to help you send bulk DMs!
How to Send Bulk DM on Instagram Easily
Mass DM on Instagram is a professional Instagram DM marketing method for brands that want to interact with many followers. The AiGrow marketing tool provides you to mass DM on Instagram and send bulk messages.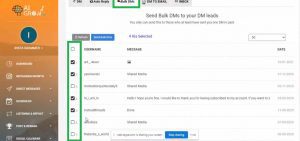 Relate Article: How to use CTA (call to action) Buttons on Instagram?
6- Build Instagram DM Groups 
DMs are a swift and straightforward method to reach out to groups you might desire to collaborate with in the future. Also, Instagram DM groups are less formal than email or impersonal contact submission forms. You can establish DM groups with Influencers to increase engagements and build brand awareness campaigns.
7- Share User-Generated Content (UGC) DMs for Business
Business DMs are an excellent way to ask for user-generated content and distribute it to your fans. This is a perfect way to increase your web conversion. 
For example: If you notice someone's post using your product or service, you can send a DM asking for permission to repost the content. (Ensure taking a screenshot of the permission just in case the message disappears.)
8- Solve Customer's Problems Using
DMs for Business
Most customers prefer direct and live customer service options, such as Instagram DMs. Instant messaging provides you the ability to respond and work out problems instantly. Instagram bots and automation can help you present quick-fixes for general and common issues. However, the personal contact that comes from real human communications can't be replaced by a bot.
By inspiring complainers to DM and reaching out to people who send DM to you about their complaints, you can prevent the damage while revealing all followers. Actually, this is how you take customer satisfaction seriously. Moreover, taking a complaint inside a private conversation usually decreases disappointment, makes the customer feel understood, and limits potential offshoot. 
Related Article: How to Get 1K Followers on Instagram in 5 Minutes?
Clients and followers who take their time to send you a message will probably be your most loyal followers even when they have a complaint. Therefore, treat them like they're one of your best customers.
9- Make It Easier for Your Customers to Ask You Questions
You can set the three frequently asked questions that most potential customers ask you in your business DMs. Therefore, whenever they DM you, these FAQs will pop up. Then, the sender can tap on them and send the questions to you. 
According to Instagram updates, all Instagram users who have a business account can send instant messages. Actually, it helps you send a quick reply to your followers, not an auto-reply. On the other hand, you can reply to them instantly using AiGrow instant reply.
It is an awesome feature that this app lets you interact with your followers more efficiently and build brand trust.
How to Reply to DMs Automatically
AiGrow will provide you to simply send an auto-reply to your DMs not only from your business account but from any Instagram account you have. The great news is that you can send an auto-reply to your business DMs even if you are not connected to the internet.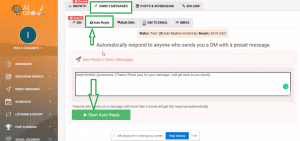 Related Article: Buy 5000 Instagram Followers $5 or Get for free?
FAQs About Instagram DM for Business
When talking about Instagram DM for Business, some questions might come to your mind. Here are the answers for the most frequent ones:
1.What Are Instagram Direct Message Suggestions?
You might see some contacts listed as "Suggested" below your current DM conversations. These DM suggestions are based on various factors:
Followers who you already follow back, and Instagram encourages you to communicate. 

Your neighborhood; if you've activated

location services

, 

People you know; if you've given Instagram access to your Contacts. 

Profiles you've visited, despite whether you followed them.
If you want to stop seeing profiles in suggestions, you can block that user. Also, this will prevent them from interacting with you on the platform entirely.
2.Why My Instagram DM Is not working?
If you are having a DM problem on Instagram and your Instagram direct message is not working 
Check your internet connection

check if the target person disappears from your followers' list or not. Because some Instagramers have adjusted their profile settings to receive DMs from the people they follow.

Restart your application.

Logout from your account and sign in again.

Still, if it does not recover, remove, and reinstall the Instagram official app.

If your smartphone's memory is full, it may not accept new data. So, this might lead to sending and receiving DM problems.

Finally, try sending a DM with your cellular connection instead of your WiFi connection.
Related Article: Instagram Not Posting; How To Fix It?
3.How to Prevent the Instagram DM Problem?
Sometimes, the settings of the smartphones you use may prevent you from sending DMs. AiGrow's most potent Instagram management tool will support you to avoid any cause of DM problems.
Final Words on 9 Ways Brands Can Use Instagram DM For Business
Managing a brand or business account on Instagram needs precise plans and crafts. 
Now, you have practiced all the ins and outs of DMing for business. Then, it's time to start communicating with followers and potential consumers. The best path is to start reaching out to people and observing the great instant results you can mindfully get from DMing.