It's been a while that you haven't seen your friends, and you couldn't find them by their names on Instagram !? Or craving for a pizza and can't wait too long for grabbing a bite? Well, take your mobile phone and look for them on Instagram search location! That is, you may ask how to find someone on Instagram by location? It's pretty easy. 
Instagram has got different searching features built into the platform, and one of them is Instagram's search location. Therefore, this is great to know how to find people near you on Instagram. On the other hand, if you have got a date tonight and have no extra time to go so far, the best idea is to find a restaurant near you, and an Instagram search location comes to help you find the best place for your special night.
This article will help you find someone on Instagram by location. Let's dive in.
You may like:
Why You Need to Find Someone on Instagram by Location
As mentioned above, you might look for a restaurant near you or a friend that you only know their cities or streets. But if you are a freelance Instagram marketer or have a local business and want to find new followers and clients, it would be best to use Instagram search location and know how to find someone on Instagram by location!
Indeed, using Instagram search location, you can quickly build your brand on Instagram, grow your followers to help your business, and make big bucks out of it.
Knowing how to find people near you on Instagram opens the new gates to expand your business around you.
Keep Reading: Instagram Suggestions: Use it to Grow or Turn it Off.
How to Make People Find You Using Geotags
Geotagging your location is an excellent way to drive new audiences and generate traffic to your account. Basically, once you take a photo and post it on Instagram, it will consider your smartphone's place as your location. However, if you turn off your location or tag a place as your current location, Instagram considers it. 
Therefore, by adding location stickers to your posts and stories, Instagrammers can see your posts when searching your locations.
In the following, there are some location stickers ideas:
Tag your location 

Use Events and openings locations

Tag your username in places photos

Tag location in

contests and giveaways

Make most of the Location-based Hashtags
How to Find Someone on Instagram by Location
Instagram search location section automatically provides a list of possible locations around you. Therefore, to find someone on Instagram by location, you can choose one of the suggested locations or type in any other location of your choice.
When you start typing, Instagram will show you a new list of locations with the same or a similar name, as well as other popular locations nearby.
 Basically, for performing Instagram search Location, use the typical search feature:
Open Instagram app

Tap on

at the bottom of the screen. The search console will come up.

The default option is the "Top" view. Basically, that is a catch-all category for all the results, including hashtags, people, and places.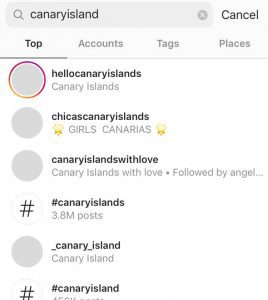 For instance, searching a place like "Canaryislands," you'll notice the hashtag #Canaryisland, the various repetitions users have used in the location field, and the accounts with Canaryislands in the name. 
So it's the most common way, although the results may be relevant or irrelevant. Therefore, if you only need to see the locations and find someone, tap on the "places." As a result, you will see the location-based posts.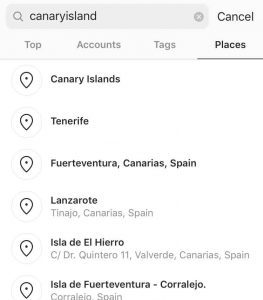 Then, if you tap on each one, you will notice two sections:
Top: The most followed and top accounts relating to "Canaryislands."

Top Locations
Recent: The most recent accounts tagging "Canaryislands."

Recent Posts
How to See Photos on Instagram with the Same Location?
To see photos with the same location, for Android or iPhone:
Tap on

at the bottom 

Enter the location name in the search console.

Location ID

Tap on "Places" to see the locations that match your search.

Location ID

Choose the place that you want to see photos for.
In case you need more help on Instagram, click here.
How to Find Someone on Instagram by Location ID?
Actually, location ID is a number that Instagram assigns to the locations when users register them on the platform. Indeed, to find someone on Instagram by location ID, you must use a web browser to log in to Instagram and go through the following steps:
Go to

instagram.com

Search the location you want

Go to the location section and notice the Location ID in the browser
As a local marketer, there are many people and locations you need to search daily. Of course, it is time-consuming to type and search locations every time. However, there is a much better and easier way to perform that. 
So, stay tuned!
How to Find Someone on Instagram by Location Easily?
AiGrow, an all-in-one Instagram management service, helps you find people near you on Instagram more efficiently.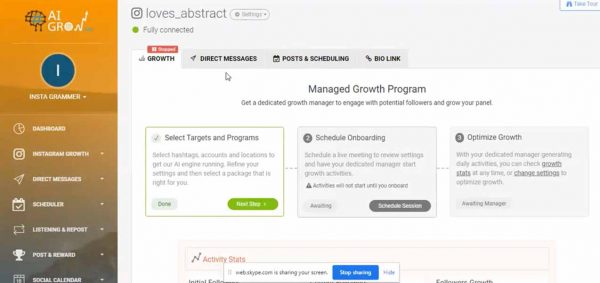 This app will let you save locations and geotags you need and search them whenever you want.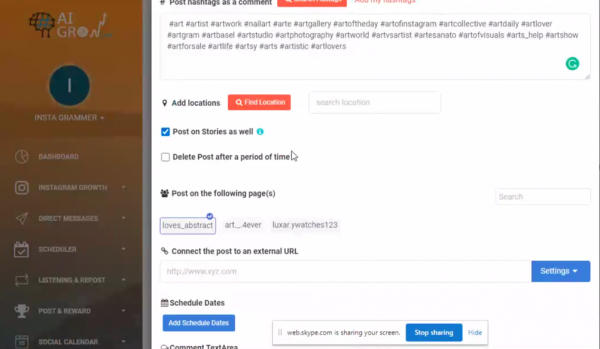 Moreover, you can add up to 80 accounts to your dashboard and post to them simultaneously. 
Above all, using AiGrow and choosing locations, you can stay in touch with local influencers, make Instagram DM groups, and get more local followers.
So, don't hesitate and sign up for free and take most of the AiGrow features like:
Final Words 
Instagram search location and hashtags are fascinating features to find people near you and help people to discover you. Also, finding local followers will strengthen your brand reach. Therefore, you can drive engagement, grow followers organically, and generate more leads.