In the past few years, especially during the COVID lockdown, Instagram turned out to be one of the best platforms to hit your marketing goals. According to Hootsuite, Instagram users visit at least one business account per day, and Instagram business accounts, see an average of 1.46% followers growth per month. In this regard, if you find a way to hit the average growth by getting unlimited followers on Instagram, you'll definitely win the marketplace and appear in the list of top 10 Instagram business accounts. But how is this accessible? 
In the following, I'll guide you on finding a proven way to grow on Instagram continuously and get unlimited Instagram followers for free, or at least at an affordable price. But first, let's see which one is more important: the number of followers, or the average engagement you receive? So, stick around. 
The Number of Followers is Important, But Not More Than the Engagement Rate!
Most Instagram marketers, even the professional ones, usually think that the number of followers is the only metric they must care about. But this is nothing but a misconception. That's right, you need followers to increase your Instagram impressions and reach, or get more likes and views on Instagram. However, having thousands of followers does not necessarily mean thousands of likes, views, and in short, more Instagram engagement rate. 
Unluckily, sometimes users forget about this fact and this is why they prefer buying an account with 100K followers or use Instagram bots to get fake followers just in order to increase their followers to following ratio. 
With this in mind, is it ok to get unlimited followers on Instagram? Well, the average engagement rate on Instagram is 4.7%. So, Yes! If you get unlimited Instagram followers that actively engage with your posts and stories and help you keep your engagement rate more than this amount, there's no need to worry about anything! But how to get an unlimited number of real and active followers on Instagram? Keep reading!
How to Get Unlimited Followers on Instagram? 
To grow on Instagram continuously and keep attracting new followers every single day, you have to follow some specific tips: 
Run different marketing campaigns frequently, 

Remove your ghost and in-active Instagram followers to boost your engagement rate, 

Keep in touch with your followers and improve your reputation,
And other strategies that I'm sure you know. So, you can gain followers using all these tips at a constant pace. But if you are looking for an instant way of getting unlimited followers on Instagram, try using a management service like AiGrow.
Unquestionably, with the amount of workflow you have while managing a business, it's hard to do your best to gain Instagram followers organically. However, providing you with the opportunity to let an Instagram expert keep track of your Instagram activities, AiGrow enables you to manage your Instagram in an appropriate way. 
Using this package of tools and services, you are able to: 
And much more than this.
But let's focus on its growth service for now. For this, let's take a look at their plans and packages: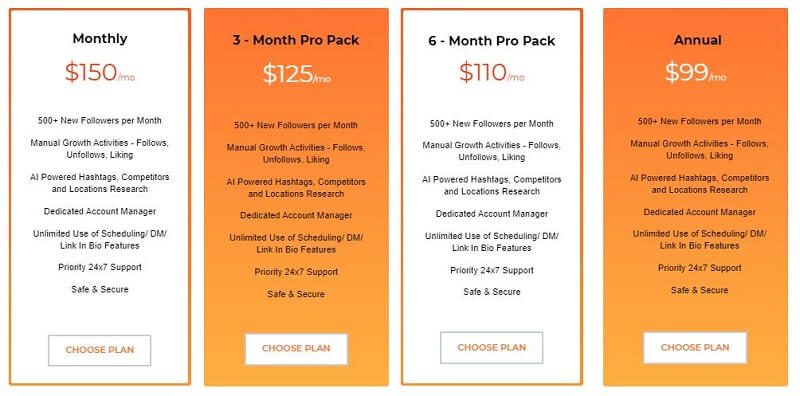 Using each of these plans, you'll receive 500+ new followers per month. This means that you can have 6000+ followers after a year and this really great! But wait! The good news is that all the followers you receive have been attracted manually. Your Instagram account manager attracts your target followers using proven strategies. Hence, all the followers you gain have chosen you and they'll engage with your content continuously. So, sign up for free right now and give it a try!
How to Get Followers for Unlimited Instagram Accounts?
Instagram marketers usually run multiple accounts for a couple of reasons. For instance, this way they: 
Divide their products into separate categories and target more specific followers, 

Turn followers into customers

much easier, 

And increase the odds of being seen by boosting the visibility. 
This is beneficial in numerous ways, but it can also be disadvantageous by adding to the workload, taking more time, etc. But there's no need to worry! AiGrow has a great solution for this as well. 
Luckily, using this management service, you'll be able to add up to 80 accounts to your dashboard and start managing multiple accounts all at once. This feature enables you to: 
Schedule Instagram posts and stories and share them on multiple accounts simultaneously, 

Send DMs to all your followers on different accounts, 

Connect all your DM inboxes to your email and manage them without switching accounts, 
And more. Also, you will get unlimited followers on Instagram, and for the unlimited number of accounts you have! Can't believe it? Sign up for free, get 5 days of growth for $5, and try it yourself!
Also, check the following video to see how it helps you get unlimited likes on Instagram: 
Bottom Line
To wrap it up, it'd be amazing if you can get unlimited followers on Instagram, but not if your followers remain inactive and spammy. Read the article meticulously to find the best and the most economic way of getting continuous followers on Instagram. Also, feel free to leave us a comment if you have any questions.