Many people seek the best TikTok songs that go viral on this platform. Sometimes, these pieces of music become a trend on TikTok. It may have happened to you when watching TikTok videos with a particular piece of background music, and you wanted to download or use that song to make your trendy videos on TikTok, but didn't know its name or singer.
We collected more than 20 viral hits of all time here that you may have been searching for. When you know these top TikTok songs, you can effortlessly find and use them to create new TikTok videos and gain more TikTok followers.
Besides, remember that if your video goes viral, you can remove the TikTok watermark and share it on other platforms. That is, by knowing trending TikTok songs and using them in your videos, you can create engaging content. And by connecting your social media accounts, you can ensure success across all platforms!
So, let's dive in!
What Are Top and Trending TikTok Songs
Suppose you are a TikTok fan and follow trends and viral videos on TikTok. In that case, you must have faced videos with songs from different clips made by famous TikTokers, celebrities, and ordinary people.
Sometimes TikTok trends just appear by the latest music revealed, such as the trend that began with the song Deja Vu by Olivia Rodrigo. Furthermore, sometimes old songs from the last decades revive on this app.
Whether you want to use these songs as a TikTok Marketer or just download and listen, we have gathered a list of top TikTok songs names for you. It will help you find the best and hottest music to make your video on TikTok and grow your brand.
Famous TikTok Songs in a Glance
New songs are added to the app Every day, but famous TikTok songs help videos reach more people and go viral. In this part, we named the most popular songs on TikTok.
Firstly, let's look at the 10 famous TikTok song's names according to Radiox music news.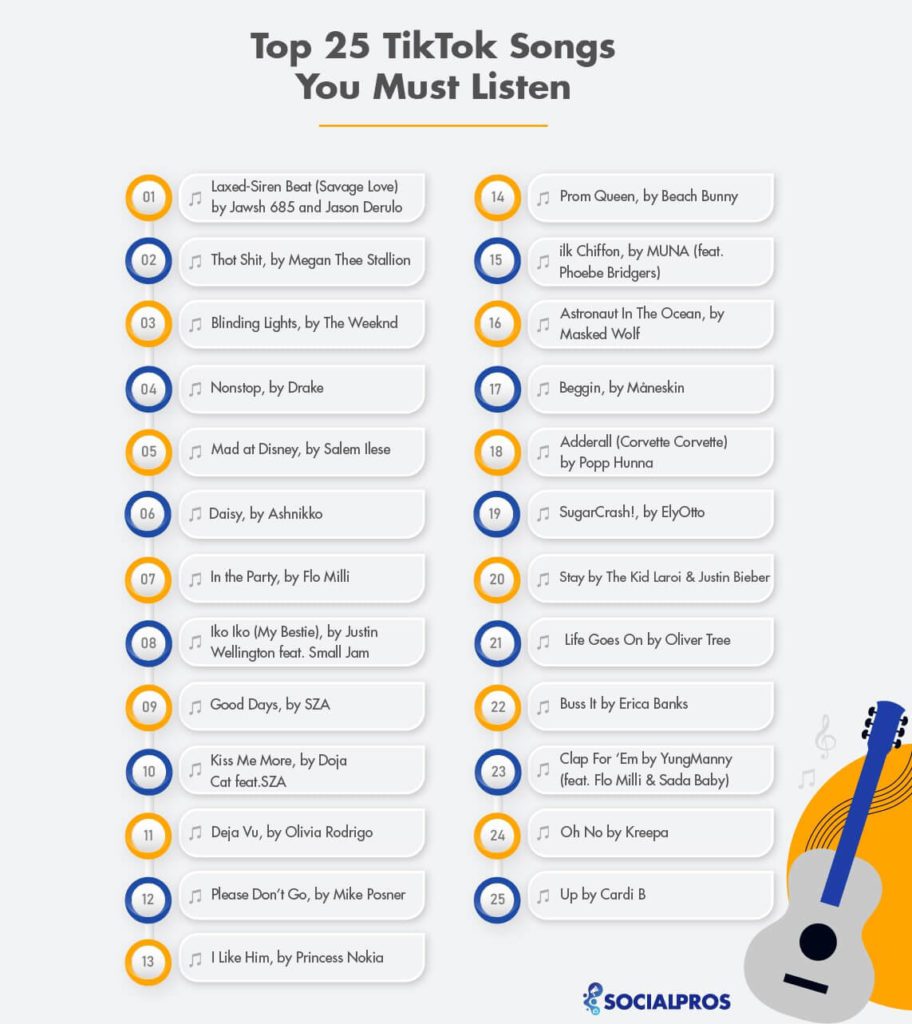 Top Viral TikTok Songs
According to the report, 10 most popular TikTok songs globally are in the list below:
1- ♬ Astronaut In The Ocean, by Masked Wolf
The Masked Wolf song is at the top of the new TikTok songs. TikTok users apply it to different kinds of videos ranging from funny and hilarious, to sport and acrobatic actions. Even if you have not been a TikTok user, you must have heard this music by this lyric that says:
What you know about rollin' down in the deep?
When your brain goes numb, you can call that mental freeze…..
2- ♬ Beggin, by Måneskin
This is a '60s song revived by Italian group Måneskin's absolutely fire cover. Måneskin went viral by this group and has inspired a huge number of random videos. Its lyric says:
I'm beggin, beggin you,
So put your loving hand out baby….
3- ♬ Adderall (Corvette Corvette), by Popp Hunna
Adderall is one of the popular TikTok rap songs among TikTok users and now has over 18.2 million videos on this video-sharing platform. Adderall (Corvette Corvette) has been used by celebrities such as Sasha Obama, Kevin Hart, etc.
The Philadelphia rapper of this song was not famous at all. He released his song 'I'm Single' in 2019, And then got famous with his song Adderall (Corvette Corvette) used by TikTokers.
4- ♬ SugarCrash!, by ElyOtto
SugarCrash! By ElyOtto, a lucky 17-year-old singer from Canada. There are now over 6.4M videos on TikTok using this song. This 80-second song was released last August with this lyric that says: 'I'm on a sugar crash / I ain't got no fuckin' cash / Maybe I should take a bath.'
It conveys feeling burnt out in a pixie-Esque voice-over. Avid TikTok users have used it more than 6.4M times in their clips, and it became viral!
The rest of the top 10 TikTok songs are in the list below:
♬ The Kid Laroi & Justin Bieber – Stay (Sad TikTok songs)
♬ Oliver Tree – Life Goes On
♬ Erica Banks – Buss It ( TikTok rap songs)
♬ YungManny – Clap For 'Em (feat. Flo Milli & Sada Baby)
♬ Kreepa – Oh No
♬ Cardi B – Up (tiktok dance songs)
Boost your knowledge on social media: What Does Meta Mean
The List of 15 Popular TikTok Songs
Millions of songs are used by TikTok users on funny, sweet, or dance videos. In this part, we will introduce the most popular songs on TikTok. There may be your favorite pieces of music you have searched for, so read it carefully!
#1 ♬ Laxed-Siren Beat (Savage Love), by Jawsh 685 and Jason Derulo
'Laxed (Siren Beat)' is a popular song by Jawsh 685 and Jason Derulo. This song is at the top of our list of the best TikTok songs. Jason Derulo released the song under the name "Savage Love" without crediting Jawsh 685, a music producer teen from New Zealand. It reached the top Hot 100 songs with BTS.
First videos on TikTok have used this song to show cultural clothing and costume. 42.4M videos were made using this new and popular song by new and popular creators.
Boost your knowledge on social media: How Students Can Make Money on Instagram
#2 ♬ Thot Shit, by Megan Thee Stallion: TikTok Dance Songs
'Thot Shit' is another song by Megan Thee Stallion among the top TikTok songs, that has got the hits on TikTok. Songs "Savage" and "Body" by her were also used by TikTokers before.
There are 964.9K videos on TikTok using this song. Its sexual lyrics may contain inappropriate words, but it is useful for being bold and fun!
#3 ♬ Blinding Lights, by The Weeknd
The 'Blinding Lights' was a TikTok challenge with this song's name. TikTok users have participated in this challenge for weeks. There are more than 670.9K videos made using this new song.
It is said that @macdaddyz, a TikTok user, originated the dance. Even Jenny McCarthy and her husband participated in this challenge at the start of April 2021.
Boost your knowledge on social media: How to Change TikTok Username [3 Simple Steps]
#4 ♬Nonstop, by Drake: Viral TikTok Rap Songs
Drake's Nonstop is from those songs that got new life thanks to a TikTok challenge called 'Flip the Switch.' The nonstop song was released in 2018 and revived when TikTok user @erinfiner used this song in a clip, and TikTok #FlipChallenge started with that.
There are now 182.4K videos made by new creators on TikTok using this song.
Boost your knowledge on social media: A Sneak Peek into the Metaverse[The Best Guide]
#5 ♬ Mad at Disney, by Salem Ilese
This single song from Its 22-year-old singer 'Salem Ilese' is another song viral TikTok songs, that went MEGA viral in summer 2020. There are 2.6M videos made using this song, and you couldn't scroll the app without hearing it.
#6 ♬ Daisy, by Ashnikko: TikTok Rap Songs
This song by the neon-blue-haired rapper Ashnikko, with its lyrics, is a perfect fit for not only TikTok videos but also for soundtracks of Halloween movies! There are now 119.8K videos on TikTok using this song.
#7 ♬ In the Party, by Flo Milli
'In The Party' is one of the viral TikTok rap songs among users by LA-based rapper Flo Milli. The song has fast-spewing rhymes and has appeared 303.5K times in TikTok videos.
Boost your knowledge on social media: 9 Best Instagram Giveaway Template Examples for Marketers + Tools
#8 ♬ Iko Iko (My Bestie), by Justin Wellington feat. Small Jam
Iko Iko is another old song that has got a new life by TikTok. This song by its Papua New Guinean singer provides a chance for besties to dance with each other. It is also one of the TikTok dance songs that sits at the top of our list.
There are more than 1.5m sweet and funny videos of twins, friends, and besties using this song with this lyrics: hey now, hey now-My bestie and your bestie/Sit down by di fire/Your bestie says she wan' party/So can we make these flames go higher?…..
#9 ♬ Good Days, by SZA
'Good Days' by SZA is a dreamy song with the lyrics: 'I worry that I wasted the best of me on you, babe / You don't care. It encourages audiences to move on and build their good days of the future, and TikTok users have chosen it to show their emotional potency.
It repeated around 125.1K times on TikTok users' videos.
Boost your knowledge on social media: 19 Best Facebook Ad Examples For professional Marketers
#10 ♬ Kiss Me More, by Doja Cat feat. SZA
The 'Kiss Me More' song, by Doja Cat feat. SZA is one of the popular TikTok songs that helped create 2.4M videos on TikTok. These two singers coordinated to create a romantic song that says:
We hug, and yes, we make love
And always just say "Goodnight" (la-la-la-la-la)
And we cuddle, sure I do love it
But I need your lips on mine
Can you kiss me more?
We're so young, boy
We ain't got nothin' to lose, oh, oh
It's just principle
Baby, hold me……
#11 ♬ Deja Vu, by Olivia Rodrigo: Sad TikTok Songs
Olivia Rodrigo, like some other singers, came out of nowhere! Actually, if it was not for the TikTokker's contribution to this song's success, many may have never known it.
This singer with her song went immediately viral and broke records with her first single, "Driver's License." 139.7K videos exist using this song on TikTok.
#12 ♬ Please Don't Go, by Mike Posner
As TikTok has been known to revive popular songs from the past, 'Please Don't Go' is another song among the best TikTok songs. It was released in 2010 and had back into the limelight by TikTokers. As of now, more than 688.3K TikTok videos include Posner's song.
#13 ♬ I Like Him, by Princess Nokia : TikTok Rap Songs
'I Like Him' is a sexy song by Princess Nokia's rapper from New York City. The teens play this song over videos to highlight celebrities they admire. 217.2K videos on TikTok are made using this by users.
Read more on TikTok: How to Use Tiktok as a Marketer [The Best Guide]
#14 ♬ Prom Queen, by Beach Bunny
Prom Queen is a popular song by the Emo band Beach Bunny. This song took off on TikTok videos more than 110K times. It is about how much beauty standards are inappropriate. Relatedly, Videos on TikTok generally interpret the lyrics and encourage viewers to be themselves and pleased with who they are.
#15 ♬ Silk Chiffon, by MUNA (feat. Phoebe Bridgers)
This song is an indie-pop that was first released on Phoebe Bridgers' label. Those sweet lyrics of this explosive chorus' song could put a sweet smile on the audience's lips. Ever since it was released, TikTokers have made lots of videos using this, and now there are more than 36.4K videos on TikTok with this song.
Boost your knowledge on social media: Ingramer: The Best Instagram Growth Assistant? Reviews + Alternatives
FAQs on TikTok Songs
In order to solve any issues around TikTok songs names, we answered a couple of questions that may have been anybody's problem.
1-What Are TikTok Earrape Song Names?
Earrape term describes sounds that are annoying or overly loud. Users distort the famous song's audio and memes to make them as unpleasant as possible. Songs such as Chick, Ke$ha-TiK ToK (EARRAPE) are some popular TikTok Earrape Song Names.
2-What Are the Most Famous TikTok Song Names 2021 cloud?
Some Famous TikTok Songs Names 2021 cloud include:
Frontin' (feat. Jay-Z) Club Mix
THAT'S WHAT I WANT by Lil Nas X
Infinity by Jaymes Young
These are just samples of millions of songs added to the TikTok App every day, You can check the list of songs on the SoundCloud or Spotify sites.
Boost your knowledge on social media: How to Create Trendy Social Media Posts
Last Words on TikTok Songs Names
Many users are finding ways to stand out from the crowd and grow their business to make money on TikTok. Finding TikTok song names that are viral helps you to follow the latest trends on TikTok and make your videos and attract more TikTok followers faster. If you do not intend to create a video, you can download them and enjoy it, as well!
Read more on social media: