Today, there's fierce competition between different brands and merchants on Instagram. Being provided with the opportunity to create a shoppable Instagram feed in a few minutes, all users want to attract more customers, boost their sales conversion, and win the marketplace. But undoubtedly, without tracking your competitor and analyzing their performance, you won't be able to find and employ the winning strategies. This is exactly where you may need to use tools like Snoopreport. 
Well, Snoopreport is not the only Instagram monitoring app in the market. It may also not be the best app to use. But why is this true and if this is not the best choice, what can be used instead of it? In the following, I'm going to answer all these questions. So, stay tuned. 
What is Snoopreport?
According to their websites, Snoopreport is a platform to see what someone likes on Instagram anonymously. So, roughly speaking, Snoopreport is an Instagram monitoring app that allows you to track someone's Instagram activities without following them. 
Major features of this tool are as follows: 
Weekly reports on the number of likes, follows, and favorite users, 

Posts that your target user has liked during a week, 

Hashtags they're interested in, 
And a few more details. Actually, what you see when tracking someone using this tool looks like the following image: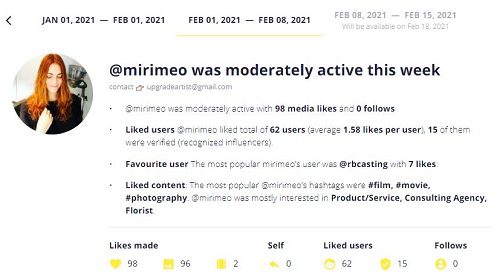 If you scroll down the screen, you can also find more information about the users and posts that your target user has liked: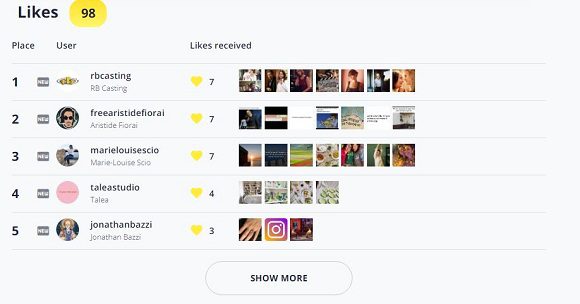 So, it helps you see what someone did in the past few weeks on Instagram and track their activities. But wait! Is this information accurate at all? 
To be honest, NO! As mentioned on their website, Snoopreport only tracks open sources. Meaning that it only provides you with information from public followers and even when you check a public account using it, you won't be able to know the exact number of likes and follows. This is because it cannot access private accounts. Hence, if your target users like a post from a private account, you'll never know. So, should you even try it or not? Let's take a look at its pros and cons to decide! 
Pricing
Here are the plans and packages offered by Snoopreport: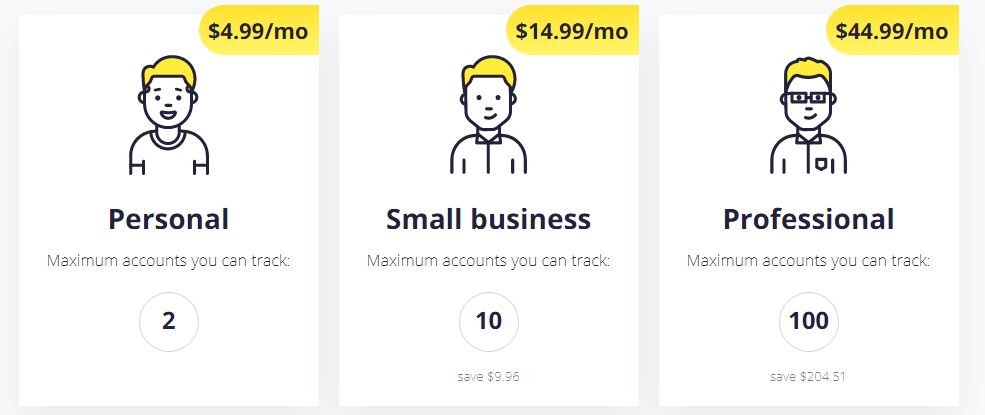 Read More: How To View Private Instagram Accounts? Use a Private Profile Viewer!
Pros & Cons
Before purchasing any of the packages above, you'd better check the advantages and disadvantages listed below. As an Instagram tracking app, Snoopreport maybe a good choice for you because: 
It allows you to track activities anonymously, 

Gives you a quick report of the account you are tracking, 

And provides you with the opportunity to check for updates week by week. 
On the other hand, purchasing an account on this platform seems to be a waste of time and energy. This is because: 
Since it can't crawl private accounts, won't show you an accurate number of likes and follows 

The packages offered by this service are too expensive, 

It has no other features to help you boost your growth, 

And all the monitoring services it offers can be done manually through the official Instagram app for free. 
So, at least for me, this is not the best choice possible and it really doesn't meet any of my needs. 
Is Snoopreport anonymous?
Apparently, yes! Using this tool, you don't have to log in to your Instagram account and you just have to sign up using your email address, which does not necessarily need to be the email by which you signed up on Instagram. 
Keep Reading: How to Save Someone's Instagram story? Safest Tool
Is Snoopreport safe?
The answer is yes! Snoopreport just uses open sources to track users. Additionally, it doesn't require your login information on Instagram. So, you can use it without worrying about your privacy or even your target user's privacy.
AiSchedul: Complete Package of Monitoring Tools
As an Instagram marketer, you must get more information about your competitors. Meaning that only knowing what your competitors like or who they follow will not help you come up with better strategies, So, you should use a more advanced tool than Snoopreport. 
In this regard, I suggest you use Aischedul, an all-in-one package of Instagram marketing tools to get better results. Using the set of monitoring features that AiSchedul offers, you can: 
Track multiple Instagram hashtags, 

Monitor hundreds of Instagram users without following them, 

Listen to your followers and track every single mention, 

Browse important events, 
And repost the content you find awesome, or save it for a later time. Additionally, AiSchedul is totally free and it provides you with the chance to schedule your content and get more benefits. So, it is by far a better choice than the other social monitoring tools. Sign up for free now and give it a ride. Also, check out the following video to see how it works: 
Bottom Line
In a nutshell, Snoopreport is a good choice for those who want to track basic activities such as likes and follows of a user. But if you want a more professional listening and monitoring tool, read the article and give AiSchedul a shot for free.