If you are managing a huge social media agency and you have ever tried to use a social media management tool to better manage your tasks and clients' accounts, you have definitely heard about Sendible vs Hootsuite. These are two of the most popular management tools and in this article, we are going to compare their services, features, and prices to help you choose the one that better meets your needs. Let's get started! 
What is Sendible?
Sendible is an all-in-one social media management platform that is used mostly by social media teams and agencies. Using Sendible, you can manage your Instagram, Facebook, Twitter, LinkedIn, YouTube, Pinterest, Google My Business, and blogging platforms like WordPress, Medium, Blogspot & Blogger, and Tumblr accounts all in a single place. Also, it gives you direct access to Cavna, Google Drive, and DropBox which enable your team members to better manage all the tasks and avoid logging in and out of different platforms to access the needed content. 
Key Features
Sendible has a complete package of tools including:
Using this set of tools, you can share content on different social media channels through a single dashboard. Here, you can schedule your posts, get content suggestions, and plan campaigns. 
Here, you have the chance to limit users from specific actions, assign tasks to other team members, create user workflows, and ask for content approval before scheduling and publishing anything. 
Sendible has great analytics tools and by giving you deep insights about your performance on different channels, helps you come up with better strategies. 
Using the monitoring apps, you have the opportunity to listen to all your customers. This also helps you with your UGC campaigns and avoids missing the newest mentions. 
Sendible Pricing
There are 4 packages offered by Sendible. Actually, all of these packages offer similar services and they are only different in the number of accounts and users. By purchasing the annual plans, you'll get a %15 discount for each plan. Additionally, you can use the 14-days free trial and cancel anytime if you're not satisfied with the services. 

Sendible Pros and Cons
In comparison to similar platforms, using Sendible is more advantageous because:
It has iOS and Android apps and you can manage all your tasks in a more user-friendly environment on your mobile. 

The customer support team is really quick. 

There exists a content calendar that enables you to filter your tasks by different channels and better manage them. 
And about the cons, users mostly complain about the following issues: 
You cannot upload and post multiple photos on Instagram, 

Thread messages are being separated in the inbox and this makes it hard for users to follow messages properly. 
What is Hootsuite?
Hootsuite is also a social media management tool that enables you to manage your Instagram, Facebook, Pinterest, Twitter, YouTube, and LinkedIn accounts all from a united dashboard. In comparison to similar platforms, Hootsuite is integrated with more apps such as Zendesk, Slack, SalesForce, and many others. So, it gives you everything you need to be like an expert manager. Now, let's check its features. 
Key Features
The main features of Hootsuite can be divided into 5 categories: 
With the publishing services, you can schedule content, share multiple posts on your social media channels, create a content calendar, and edit your content using editorial tools like Canva. 
Hootsuite has one of the best messaging services. Using this set of tools, you have the chance to manage all the incoming messages effectively and boost your engagement rate by being on-time and accurate. 
Here, you can track and monitor the latest topics about your business and listen to your customers. This way, you'll always be on top of conversations and you can try to make your customers more satisfied, or even turn your followers into customers by addressing their concerns. 
This platform helps you reach more people in a short time. Using the advertising features, you can create and manage beneficial campaigns and expand your audiences through all social media channels. 
By receiving detailed analysis and reports of your performance on different social networks, and reviewing your ROI, you'll be able to revise some of your strategies and try to use new ideas for better results. 
Also, it offers additional features like Ads to simply run marketing campaigns, employee advocacy tools to amplify your social media reach, insights into your campaigns, and more. 
Hootsuite Pricing
Here is the complete list of plans and packages offered by Hootsuite: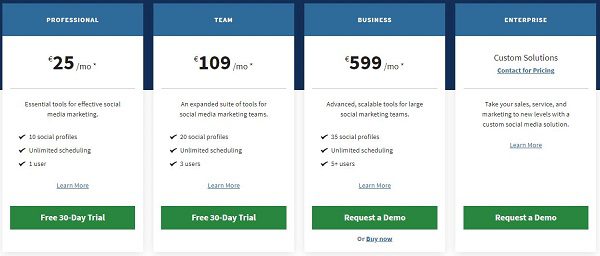 Using these plans, you receive a 30-days free trial which helps you check every single feature before proceeding further. So make sure to try all the features and see if it meets your needs or not. 
Hootsuite Pros and Cons
Here are some reasons to use Hootsuite instead of its competitors: 
It allows you to create content and share it on all social media networks.

You can order a customized plan, with a specific number of users and social accounts. 

There's a 1-month free trial to check all the features. 

You can create customized streams for your tasks and add personalized filters to track your activities. 
And here are some of its disadvantages: 
The plans are too expensive. 

Doesn't have any mobile apps. 
AiGrow: The Best Alternative for Sendible vs Hootsuite
As you see on each app's review, to be able to manage multiple accounts using these platforms you have to pay extra charges. Well, if you are just an Instagram marketing specialist and your job is to grow your clients' Instagram followers, we suggest you use AiGrow. Using AiGrow, you can add up to 80 accounts to a single dashboard without any extra fees. To know more about this amazing tool, click here and read the AiGrow review. 
Sendible vs Hootsuite: Which one to Choose? 
To sum it up, Hootsuite and Sendible are both amazing social media platforms, and each helps you collaborate with your team members in a more professional environment. However, before purchasing any of them, go through the reviews, and pick the best one for your requirements.