Have you ever noticed that sometimes you get tons of random followers on Instagram? Is it something natural or happens as a result of a suspicious action?
Well, in the case of influencers and brand accounts, if the random followers are not fake accounts, this is really natural. However, if you have just started your business on Instagram, or you are managing a personal account, you have to find the reason behind this issue and solve it instantly to prevent getting banned by the Instagram algorithm. 
In this article, we talk about the possible reasons for getting a bunch of random followers on Instagram. Then, show you how to stop spam accounts following you on Instagram. 
You might also be interested in:
Why Are Random Followers on Instagram Bad for Business?
It is true that spam accounts increase the number of followers on Instagram and help you grow; however, the risks of being followed by suspicious accounts might outweigh the benefits. For instance, these accounts are supposed to be inactive and they follow you without engaging your content. This way, your Instagram engagement rate drops after a period of time. Additionally, most of these spam accounts keep following you to send spam messages, inappropriate content, and phishing attempts.
So, you must find the reason behind these unusual activities and find a solution to prevent your business and Instagram account from the side effects.
Why Do You Get Random Followers on Instagram?
Here are 3 potential reasons that spam accounts keep following you on Instagram:
#1 Bot Activities 
One of the main reasons for getting many spammy random followers on Instagram is bot activities. In the past few years, bot activities have pestered many Instagram accounts. These bots rely on your account to keep their activities. Instagram set really strict rules and algorithms to stop these bots and for instance, stopped Instagrass. However, everyday new bots start working and it takes a few days for Instagram to identify them and shut them down. 
But how did a bot find you? Well, this might happen because you: 
Followed a highly-engaged account account 

Liked or commented on a suspicious post 

Engaged with multiple posts having a specific hashtag
So, to keep bots from following you, 
#2 Instagram Follow for Follow Strategy
Apart from bot activities, some Instagram users try the follow for follow strategy to grow their Instagram account. These accounts usually track Instagram followers of influencers, brands, and popular accounts on Instagram and follow all their followers in the hope of getting followers for their own Instagram accounts. 
#3 Your Post Is Reposted
Another reason for getting many random followers on Instagram might be reposted content. Actually, most Instagram repost apps reshare your content without mentioning you in the comments, but with a watermark on the original photo that shares your Instagram username. This way, especially when your content is reposted by a brand ambassador, shout-out, or spammy accounts, people search your username and follow you in order to get more engagement for their accounts and appear on more Instagram searches. 
Also Read: How to see who shared your Instagram post
Spam Accounts Keep Following Me on Instagram! How to Stop it?
Now that you know why you are getting random followers on Instagram and how bad they can be for your Instagram business, it's time to stop them from following you. Here are 3 simple tips that help you reduce the number of spam accounts following you on Instagram:
#1 Check Your Followers to Find Bugos Accounts 
The very first thing you should do to stop getting spam followers is to check your followers and find the spam accounts that are already following you. Look for accounts that have 1-2 followers, no profile photos, and no posts. Then, remove them from your followers' list. Also, to save a great deal of time, you can use Instagram unfollow apps to speed up the process. 
After removing the suspected accounts, turn off your Instagram similar account suggestions to prevent other spam accounts from following you. To do so, open Instagram settings on the Instagram website, and uncheck the corresponding box.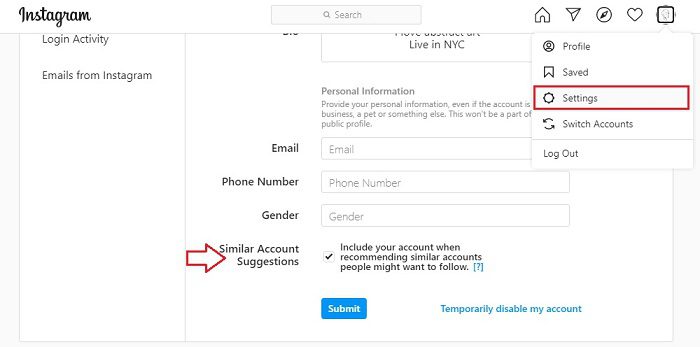 #2 Report and Block Random Followers on Instagram
After removing random followers on Instagram, report them as spam to Instagram. This helps other Instagram in finding bots and stopping them. So, don't hesitate to report every suspicious account that's following you. To report an account on Instagram, open their profile, tap on the three dots icon on the top right corner of their profile, and tap on the report button.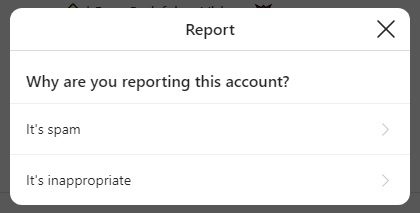 If after a week Instagram didn't update you about your report, block the bugos account to avoid them from re-following you. 
#3 Review New Followers After Giveaways and Ads
Instagram giveaway contests and Ads are great for getting a large number of followers in a few days. However, one challenge with these strategies is that you may attract audiences that are just interested in rewards, not your brand. This issue brings you a great number of fake followers who will unfollow you after the giveaway, or remain inactive and reduce your engagement rate. 
To prevent this, review your new followers, and simply remove them right after following you. This also helps you to host a more beneficial Instagram giveaway contest and gain more real and active followers. 
Final Thoughts
In a nutshell, although fake and random followers on Instagram grow your Instagram for a short period of time, they decrease your engagement rate in the long run. So, find the reason for getting numerous spam followers and check your followers frequently to identify and remove them from your account and keep your business safe.