Have you ever wanted to mark an Instagram DM as unread? Do you want to sort and filter your Instagram DMs? Do you miss some of your DMs in the pool of your Instagram DMs? Actually, Instagram has added some new features for business accounts that let users filter their Instagram DMs by importance. But it is still not possible to sort and filter the messages by being read, unread, and sent. Hence, we are here to tell you how to filter Instagram messages in a more advanced way, from any device, and without a business account. So, stay tuned!
How to Get Primary and General DMs on Instagram?
Well, as mentioned above, Instagram lets users with a business account filter their Instagram DMs by importance. Meaning that if you are running a business on Instagram and get tons of direct messages every day, you have the ability to filter your messages into "General" and "Primary" ones. But what are these separations for, how to get primary and general DMs on Instagram, and how they help to manage DMs more professionally? 
Well, the "General" messages are the ones that are less important and you want to reply or read whenever you have time. Actually, when you mark a conversation as general, you will not receive any notifications from the sender. So, if your DM notifications are on, you'll just receive notifications for the conversations that are marked as "Primary". But how to mark a conversation as general or primary? Easy! Follow these steps:
Tap and hold the conversation you want to move to the general or primary inbox.

Tap on

"Move to General"

if it is in the primary inbox and in the other case, tap on

"Move to Primary"

. Also, by tapping on the select icon on the top right corner of the screen, you have the chance to select multiple conversations and mark them all as general or primary simultaneously.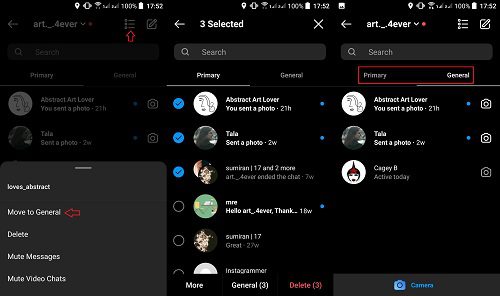 That's it! Your messages have been filtered by their importance and now, you'll just get notifications from the ones that are marked as primary!
However, this just works for the ones who have a business account! How to filter Instagram messages without a business account and also how to sort and filter them by the reading status? Let's find out!
How to Filter Instagram Messages Without a Business Account?
As described in the previous section, you cannot sort and filter your Instagram direct messages by their status using the official app. Additionally, if you don't have a business account, you cannot even mark your messages as primary or general! So, how to filter Instagram direct messages in order to manage them like a pro? 
Well, this can be done using an intriguing management tool like AiGrow. 
AiGrow is a professional package of tools that lets you manage and grow your Instagram account in an amazing way. Actually, using this professional tool, you can:
Schedule Instagram posts and stories

Create all-in-one bio links 

Manage and send DMs in an email like environment 
And more. But now, let's go back to our main question! How to filter Instagram messages using AiGrow? Well, using AiGrow you have two different options for sorting and filtering messages. One of them is using the app, and the other one is to connect your Instagram DM inbox to your email. In the following, we show you how to filter your messages using both of these features. So, keep on reading. 
How to Filter Instagram Messages Via AiGrow?
To sort and filter your Instagram direct messages by their read status on AiGrow, you have to follow these simple steps:
#1 Create an Account 
To start managing and sorting your Instagram DMs using AiGrow, first, sign up for free from here. 
#2 Add Instagram Accounts
Now, tap on the "Add Instagram Account" button and add as many accounts as you want to manage multiple Instagram accounts simultaneously. 
#3 Manage DM Inbox
After adding your Instagram account(s), tap on the "Manage Account" button to go to the AiGrow dashboard. Then, tap on the "Inbox" tab under "Direct Messages" to access your Instagram DM inbox and manage your messages. Finally, tap on the "-Select Filter-" button and choose the filter you want. You can filter your message to the ones that are read, unread, and sent.
Also, you can read and reply to your messages from here. So, go ahead, create an account for free, and filter your Instagram messages. 
Also Read: How to Send Automated Instagram DM? Best Free Tool
How to Filter Instagram Messages Via Email?
Actually, the feature we have talked about in the previous section is amazing and lets you manage all your Instagram messages professionally. But AiGrow has a "DM to Email" feature that not only lets you manage, sort, and filter your DMs, but also lets you check, send, and receive your messages just by using your email inbox, without opening the Instagram app or any other apps. So, let's see how it works and how to filter Instagram messages just by email!
#1 Connect DM to Email
After creating a free account on AiGrow, adding your Instagram account, and going to the dashboard, tap on the "DM to Email" tab. Then, add your Email address to the intended Instagram account and change the status to "Active".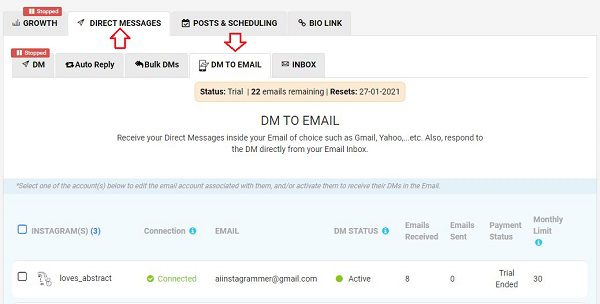 #2 Confirm Email
After saving the changes, AiGrow sends you a confirmation email. Go to your email inbox and confirm your email address. 
#3 Sort and Filter Messages
Well, that's it! From now on, whenever you receive a direct message on Instagram, you'll receive an email containing the DMs you have received on Instagram. Here, you can sort your messages, filter them, mark them as unread, and also read them without being seen. 
So, sign up for free right now and try filtering your messages in your email inbox.
Keep Reading: How to Mass DM on Instagram?
Wrap Up
To sum it up, sorting and filtering Instagram messages is an essential step that must be taken to avoid missing messages and keeping in touch with your followers, customers, or even friends. However, Instagram just allows business accounts to filter their messages by their priority and not by the read status. So, in this article, we introduced a third-party app that lets you sort, and filter your DMs without having a business account easily. Read the article carefully, try the mentioned tips, and leave us a comment! 🙂