You see a Story on Instagram that is interesting, and you want to save it to come back and check it out later. But unfortunately, unlike feed posts, you cannot save Instagram Stories. So, naturally, what you would do is to take a screenshot from that Story. But why Instagram does not allow you to save Stories? Is it against personal privacy ethics? Or Instagram notify users when you take a screenshot just to respect them?
In this article, we're going to discuss this possibility and see if Instagram actually notified people when somebody took a screenshot of their Story, Instagram posts, or DMs. So, without any further ado, let's find out!
Instagram Screenshot Notification: Real or Fairytale?
The myth of Instagram screenshot notification dates back to the early years of introducing Instagram Story. You might have a vague memory of those days when Instagram sent notifications to your account stating that a user took a screenshot of your Story. It's pretty normal if you don't remember such a feature because it didn't last that long.
A couple of years ago, in February 2018, to be exact, Instagram introduced an unusual feature: Instagram screenshot notification. Using this alarm, you could simply see the accounts that took screenshots.
The primary reason why Instagram introduced this feature was to protect the privacy of its community. You see, Instagram developed Story based on the similar popular concept of disappearing posts on Snapchat. The only important thing that Instagram didn't pay attention to was the fact that Snapchat users use this feature mostly for personal interactions. However, on Instagram, Stories are more "Public."
Moreover, back then, when a user took a screenshot on Instagram, a little starburst icon would appear next to their username in the Story stats. This caused a lot of unwanted notifications, and most Instagrammers actually didn't mind if somebody took a screenshot of their content. 
You see, for Instagrammers, Story is a fast and fun way of interacting with other users rather than a private mode of communication. So, when many IG users protested this unwanted feature, Instagram had no choice to remove it after only five months. 
But is this function disable still in 2021? Keep reading to find out! 
Does Instagram Notify When You Screenshot a Post or Story?
No! Currently (in 2021), Instagram does not notify users when someone took a screenshot from their feed posts or Stories. It won't even notify them if you take a screenshot from their bio, profile, or any other part of their Instagram accounts such as highlights, guide, IGTV, or mentions. 
Instagram also developed the "Save" feature a couple of years ago that enables people to simply save the posts that they want and even organize them in different folders. This feature is now one of the most important elements of calculating Instagram engagement rate.
Unfortunately, you still cannot save an Instagram Story. But don't worry, we know a perfect way to save any Instagram Story that you want.
Read More: Does Instagram Notify When You Screenshot a Story?
AiSchedul: The Safest Way to Save Instagram Story 
As the name indicates, AiSchedul is a smart scheduler for Instagram. Using this tool, you can plan your future posts and Stories for approaching weeks and even months. But it has another feature that can come in handy for IG users. Using AiSchedul, you can save Instagram Stories without taking a screenshot.

To know exactly how to do this trick, check this article. 
Does Instagram Notify When You Screenshot a DM?
The same thing goes with Direct Message or DM unless you use the vanish mode. In the latest Instagram updates, you can safely take a screenshot from your conversation (including texts, regular images, and voice messages). However, on Instagram DM, there's a feature that enables you to send images and videos that will vanish only after a single view. If the user that views your message takes a screenshot from this one-time message, you'll get a notification.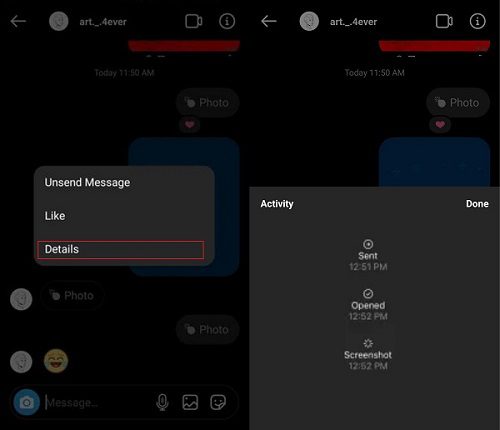 So, better be careful about this one if you mind someone finds out about your screenshots! 
Final Words
Currently, as we're in 2021, Instagram won't send any screenshot notification if you take screenshots of feed posts, Stories, profiles, DMs, bios, or any other parts of Instagram. So, you can safely take as many screenshots as you want!