Running giveaways on Instagram effectively grows your followers and keeps them better engaged with your account. As statistics show, accounts that hold contests grow 70% faster! The hardest part of the whole process is figuring out how to run the contest. Once you're done with that phase, the most straightforward part is picking the final winners. We say it's the easiest part of the process because by using the best Instagram giveaway picker, you can determine and announce the final winner(s) of your contests and giveaways.
So if you're struggling to determine the winners in your Instagram photography contest and giveaway, but don't know the best app to pick a winner on Instagram, don't worry! In this article, we'll introduce the best Instagram giveaway app.
We will also delve deep into how to use a free Instagram giveaway picker so you can pick the winners and automate your Instagram giveaways! So if you're struggling to determine the contest winner(s), you don't need to worry at all! In this article, we'll delve deep into how to use free Instagram giveaway winner picker tools so you can pick the winner(s) of your IG giveaway pretty easily. But if you want to skip the article and get to the main answer, click here!
What Is an Instagram Giveaway Picker
"What is an Instagram contest picker?" you might ask. An Instagram giveaway winner picker is a tool that helps you identify the people who comply with your contest rules and pick the winner randomly or nonrandomly based on the rules you have determined for your IG giveaway contest. Whether you run a loop giveaway on Instagram or a regular one, you need a giveaway picker for Instagram.
Isn't it cool to have access to such a tool? An Instagram giveaway picker allows you to automate your giveaway contests and subsequently saves a considerable amount of time!
Why Do I Need to Run Instagram Giveaways
As mentioned earlier, Instagram contests can lead to solid, sustainable, and organic growth on Instagram. Planing and successfully hosting Instagram giveaways will also boost your account's engagement rate and help increase brand awareness. Most importantly, they provide you with an opportunity to increase conversion rates by almost 189%.
Giveaways are especially effective for businesses of all types. Have you seen a business owner who hates attracting more audiences and turning them into customers? You haven't, and neither have I!
Giveaways on Instagram are among the most effective and efficient ways to push your account in front of the right audience. Especially in June and in November, which are the ideal time of the year to launch contest campaigns. We all know the cost of not maintaining an active presence on the platform. Your followers may decide to unfollow your Instagram account if they see you're not doing much to capture their attention.
However, aside from choosing the perfect prize and using the ideal giveaway hashtags, you need an Instagram giveaway winner picker to ensure your success.
Top 7 Instagram Giveaway Picker Apps
Overall, Instagram contests are interactive content types and excellent for sparking debates and establishing a consistent flow of profile engagement. However, only 0.56% of all Instagram feeds are contests. It might be because when thousands of people enter your giveaways, it's evident that it'll be much more challenging to pick the winners and check all the conditions manually for each user!
When you get to this point, the best option is to use an app to pick a winner on Instagram and let it automate the process for you.
We'll introduce the top seven free Instagram contest pickers in the following section. These platforms and apps will help you set up, schedule, run, and automate contests on this super popular social media platform.
#1 AiGrow: The Best Instagram Giveaway Picker
At the top of our list sits AiGrow, the best free Instagram giveaway picker app.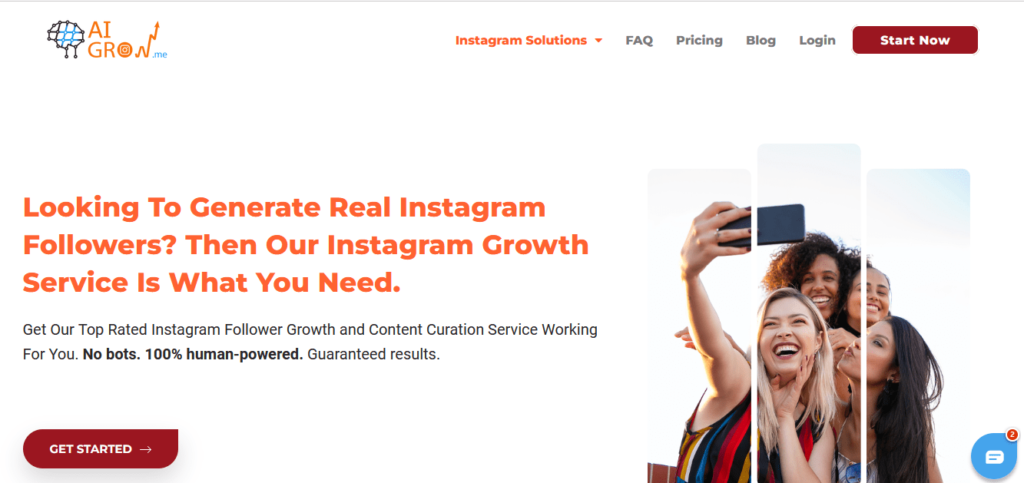 AiGrow is an Instagram giveaway picker and random winner generator tool. However, this tool is more than a simple random giveaway picker for Instagram. The platform offers a wide range of valuable features for Instagram users, with the most notable being its growth service and scheduling tool.
AiGrow Features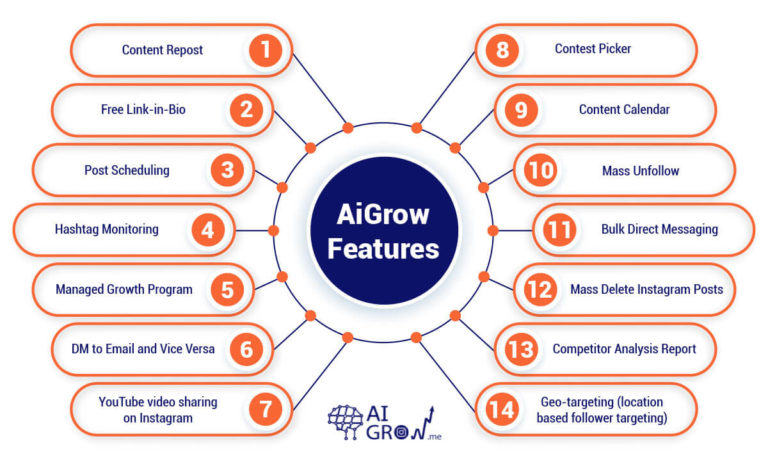 Since you're here, it's best to spend a few seconds to find out more about this fantastic all-in-one Instagram scheduling and management tool. Using AiGrow, you can:
And a lot more! Feel free to visit their website and explore the rest yourself. We think it's better not to spoil all the fun features for you right now and leave some of them for you to discover!
So, try AiGrow giveaway picker now!
Now let's dive in and find out how to run Instagram giveaways and pick the winner with AiGrow.
How to Use AiGrow Instagram Giveaway Picker Feature
AiGrow has a built-in feature called 'Giveaway picker' that enables you to specify your Giveaway rules and automatically selects winners. Using this tool, you can determine the number of winners and substitute winners, the hashtags you asked your followers to use, and the deadline. By the way, you can have the tool eliminate duplicate comments!
No matter how big a giveaway you want to run, AiGrow is the best Instagram giveaway picker for you. As discussed above, it's packed with unique features, allowing you to run contests on Instagram and automate the process. All you need to do is:
Enter your dashboard and choose 'Manage.'
Then, select 'Giveaway picker' and 'Start giveaway now.'

Now, you can paste the link to your giveaway post, determine the rules and deadline.

And finally, press 'Submit Contest Settings.'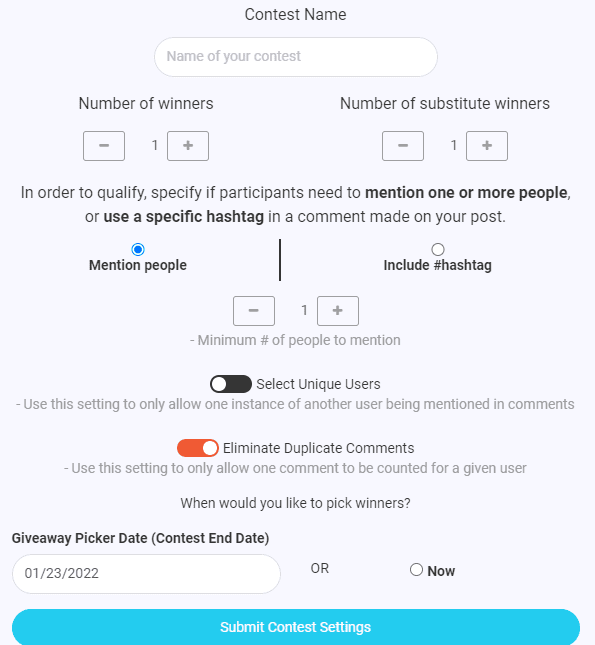 Since it's completely free-to-use, sign up for AiGrow now and try the best Instagram giveaway picker for free!
#2 Gleam: Run Beautiful Instagram Giveaway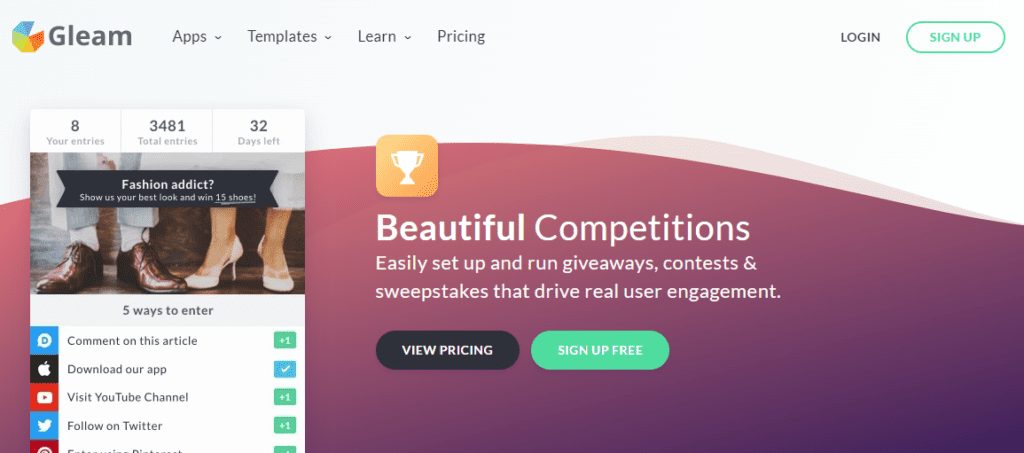 If you're still looking for an Instagram contest picker to use for free, you can try Gleam. It's worth noting that Gleam focuses solely on Instagram giveaways and doesn't include any other features like AiGrow. However, it can still prove helpful as an Instagram giveaway picker.
Using this platform, you can run giveaways on different social media accounts such as Instagram, Pinterest, Twitter, Amazon, Tumblr, etc. So it's best to say Gleam is an excellent Instagram comment picker you could use for free. Furthermore, it has so many templates you can use to make the process much easier.
Gleam offers various pricing plans. Check out the prices in the screenshot below: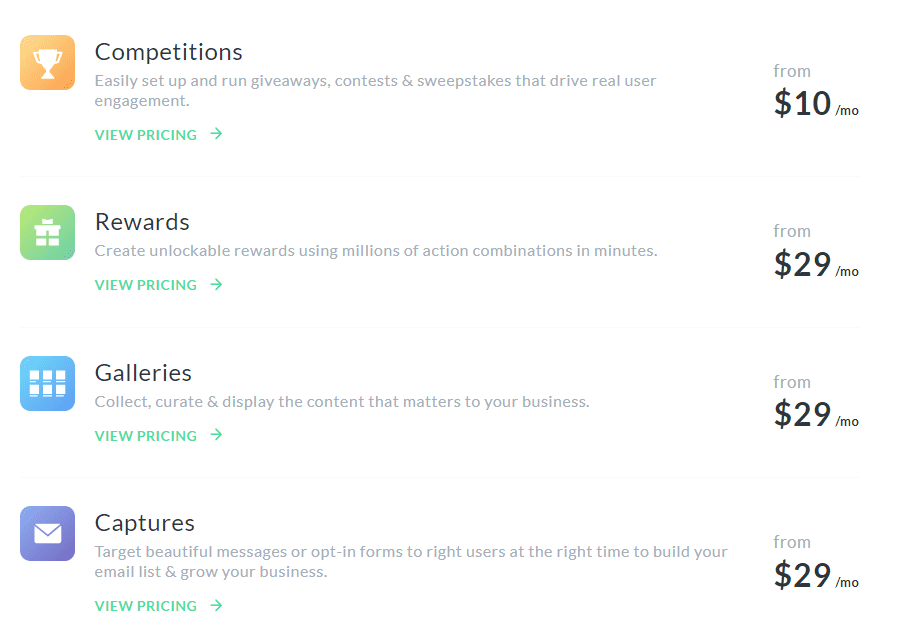 If you're interested in having access to an Instagram winner generator for free, this platform might not suit your needs. To use this contest picker, you have to pay 97$ a month.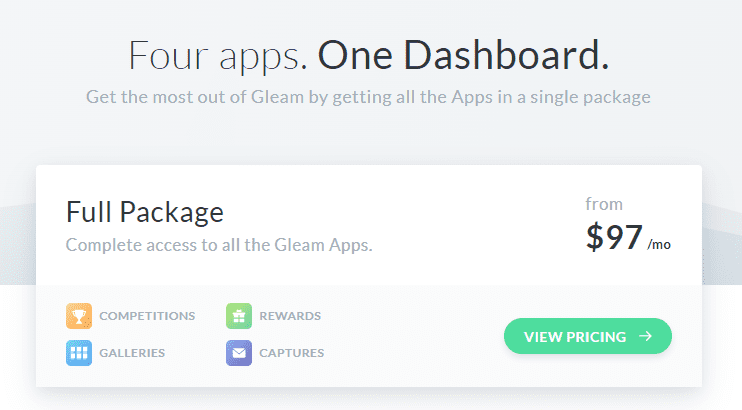 #3 Wishpond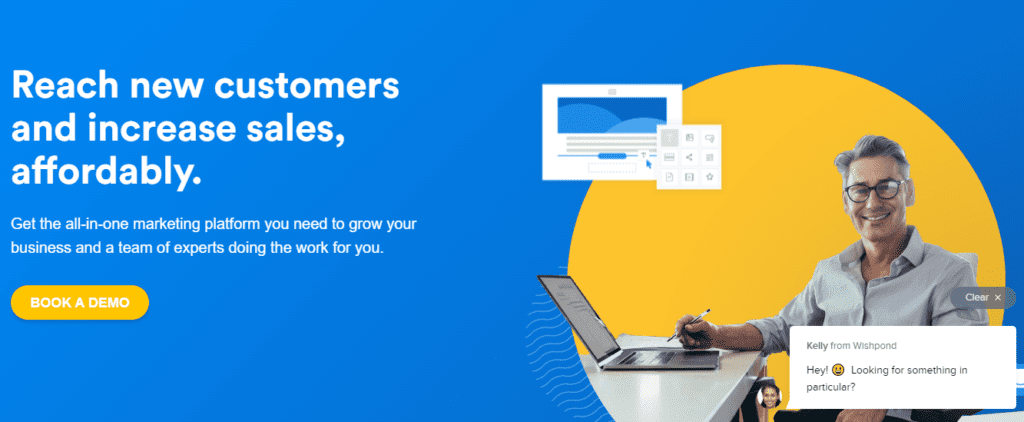 Another genuine Instagram giveaway app is Wishpond. It is a growth tool but has so many other features as well. One of its features is 'Social Promotions,' which lets you run contests and grow on your social accounts. Like Gleam, Wishpond also falls under the social media contest apps category.
So, you can first choose your Instagram giveaway template, use the best IG contest hashtags, and specify your giveaway rules. Once you start this giveaway, you can automate the process, run photo/video contests, and a lot more. In general, you can pick a winner with this app, but it's not a free Instagram giveaway picker!
The platform is also not free, and you can check out the prices as shown in the screenshot below:
#4 Easy Promos App

Easy Promos App is probably not the best giveaway picker for Instagram but is still an effective random Instagram contest picker. However, this platform has a limitation. It can only pick one user from many who have commented under your posts. So, it doesn't track the users' actions. Hence, it can be suitable for contests that don't have any specific conditions, and for those that the only rule they have is to share a comment!
It's an excellent Instagram competition picker but as you can see, you have to pay to have full access to their Instagram comment picker tool. The plans offered by Easy Promos and their prices are:
#5 Instagram Random Comment Picker

An Instagram giveaway winner picker to use for free is Comment Picker! As the name suggests, this tool is designed as an Instagram comment picker. You can randomly pick a winner among all the users participating in your giveaway using this platform.
Alongside the Instagram giveaway picker, the wheel picker option can randomly choose a name or an item for you. So, like the Easy Promos app, it's a relatively helpful tool to determine a winner in simple Instagram giveaways that don't have particular rules.
So, we can claim that it's the best Instagram giveaway picker for free!
#6 Rafflecopter
This tool help you access giveaway design templates for forms and can help you embed it on your website and track the participants.
You can also specify your contest rules for Instagram, Pinterest, Facebook, and Twitter. Then, Rafflecopter will keep track of your entries and choose any number of random winners you want.
Plus, your giveaway performance will be analyzed. So, you can understand where you went wrong and what you did right! Rafflecopter also promises excellent support for those who subscribe.
Yet, the pricing might be a bit expensive for an app that only offers these options. AiGrow would be a more economical option as it offers more tools for a more reasonable cost!
#7 Heyo
Much like Rafflecopter, Heyo enables you to create landing pages and forms to gather information from the visitors. You can hold your giveaways on Twitter and Instagram and randomly choose your giveaway winners.
Unfortuantely, this tool doesn't provide extra features for growth or Instagram account management! Heyo pricing is as follows:
FAQs on Instagram Giveaway Picker
So far, we have discussed various giveaway pickers. We also introduced AiGrow as the best Instagram giveaway picker. Now, let's answer more of your questions!
1- What Is the Best Prize for Giveaway Winners?
For your giveaway to have the ideal outcome, you need to specify the ideal prize! How you reward your best followers depends on your content and budget.
But keep in mind that the best prize you can give is one that is one of your products or related to them. For instance, you can share coupon codes for your Instagram giveaways! If you're wondering how to do so AiGrow allows you to do so!
2- How Can You Automatically DM Winners With an Instagram Giveaway Picker?
Sadly, most giveaway pickers don't allow you to send a message to your winners. On the other hand, AiGrow enables you to write a message and determine the giveaway rules.
Now, if anyone complies with the rules, AiGrow will automatically send that message! All you need to do is:
Now, connect your IG account and when you access the dashboard, you should select 'Manage.'
From the 'Posts & Scheduling' tab, pick 'Post & Reward.'

At this point, you should select 'Schedule a Contest' and determine the rules and the message.
By hitting 'Submit,' you have nothing to worry about.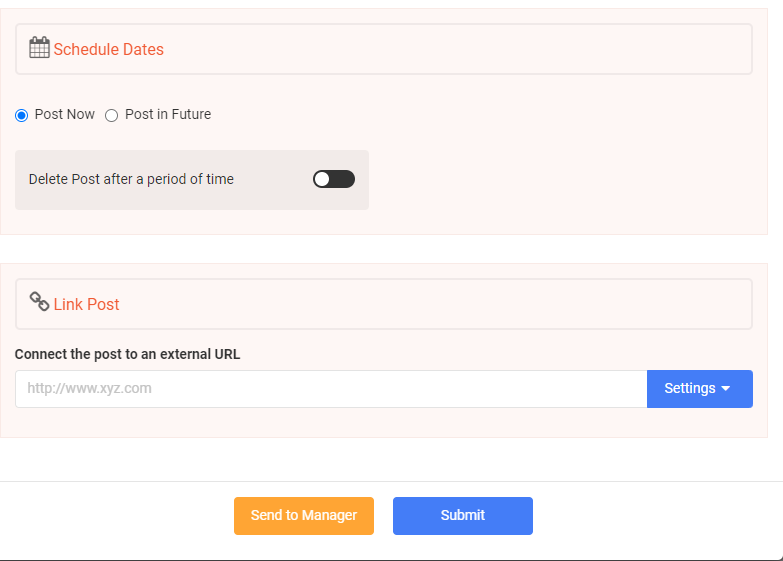 So, why not guarantee your giveaway success with AiGrow now?!
Last Words on Instagram Giveaway Picker
To wrap up, you can leverage Instagram giveaway contests to gain more followers and stay ahead of your game on Instagram. However, sharing contest posts regularly on multiple accounts and tracking the participants to check the conditions take considerable time.
So, it is better to automate the process. For this purpose, you can get immediate access to AiGrow now and use all these features!