If you are among the 500 million daily active users of Instagram, you have definitely drafted some posts on Instagram before. Instagram drafts can genuinely make your job easier. For example, you can save drafts and post them at the best time to post on Instagram. However, some users find the process quite confusing. If you also don't know how to delete or save drafts on Instagram, don't panic! Here, we will teach you how to find, save, and delete drafts on Instagram without a hitch.
So, let's get started.
How to Save Instagram Drafts With a Personal Account
If you have a personal account, saving drafts on Instagram is not complicated for you. All you have to do is to follow the steps:
Tap the '+' button in the bottom center of your IG feed.

Choose the image or video you would like to post.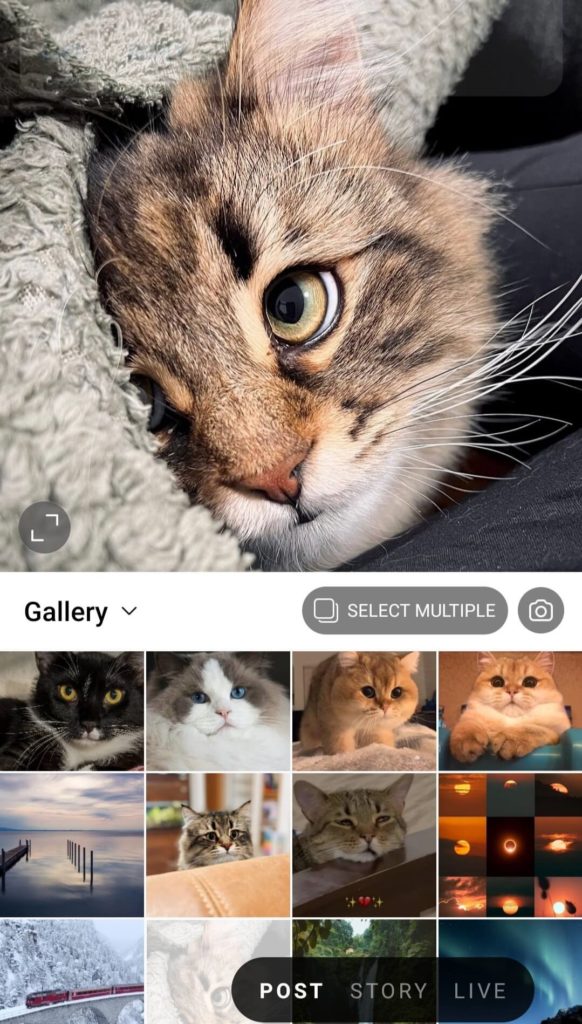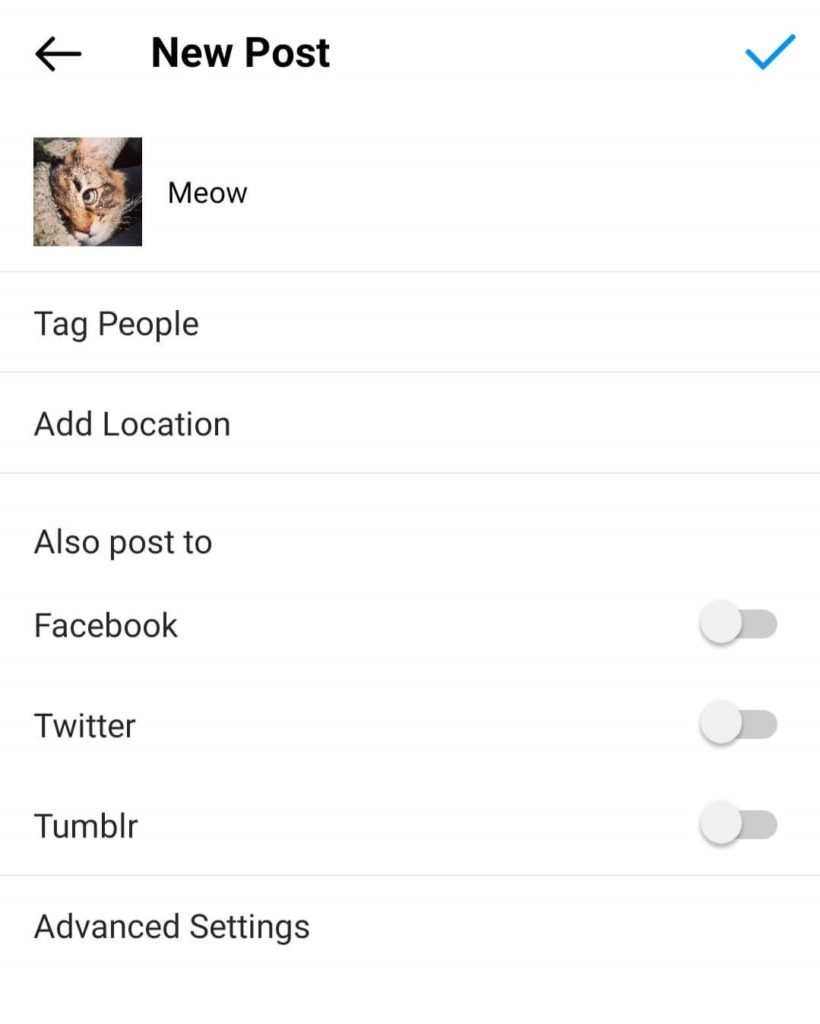 Press on the arrow once more.

Here, Instagram will give you two options to choose from; discard or save as a draft.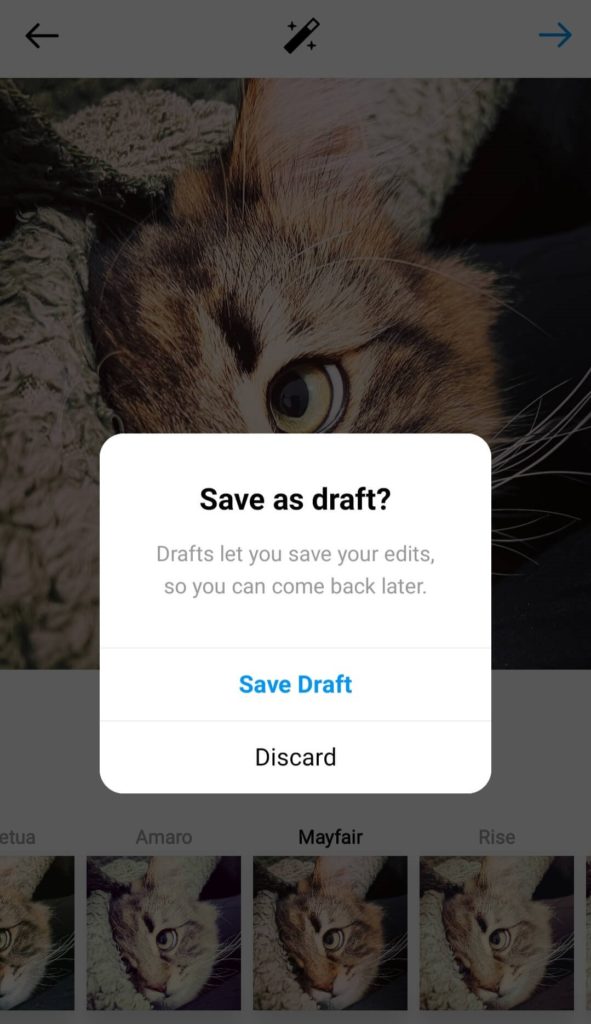 Save the draft and you're done!
Saving Instagram drafts isn't so hard now, right? It is usually as straightforward as that. If you have any questions about where to find drafts on Instagram, we will answer them in the following sections. But as long as we are on the topic of saving Instagram drafts, let me tell you that there's a catch. 
If you're posting an image, you need to edit, apply Instagram filters, or at least have a caption before you can save the post as a draft. And, if you're posting a video, make sure you have applied an Instagram filter, or else, the 'Save draft' option won't appear. 
So, what can you do if you want to post a long video on IG without adding any Instagram filters? At this point, you have no choice but to use a reliable third-party app. So, don't worry!
AiGrow is the best solution we recommend to you. Using this excellent platform, you can schedule and repost IG posts. Moreover, it allows you to post YouTube videos to Instagram. So, what are you waiting for?!
Get instant access to AiGrow now!
How to Save Instagram Drafts With a Business Account
Luckily, Instagram users with business accounts can also save drafts on Instagram using the official app. However, there are some changes in the process of saving as a draft. Previously, all users just had to upload their photos and videos, edit them, write captions, and then go back to the first step to access the 'Draft' feature. 
But now users have to use Instagram insights following these steps:
1. Open your Instagram profile, go to the 'Instagram insights,' and scroll down until you see 'Create Post.'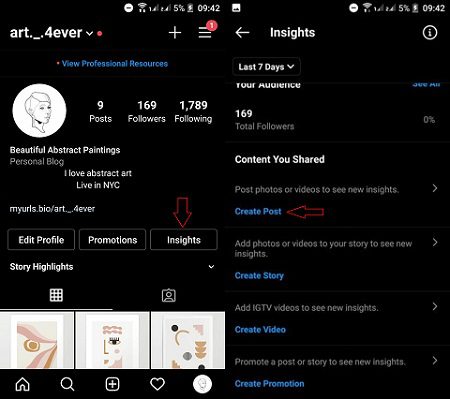 2. After uploading the intended photo, writing an aesthetic caption, tagging people, and applying all the other settings, tap on the arrow on the top left corner of the screen twice.
3. Now, you see a pop-up on your screen allowing you to discard all the changes or save your post as an Instagram draft.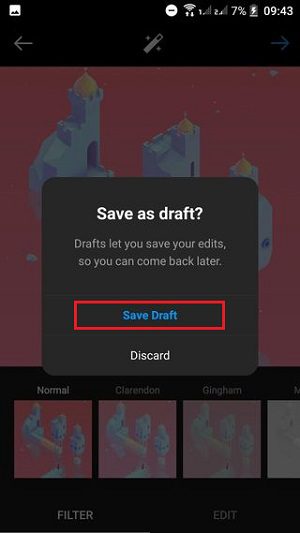 That's all! This is how you can exactly save Instagram drafts using a business account. If you have any questions about how to access drafts on Instagram, keep reading to find out.
Where Are Drafts on Instagram?
'I've saved my drafts, but where are my Instagram drafts now?' you keep asking. So, let's address your questions about how to find drafts on Instagram! 
It is a challenging process but it's nothing you can't handle. Learning how to find your drafts on Instagram depends on whether you're using an IG business profile or a personal account.
If you're running a business account, you have to use Instagram insights. Just as mentioned in the previous section, open Instagram insights and go to the 'create post' section.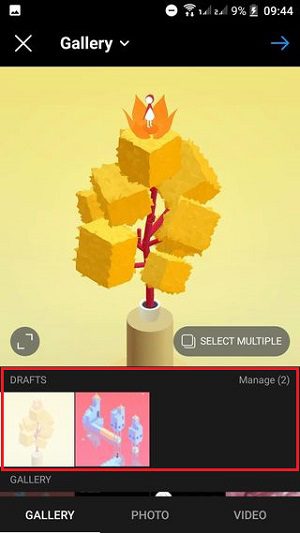 So if you are asking 'where are my drafts on Instagram?' You'll see them right above the photos in your gallery.
If it's a personal page, go through these steps:
Press the '+' icon located in the bottom center of your feed. 
Now, there are two sections available; one is 'Gallery' where you can choose a new image and the other is 'Drafts.'
Tap 'Drafts' and a list of all the images and videos you have drafted will appear.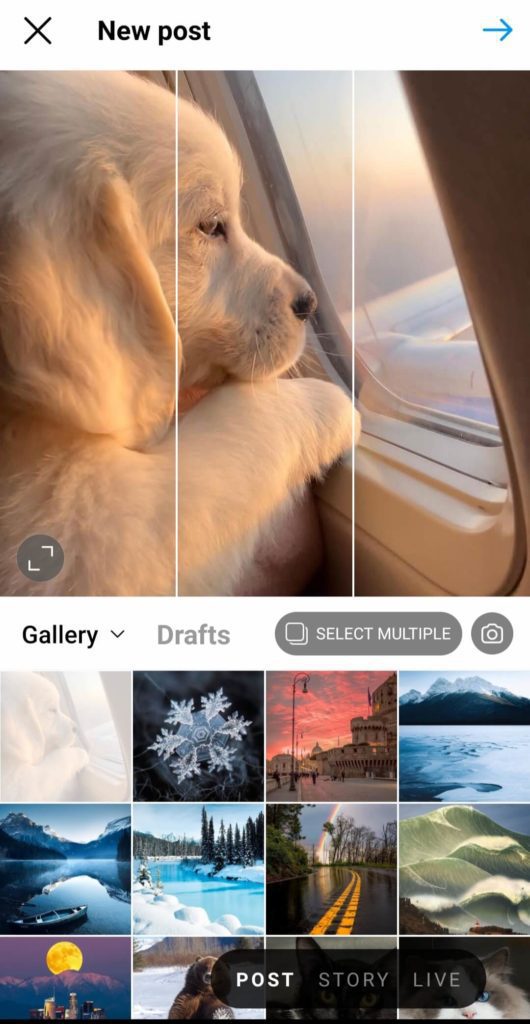 Here, if you press the arrow on the top right corner, you can see and edit your caption for one last time before you post.
Now that you know how to see drafts on Instagramand editing them, let's get to another common question.
How to Delete Drafts on Instagram
After drafting a post, you may realize that a certain image or video won't make an engaging Instagram post. Or you might suddenly notice that you have made a mistake or that the post won't attract your IG target audience. So, what can you do now? Is it too late to go back? Of course not! If you know how to delete Instagram drafts, you can prevent further problems.
To discard or delete your Instagram drafts with a business account, go to the create post section as mentioned previously. Right next to the drafts, you see a 'Manage' button. By tapping on that button, you can simply discard your drafted posts one by one. You could also choose multiple drafts to delete.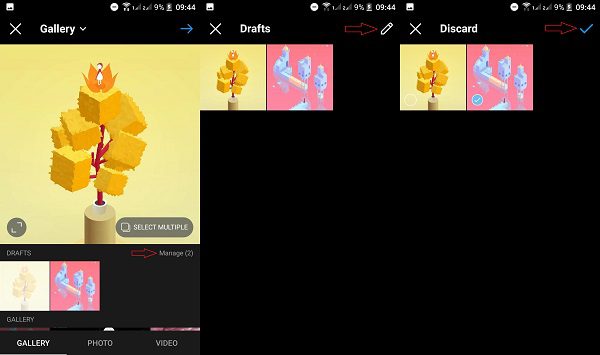 That's it! Having a business account, everything seems to be as easy as a pie.
Deleting Instagram drafts with a personal page is pretty much the same. Yet, to be on the safe side, let's go through the process step by step:
First, tap on the '+' icon.
Then, choose 'Drafts.'
Above your list of drafted images and videos, you can see a 'Manage' button on the right.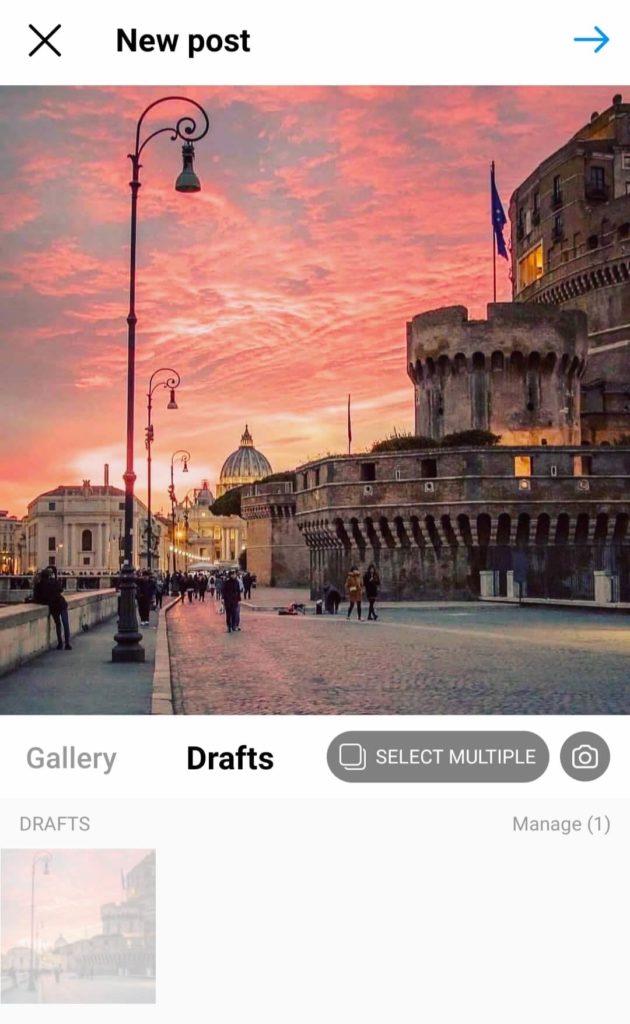 Now, press 'Manage' and then the pen icon on the top right side of the screen.

At this point, you can choose any number of items you would like to discard.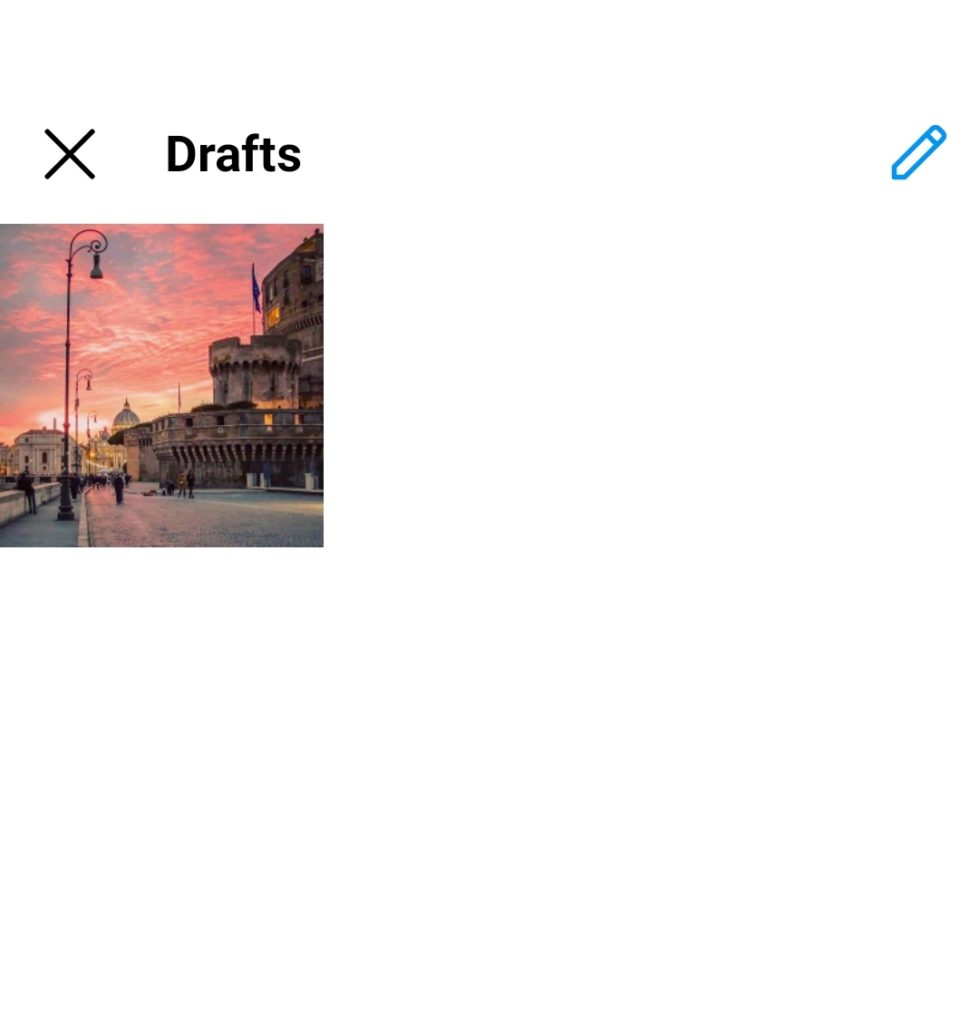 Then choose the checkmark on the top right side of the page.

Once you confirm your request, you will see that all those Instagram drafts have disappeared.

how to delete drafts on Instagram

AiGrow: Save and Delete Instagram Drafts Easily
As we have already mentioned, saving Instagram drafts is possible only if you edit your posts or apply filters on IG. In other words, you can't save your Instagram drafts if you don't wish to edit your post on the Instagram app. 
This limitation poses a problem, doesn't it? Don't worry though. We have a tested and proven solution for you.
AiGrow is an Instagram management service that will help you address almost all your marketing and personal issues while using Instagram. Using this professional marketing tool, you get to:
And more.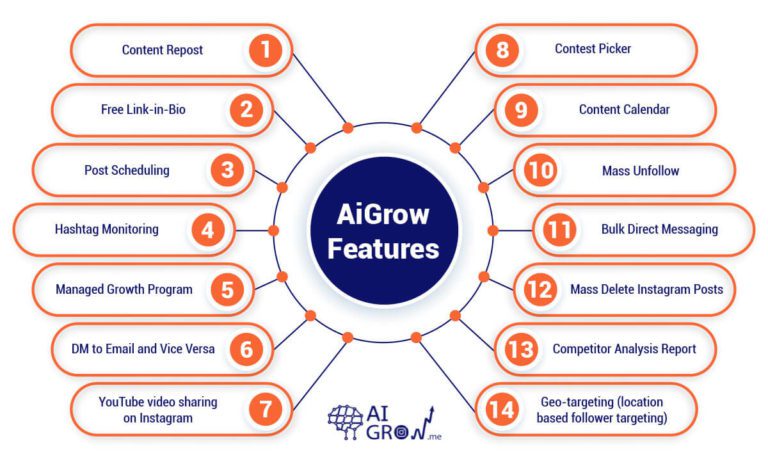 By the way, one of its best features is the Instagram scheduler, with which you can save your Instagram posts as a draft and manage them when needed. To save Instagram drafts using this platform, simply upload your content and save it for a later time.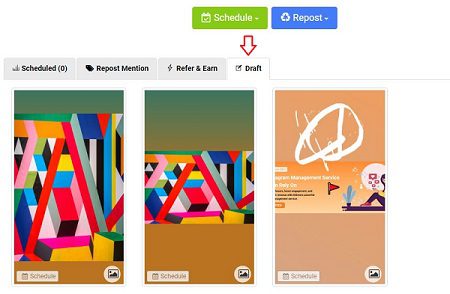 Then, whenever needed, you can open the drafts section and edit or schedule your Instagram posts for a later date.
Impressive, right?
Recap
To sum it up, you may need to save your Instagram posts as a draft to: 
Add more details later,

Or wait for your sponsor, partner, or colleague to approve the post before publishing.
Luckily, Instagram allows you to save Instagram drafts, provided you use IG filters or editing features. If you have no intention to use those, you need to use trustworthy platforms like AiGrow. These two platforms are compatible with all operating systems which makes them even more convenient.
No matter what type of account you are running, we tried to cover the steps you must take to save, find, and delete Instagram drafts. So, read the article carefully, and feel free to leave us a comment if there are any unanswered questions.