How many actions does Instagram allow per day? And how many follow and unfollows can you take per hour? How many accounts can you unfollow per day? We are here to answer all your questions. But first, let's see what Instagram's daily limits exactly are and why you should be concerned about them.
While Instagram's daily limits are implemented to try and combat spam and abuse, honest marketers are also impacted.
The good news in all this is that with a little creativity, you can get around Instagram's daily limits.
Instagram's Daily Limits Explained
Let's take a moment to talk about what exactly Instagram's daily limits are. First, we are going to review how the limits used to be in 2018-2019. Then we will talk about daily limits in 2021.
2018-2020:
Trusted accounts
Instagram Like Limits
You can either like something every 28 – 36 seconds. Or do it at 1000 likes at a time; if you go this route, you need to take a 24-hour break after hitting the limit before liking again.
Instagram Follow/Unfollow limits
This is similar to likes. In that, you are limited to one follow every 28 – 38 seconds. But also under 200 an hour. Similar to likes, if you hit 1000 follows a day and below 200 an hour (1000 a day, with a 24-hour break);
Instagram Comment Limits
You need to keep those under 12-14 an hour, with a 350 – 400-second break between each one.
Instagram Message Limit
There is no publicly known limit for DMs, but trusted accounts can expect to spend anywhere from 50 to 100 DMs/day.
New accounts
For new accounts, for the first 12 to 20 days, you need to wait 36-48 seconds between any actions.

In addition, the biggest Instagram daily limit is that you can only make a total of 500 actions a day. This includes the following, likes and unfollows. The total limit is 500 actions a day (follow, unfollow, like).

New accounts can expect to spend anywhere from 20-50 DMs/day.
But now, in 2021, things have changed a bit; here's what our team has found.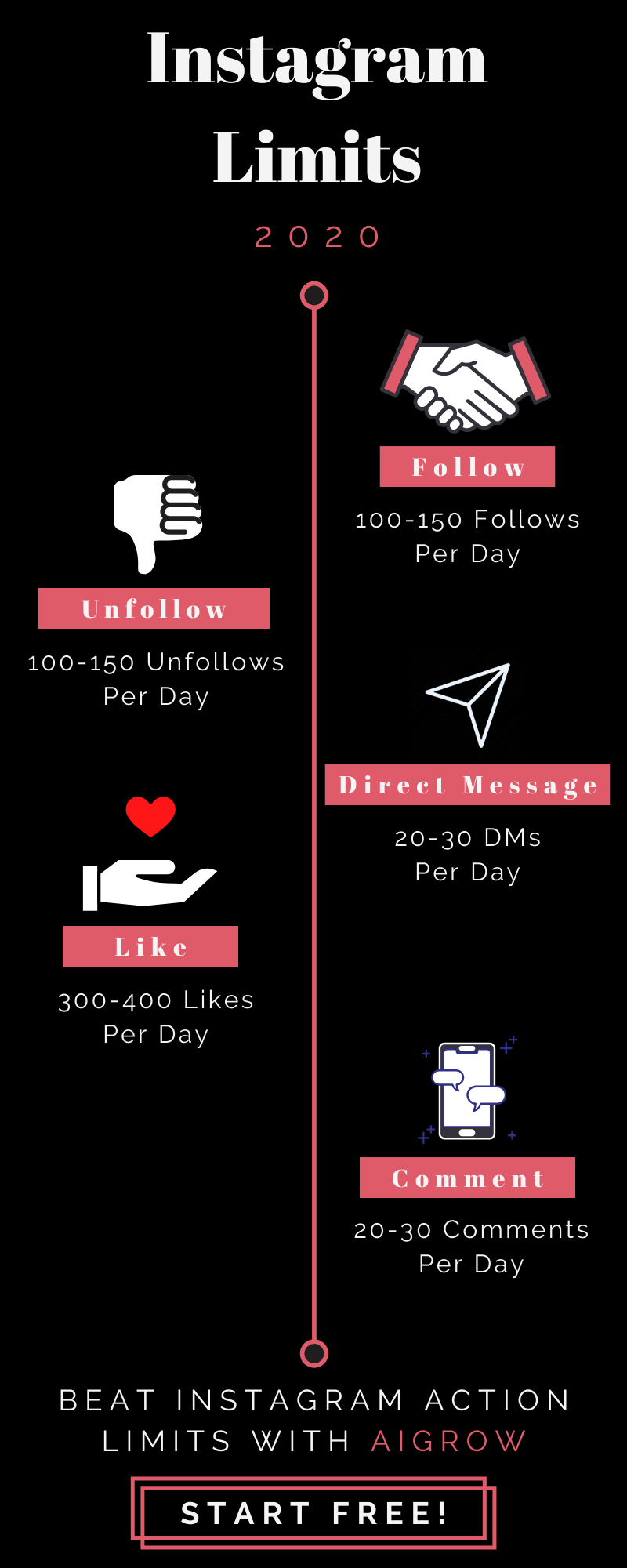 Instagram's Daily Limits in 2021
7-13 follows per hour or 100-150 follows per day

300-400 likes per day (of followed accounts)

2-5comments per hour or 20-30 comments per day

up to 10 DMs per hour under strict considerations
It's 2021 now, and Instagram is trying more and more to stop bots and automation. That's why you have to look and act naturally in order not to get banned. The numbers mentioned below are just an anchor. But the exact numbers depend deeply on your account and your history so far.
Instagram follow limit in 2021
about 10 (7-13) follows per hour are allowed during your awake time span, which will lead to a maximum of 100-150 follows per day.
Instagram Like limits in 2021
When liking posts, make sure you like posts from the accounts you follow; otherwise, you increase the chance of getting banned. The best practice would be to like 3 last posts of each new account you follow, which will result in a total number of 300-400 likes per day.
Instagram Comment limit in 2021
Comments and DMs are more critical. Commenting is restricted to 2-5 comments per day (20-30 per day). And we have almost the same numbers for DMs.
Instagram Direct Message limits in 2021
Numbers are almost the same as Instagram comment limits. But when sending DMs, you have to consider some other notes:
Never send the same message to many accounts. (what bots and automation do)

Try to rotate between several DM formats.

Personalize your direct messages. (make sure to include the name and ID of your audience)

Never attach a link to your DM if it's your first interaction with that user.

Try to plan your DM activities during the whole day.
Does Instagram have a post limit?
Instagram doesn't have any post limits. So, there is no limit on Instagram for the number of posts you share once or per day. Also, there is no limit for the all-time total post numbers.
What are the limits to how many photos you can save on Instagram?
There is no limit for the number of posts, photos, or even videos you save on Instagram.
How many Photos can you share per post on Instagram?
If you want to share an Instagram post with multiples photos or videos, you are only allowed to have up to 10 images and videos in a single post.
When will you get banned for unfollowing on Instagram?
However, it's temporary, but Instagram will ban your account for a short period of time once your unfollow number exceeds 100 – 150 per day. That's why many say, "Instagram is blocking me unfollowing". It's simple, whenever you act like a bot Instagram will limit you.
How long is the Instagram UnFollow ban? What about Instagram Follow and like ban?
Based on your actions, Instagram's temporary ban can be from 1 to 48 hours. But the usual banning time is 24 to 48 hours. The follow-up actions can make this time shorter or longer.
Will Instagram ban you permanently if you ignore the warnings?
Yes, the new Instagram algorithm will remove any account that shows a sign of spam or bot. For example, mass follows or unfollows in a short period of time is one of the known signs of spammers. First, you will get banned temporarily for up to 48 hours, and ignorance will make Instagram ban you permanently.
Are there daily limits for mass deleting Instagram posts?
No, there is no limit to deleting all Instagram posts at once. So, feel free to mass delete your posts whenever needed!
How to Beat Instagram Limits?
Instagram has many limitations for eager marketers. We have already explained how to beat the URL limit, but what can we do against action limits?
To succeed in growing your community on Instagram, you have to:
Go Targeted to Avoid Exceeding Instagram's Daily Limits
If you want to get the most return on your invested time, you should go after your target audience. If you have a fitness page, interact with people who are interested in fitness. You can find your target users (who are your potential followers) in your competitors' follower list, liking some fitness posts, and like this. AiGrow also has an Ai-Powered tool to help you extract a list of your potential followers. Just set a few parameters and let the AiGrow Generate the list.
Get your target list Here (it's free)
Go Organic to Avoid Exceeding Instagram's Daily Limits
If you want to take many actions and still don't get arrested (shadowbanned or action-blocked) by Instagram, you have to do your marketing activities in a natural manner. A normal user will search for hashtags, visit posts, like them, leave meaningful comments, visit accounts, watch some videos to the end, send DMs to accepted lists, etc. This requires you to spend 10-14 hours a day interacting with people and influencers in your niche.
As an alternative, you can use a managed Instagram service by AiGrow. An Instagram expert taking actions on your behalf in a targeted and humanoid manner will result in a steady and guaranteed growth in your followers' number. Packages will cost only a few dollars a day and include a free trial.
Here's the list of all the packages and their features: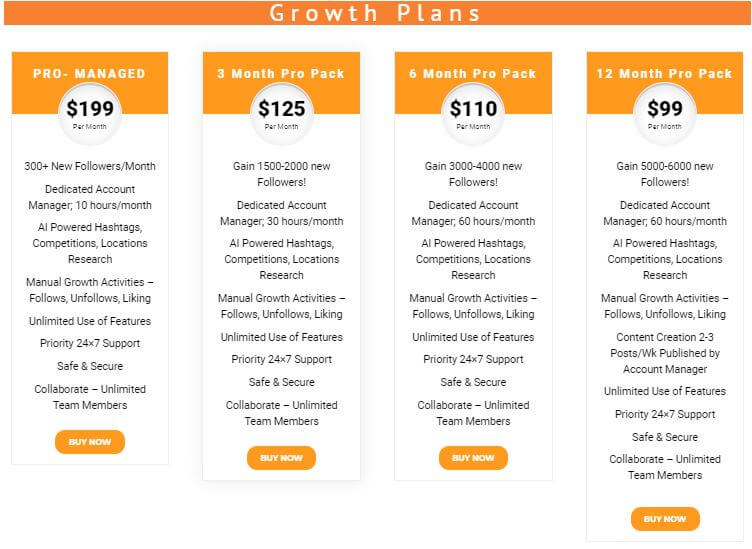 What happens if you exceed Instagram's daily limits?
While you may find these limitations annoying, this is all for our sake. Doing lots of actions in a short period of time is a sign of bot and spam activity. Instagram bans these types of actions to keep the platform safe and our accounts secure.
For a while, a username would experience an account ban without getting even notified. One can have almost no activity on the platform except for scrolling the feed in such a case. The good news is that from July 2019, Instagram has updated its policy. From the time Instagram sends a pre-ban notification to the user and tells them that they are at the risk of being shut down. The notification also instructs the user on how to prevent Instagram from shutting down their account.
Your Main Options to Get Around Instagram's Daily Limits
Many Instagram gurus recommend starting slower, around the new account range, then working your way up as your page gets more established.
But what if you don't have time to wait? What if you already have one established Instagram brand and want to work towards another?
Here are some things you can do.
Get an Instagram Account Manager
An Instagram account manager keeps you updated on the platform news and is aware of any updates made to Instagram algorithms. He is also professional in getting close to Instagram's daily limits but not exceeding them. Some platforms like AiGrow offer account management services for those looking for organic and rapid growth for their Instagram page. All you have to do is set up your account on their platform for free and leave the work to your dedicated account manager.
An Ai-powered system helps the team of Instagram experts to detect the best audience for your page (interested in your niche, around your location, using the same hashtags, etc.) who are potential followers for you. Then your account manager will start interacting with your target audience to interact with them to visit your page and likely become your follower. Besides the professional growth service, AiGrow offers some helpful tools, including:
Automated DMs – DM to Gmail – desktop Inbox.

Professional desktop scheduler for your feed/stories/reposts.

Instagram engagement pods.
AiGrow offers a free week of its packages. To better understand how it performs, set up a free account on their platform and see the results yourself.
Using Multiple Pages
The chances are that you've probably seen many other pages using this strategy. Basically, by creating several Instagram accounts with links in their bios to your main account and reaching Instagram's daily limits for all of those accounts, you can effectively supersede the originally intended limit while still directing traffic to your main page.
For example, let's say you're a sports company. You have multiple departments – basketball, baseball, and hockey. For every department, you create a different Instagram page.
There are a couple of different options you can pursue from here:
If you're trying to drive traffic to your website, you can link to your store in the bio of each of your specialized Instagram pages.

If you're trying to build up your following on your main Instagram page, you can link to your main page in the bios of all of your specialized pages.

Using The Same Account Daily
As we mentioned before, there's a significant difference between a trusted account and a brand new account. In general, the older and more active your Instagram account is, the more actions you will be allowed to perform daily. This is a rare case where slow and steady can win the race if you use your limited actions wisely early on.
Put plainly, the longer you own your Instagram page, and the more you use it daily, the more actions you will be able to perform daily.
If you are creating an Instagram page for your business and don't want to be restricted to the daily limits of a brand new account, if you have a personal Instagram account, you could convert your personal account into a page for your business. This way, you can perform more actions from your business account from day one.
This is obviously easier if your business is tied to your name (self-help, fitness trainer, consultant, etc.). Otherwise, if you know that you will soon be creating your own business, create an Instagram account and begin warming it up as soon as you can.
Final Thought on Instagram's Daily Limits
Being creative can help you circumvent some of the Instagram daily limits you may encounter on its users, but this is only one small part of effective Instagram marketing. With the new updates on the Instagram algorithm, using automation tools and bots has almost become impossible. Instead, people and businesses are using human-managed services like AiGrow, on which an Instagram expert will take care of your account and grow it safely and organically. The service comes with a one-week free trial. So, sign-up and see the results yourself.