Managing a business account on Instagram and keeping track of every single message you receive takes a great deal of time. Sometimes you may need to hide some conversations to keep your account safe when adding an admin to a shared business account. Or sometimes you have to check your Instagram archive messages and read your old conversations. What can you do in these cases?
In the following, I'll try to cover all these questions and help you find the best way possible to access your archived messages on Instagram, hide or unhide conversations, and more. So, stick around and keep reading. 
How to See Hidden Direct Messages on Instagram?
It may happen that you receive a DM notification on Instagram, but when you check your DM inbox, you see no direct messages! Why does this happen? 
Well, at first you might think that this is an Instagram DM glitch, but this is not the only reason for not seeing any messages. There are two other potential reasons as well: 
You've just received a new message request, 

The sender of the message has removed it! 
In the first case, you can access your hidden DM from the "Request" part: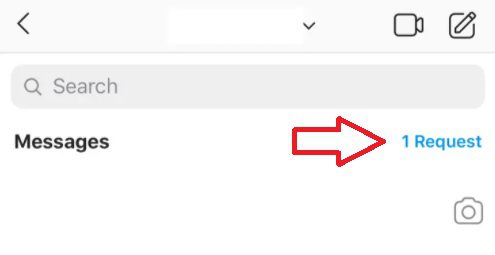 But when the second case happens, you have to use a third-party app like AiGrow to read the unsend messages through your email inbox. 
How to Archive Instagram Messages?
As mentioned in the introduction, sometimes you may need to archive Instagram messages, especially when you are managing a shared business account. Unluckily, the official app has no feature called "Instagram archive messages" and hence, you can't archive your old messages to better manage your DMs. 
But hopefully, there are 2 ways to make an archive of your DMs and protect them all in a safer place like your computer, backup drive, or even email inbox. Let's see how to do it!
#1 Download Instagram Data
One way to archive Instagram messages without using any third parties is to download your Instagram data. Actually, in this way, you receive all your data including DMs, comments, posts and etc. But if you prefer not to use any third parties at all, this can be a great way. 
To download your Instagram data, you just have to follow these steps: 
Go to your Instagram security settings.

From the list you see, choose "Download Data". 

Then, enter your email address and password. 

And finally, request your data. 
After a few hours, Instagram sends you a huge compressed file containing all your DMs. Opening the "Messages.json" file, you can access all your DMs and even search among them. However, this way has some disadvantages: 
Each time you want to access your Instagram archive messages, you have to follow the same path and Instagram sends you all the data from when you created your account, not from the last time you got a backup. 

Storing all the files you receive takes a great space. 

And finding the information you need from the files you received is not that easy. 

So, I recommend you to keep on reading and try the following solution instead!
#2 Connect DMs to Email
Luckily, there's a better way to archive Instagram messages: connecting Instagram DMs to your email inbox! Well, this is not something that you can do using the official Instagram features. However, using a safe and secure third-party like AiGrow, you don't have to worry about it. 
AiGrow is an Instagram management service that allows you to grow organically on Instagram and manage all your tasks in a more organized way. 
Using this super amazing tool, you can connect your DMs to your email inbox and manage your DMs without checking your Instagram. All you have to do is to sign up for free, go to the "DM to Email" section and connect to your DM inbox. Then, each time you receive a message on Instagram, you'll get an email containing your DMs. So, you are able to: 
Reply to DMs by replying to emails, 

Marking messages as unread, 

Filter your messages by sender, 

And also archive Instagram messages.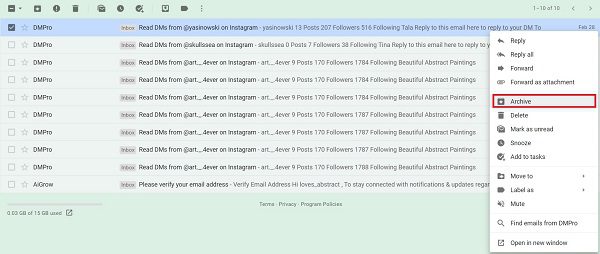 So, to better manage your old messages, check it out and sign up for free RN!
How to Hide a Conversation on Instagram without Deleting it?
No matter if you are managing a personal account or a business one, Instagram doesn't have any official features to hide or unhide messages. However, there are some ways to remove conversations from your inbox without deleting them permanently. Keep on reading to find'em out.
#1 Restrict the Sender
If you want to hide a chate from your DM inbox temporarily, restricting the sender can be an amazing option. Actually, when you restrict someone on Instagram, 
So, to hide a conversation on Instagram, open the sender's profile and then: 
Tap on the three dots icon on the top right corner of the screen, 

Tap on the "

Restrict

" button, 

And confirm your restriction.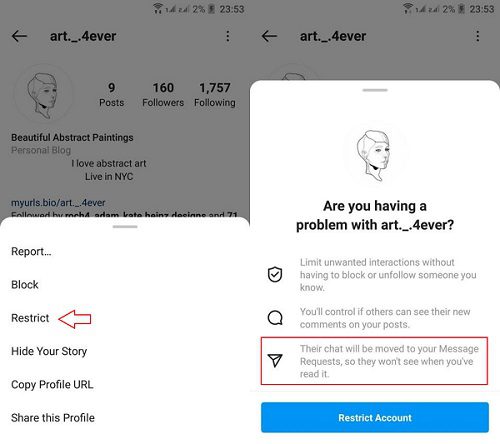 That's all! Whenever you needed to access their DMs, just go to your Instagram message requests and unrestrict them. 
By the way note that this way, you just move them to the requests, and people who access your inbox can still check these messages. So, jump into the next section for a better solution.
#2 Forward DMs to Email and Delete the Chat on Instagram
In the previous sections, I told you how to connect DMs to your email inbox to archive messages. Well, the truth is that when you do this, your messages will not be deleted from your email inbox unless you delete the emails. So, a good way to hide Instagram DMs is to keep the emails containing them and delete the original conversation from Instagram. 
This way, you can perfectly protect your messages from other account managers. So, sign up for free on AiGrow and connect DMs to your email.
Final Words on Instagram Archive Messages 
To wrap it up, Instagram doesn't have any official features to help you archive messages or manage the old conversations in an organized way. But there's no need to worry! Here, I taught you how to archive messages, hide them, and manage them easily.