Are you receiving numerous boring posts and stories of your friends and family but don't dare to unfollow them? Then, don't feel blue! Here you can learn how to mute someone on Instagram. 
Indeed, muting someone on Instagram is different from mass unfollowing them. Still, you are their followers but feel released from getting their stories or posts of any single move they share on social media. Some Instagramers tend to shoot countless selfies and post them all on the platform frequently. On the other hand, you may be a busy Instagram marketer, and there is no space for junk in your hectic life. Therefore, muting these people on Instagram is the best solution for you. In this case, you won't face any unfollowing consequences while you're still connected to them.
Now, let's see how to mute someone on the Instagram story, post, and DMs. 
How to Mute Someone on Instagram DMs?
Many marketers receive bunches of messages and ads from random people. So it may cause managers to ignore important and urgent messages non accidentally. Of course, you can delete Instagram messages, but you can mute them in bulk to avoid facing such an issue in the future. However, there is not such an option on the Instagram official app.
Still, the good news is that I have found an Instagram management tool that lets you connect your DMs to your email. Indeed, it would be best to forward Instagram messages to email and mute multiple conversations simultaneously. 
DMpro is an IG-friendly app that allows you to add several Instagram accounts to your single dashboard. Then, you can connect each of them to an email address. Since then, an email will notify you every time you receive a direct message in your direct inbox. Also, using this feature, you can read unsend messages on Instagram.

So to connect DM to your email and mute people on Instagram, follow the steps below:
Press

"Manage Account"

Hit

"Direct Messages"

and

"DM to Email"

tabs.

Now, confirm your email address.

From now on, you'll receive all the DMs in your email.
Here, you can mute people on Instagram and won't face their messages anymore.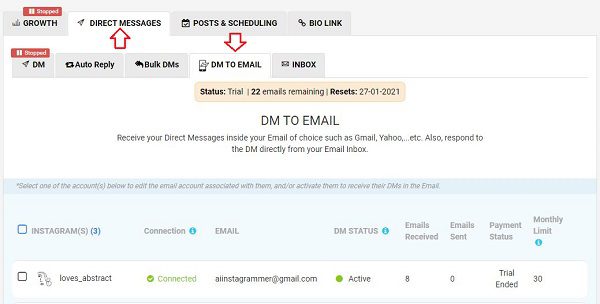 Moreover, via DMpro, you can instantly respond to DMs from email and mark it as unread to respond in the future. In addition, you can add any tags or labels like your emails. Above all, this helps you to read messages without being seen.
Presently, you can instantly recover your DMs if you delete a DM accidentally or a virus attacks your property. 
FAQs about How to Mute Someone on Instagram?
Now you have precise and helpful information on how to mute people on Instagram. However, there are some questions and in-app solutions that many users might ask. So I'll share them with you:
1- How to mute someone's posts on Instagram?
If you desire to get rid of some frequent nonsense posts of a tacky person, just take a breathe and follow the below steps:
Open Instagram app

Select the search icon

Then, insert the name of the account you'd like to mute in the search bar and tap on their profile

Select 'Following'

Tap 'Mute'

Now, toggle 'Posts' on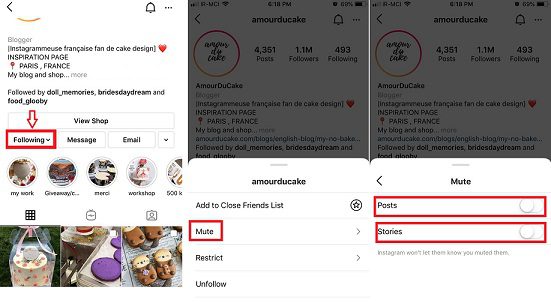 2- How to mute someone's Instagram posts from your feed?
If you are facing another boring post of a special someone on your feed and want to cut it out, go through the following steps:
Hit the three dots next to a post

Tap 'Mute'

Select 'Mute Posts'
3- How to Mute Someone on Instagram Story?
If you don't want someone's story to show in the bar at the top of Feed, you can mute their story. On the flip side, using a tracking tool you can view someone's posts and stories without having to mute them whenever you want. Using this wonderful tool, you can easily save Instagram stories on PC. Moreover, DMpro allows you to view private Instagram accounts.
Now to track someone on Instagram:

Now, select the "POSTS & SCHEDULING" and "LISTENING & REPOST" tab and upload your photos.

Now, choose the "Account Monitoring" tab.

Next, hit the "Add more accounts" button.

Add the accounts you want to inspect.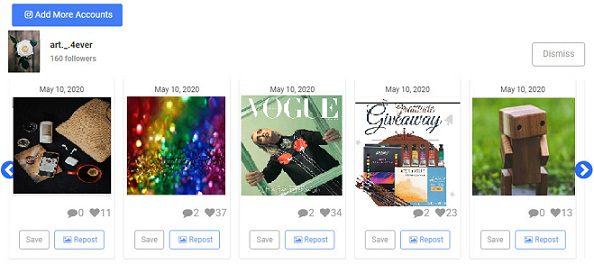 Finally, you can select, save or repost each post you desire.
Also, if you consider how to mute stories on Instagram, follow the instruction below:
Open your Instagram app

At the top of the feed, Press and hold the profile picture of the person whose story you'd like to mute.

Select 'Mute'

Tap on 'Mute Story'
4- How to Unmute Posts on Instagram?
To unmute posts of someone on Instagram:
Find the muted user's Instagram page.

Pick "

Following"

below their profile image.

Tap on "

Mute

."

Then, unmute posts by turning the "

Posts"

switch "

off

." 
5- How to Unmute Someone on Instagram Story?
If you mute someone's story, you won't see their story next to others at the top of your feed. So whether you changed your mind and want to unmute their stories, you need to:
Tap their username from their Feed post.

Select on "

Following"

below their profile.

Tap "

Mute

," then tap next to "

Stories

."
Final Thoughts
When you mute someone on Instagram, you can still view their stories by going to the end of your stories and tapping their profile image or by visiting their Instagram page. Indeed, muting people on Instagram only prevents them from showing up in your accounts feed. Also, using a potent DM tool like DMpro, you can mute and unmute several accounts concurrently.