Influencer Marketing, from the very beginning of its arrival, is unbelievably growing. Maybe that is because most people prefer buying the goods from a reliable and knowledgeable person they could trust. In this case, if you are the one who seeks out "How to Be an Influencer" on Influencer marketing platforms, you are on the right path.
Keep reading this article, and you will find out the information you need in this area vividly. 
What Is An Influencer
An influencer is a charismatic person with significant crafts and knowledge; who can influence others, especially potential customers of a product or service, by promoting or recommending social media items because of their credibility and trustworthiness. 
The word "Influencer" started on Youtube and then entered other social media platforms such as Instagram and Twitter. The term "Instafamous" also refers to these people.
Steps to Becoming a Social Media Influencer
Optimize Your Social Media Profile

Understand Your Audience

Create and Post Relevant Content

Be Regular and Consistent

Engage With Your Audience

Let Brands Know You're Open to Collaborations
Types of Influencers
You can divide different types of influencers in various ways. Some of the most common methods are follower numbers, content types, and the level of influence. You can also group influencers by the niche in which they perform their career.
To become an Influencer, it is essential to know their types clearly:
Follower Numbers
Mega-influencers are the ones with a large number of followers on their social media. Typically, mega-influencers possess more than 1 million followers on a social media platform at least.
Most mega-influencers have gained their fame offline, such as football players, movie stars, sportspeople, musicians, and even reality television stars. However, Some of them have earned their enormous followings through their online and social activities. 
As their services will be expensive(up to $1 million per post) and they are cautious and fussy about whom they choose to partner with, only significant brands should propose mega-influencers for influencer marketing. Mega-influencers have agents managing on their behalf to make any marketing agreements. Cristiano Ronaldo is the most followed Mega-Influencer on Instagram with more than 240M followers.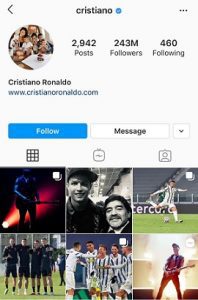 Macro-influencers are a level down from the mega-influencers and maybe more available as influencer marketers. They need to possess between 40,000 to 1 million followers on a social network to be macro-influencers.
This group includes two types of people; the first group is B-grade celebs, and the second group is successful online specialists who have earned more notable followings than the typical micro-influencers. The second type of macro-influencer is expected to be more beneficial for firms involved in influencer marketing.
Macro-influencers usually have a high profile and can be great at raising brand awareness. They are also more suitable for cooperating with brands than micro-influencers, making interaction more straightforward. However, This is the category most possible to engage in influencer fraud.
Micro-influencers are ordinary people who have become identified for their expertise in some special niche. Of course, it is not only the number of followers that shows a level of influence; it is their interaction with their followers. Hence, influencers are often meticulous about who they work with. 
You could consider micro-influencers followers from 1,000 to 40,000 on a social platform; Some of them are happy to promote a brand for free. Others will expect some form of payment. 
Influencers' characteristics are changing, and Micro-influencers are becoming more common and more famous; some have become nearly as well known as traditional celebrities. This is especially the case for Generation Z, who consume more time on the internet than going to the gym or movies or watching TV.
Certainty, micro-influencers are the influencers of the future. 
The latest influencer type to obtain attention is the nano-influencer. These people solely have a small number of followers; however, they tend to be specialists in a profoundly specialized area. Mostly, they have less than 1,000 followers – but they will be intent and interested followers, eager to engage with their nano-influencers and listen to their opinions. 
Types of Content
The majority of influencer marketing now exists in social media, and they are divided by the content they share. 
Bloggers and influencers in social media have the most genuine and active connections with their audiences. Hence, Brands and firms are now realizing and encouraging this.
Some people think Bloggers are the same as Influencers, but they vary. However, blogging has been connected to influencer marketing recently. In a nutshell, a blogger is a person who manages a weblog and promotes a brand or one specific product. 
If a famous blogger boldly mentions your product in a post, it can lead to the blogger's supporters wanting to try out your work. If a blog is extensive and influential enough, you may be able to buy a sponsored post on their site.
Video is one of the most favorite types of content. Consequently, rather than each video maker having their site, most brands and firms build a YouTube channel. 
Podcasting is an almost recent type of online content that is expanding in popularity. If you haven't still had the chance to enjoy podcasts, Digital Trends have put together a full list of the Best Podcasts of 2020.
Bloggers, podcasters, and YouTubers usually promote their posts or videos on social media, especially Instagram, making these bloggers and content producers micro-influencers.
How can I become an influencer quickly?
Buy time and become an Influencer quickly by going through the below details:  
Build a Following
The first step is building a following that companies will find attractive. Apps such as AiGrow, are a great choice to aid you in growing followers organically. You also must make sure that you focus on the followers you gain. Interact with people, engage with them, and show them that you are interested in what they say. When people feel valued, they are most likely to remain loyal followers.
Have a Strategic Content 
Please make a plan for what you are providing your followers. Each post must be qualified and present some value for those who will read it. All photos must have a professional quality, and all posts should be shareable. Utilize keywords, hashtags, and locations to help ensure that your posts are more accessible.
Here are the topmost effective content curation strategies from our friends over at Instasize!
Contribute to Multiple Websites
The more websites you are on, the more you are exposing yourself to potential followers. It helps you create a name or brand for yourself, and it also helps direct traffic to your blog or website. 
Final Words On How To Become An Influencer
With the above information, you can start making your plans to become an influencer. The code to success in Influencer marketing is to define your objectives and scale them with engagement.