With 90% of Instagrammers following at least one brand, it is clear that hosting giveaways on Instagram will increase your chance of social media success. It can help you effectively grow your Instagram organically, increase brand awareness, and generally achieve your goals in a short period!
Many Instagrammers start using giveaway bot immediately. But it is essential to know how to host a giveaway on Instagram efficiently? And what giveaway bot, strategies, and ideas help? 
Read on to find out!
How to Host a Giveaway on Instagram
Hosting giveaways on Instagram might seem straightforward, but there is much more to it. We did extensive research for my first giveaway on Instagram and found the essence of more details to consider. It can present new overwhelming challenges that require much of your time and energy. However, if you know how to do a giveaway on Instagram and what steps to take, you can successfully manage it! 
As of this moment, the most crucial step you must take is to make sure that you know all the tips and information on 'how to host a giveaway on Instagram.' Then, you need to brainstorm, figure out how to reward your followers, and the best Instagram giveaway picker to select the winners!
To run excellent, fruitful giveaways on Instagram, follow the steps below!
#1 Set a Goal for Your Instagram Giveaways 
Before starting your giveaways on Instagram, you have to define your goal. Only through setting a goal you can tailor a specific strategy! That is to say, your giveaway strategies and prizes all depend on your objective.
"It's my first giveaway, how can I determine my goals?" you keep asking. Well, that depends on you. But, there are some common objectives that encourage brands and businesses to run giveaways on Instagram.
For instance, you may aim for:
Instagram/ Facebook/ Twitter followers growth

More Email subscriptions
Learning how to run a giveaway on Instagram will help you with the mentioned goals for sure! But it's not magic. That is, if you have ten followers right now, gaining 1 million followers after 2 or 3 days of an Instagram giveaway contest is impossible and irrational! So, make sure your goal is not far-fetched! 
#2 Choose the Prize for Your Giveaways on Instagram
Now that you have defined your goal, it's time to determine the prize. Your prize depends on your purpose and your budget. Of course, the more valuable the prize, the more users will participate!
But, don't go overboard trying to please everyone with a grand prize! Pay attention to your limitations and your target audience's needs and expectations. 
Undoubtedly, sharing Instagram coupons as your giveaway prize is one of the cleverest ideas! Generally, presenting your products and decent discounts on your products are among the best giveaway prizes. They help increase your sales and grow your brand on IG!
LoveYourMelon is an apparel brand selling sweaters, beanies, and caps. And as you can see, they have picked out packages of their products as their giveaway prize! let's take a look at one of their giveaways on Insatgram:
#3 Specify the Rules for I
nstagram giveaways
The next step on 'how to do a raffle on Instagram' is specifying particular rules and terms of entry for the participants. Make sure that your audience is fully aware of the rules for your giveaways on Instagram. 
These eligibility rules can range from age, location, tagging a number of friends, or following certain accounts. For instance, in most giveaways on Instagram, participants should follow the IG account and tag 2-3 friends. Let's look at a more specific example.
In the @cuddleandkind giveaway, entrants must follow their account, like the post, and tag a friend in the comments.  And also, for an extra chance to win, users must enter their Facebook page:
Bear in mind that the steps must be easy to follow and undemanding. Few will participate if it's too long and complicated, and subsequently, you won't see the desired outcome.
#4 Announce the Deadline for Your Giveaways on Instagram
You should always announce the time limit for your giveaway on your accounts on Instagram. You don't need to overthink this step, though. You just need to set an appropriate deadline.
Just remember not to cut it too short or provide too much time! Why? Because if it's too short, it won't receive due attention and engagement, and if it's too long, the audience will grow uninterested and bored.
A best practice is to select a period of 3 to 5 days for small giveaways and prizes and a period of 1 to 2 weeks for bigger, more engaging giveaways that offer better prizes. And according to studies, the best months to hold giveaways are June and November. But then again, it depends on you and your goals!
Here you can see that @witchcasketuk has set a ten-day-long giveaway, which seems the excellent length for achieving what they want:
#5 Use Relevant Hashtags
Unquestionably, hashtags help you reach your target audience on Instagram. But not all hashtags are helpful for your purposes! Make sure to choose the ones related to your campaign, content, products, and the prize. Also, some giveaway bot may help you find and save hashtags on IG to save time.
The most general hashtags include:#giveaway, #giveawaytime, #instagiveaway, #contest alerts, #freegiveaway, #contest. However, you could get more creative and specific and use your brand or product in the hashtag!
For example, @animalpak has used hashtags related to their prizes and products while exploiting some creative, unique hashtags as well:
To see the best result, you could also use a tool for identifying the best hashtags. The best tool for this purpose is AiGrow which we will discuss at length in the following sections.  
#6 Partner with Influencers for Your Giveaways on Instagram
Giveaways on Instagram can be more successful when new brands partner together or with influencers. What does this partnership mean? Imagine that your market produces and sells cake ingredients. In this case, you can ask for help from a bakery account. Then that bakery brand might post a recipe and then mention some specific products of your brand in the ingredients section!
This way, both partners will benefit from the giveaway! You can also find Instagram influencers in your niche and ask them to collaborate with you. Collaborating with influencers means you can also run successful Instagram loop giveaways.
But, don't get carried away and text every influencer: "Let's make a deal for giveaways"! Remember that collaboration with influencers can quickly go wrong if those influencers don't produce content in your niche!
#7 Promote Your Giveaways on Instagram
Once you have determined your goals, prizes, potential partners, best hashtags, and the deadline, you are ready to post the giveaway! But remember to launch and promote your giveaways on Instagram during the best times to post! 
Additionally, share announcements everywhere you can. But keep in mind that your giveaway images need to stand out and capture attention immediately. So, you can check out and choose an Instagram giveaway template to ensure that your post is good enough.
#8 Pick the Winners of Your Giveaways on Instagram
No matter how small your community is, you will realize that several users have complied with your specific rules by the end of the giveaway. Now, you need to go through a long list of followers and pick only a limited number of winners.
In this situation, you're presented with two options. You can either do it manually, which is impossible if you have a considerable follower count. Or, you can use the best Instagram comment and giveaway pickers to automate the process. 
In the next section, we will introduce the best tool to end your search for the best giveaway picker. However, for now, remember your followers should be aware of how you chose the winners and who won.
So, let them in on the process; put up screenshots and screen records to inform them. Plus, when the giveaway ends, it's an excellent idea to announce the winners in the caption of your giveaway post!
Automate Your Giveaways on Instagram with AiGrow
Now that you've learned how to host a giveaway on Instagram let's learn how to facilitate it! You have probably noticed that the big problem with giveaways is that they take a big bulk of your time. It might take hours to go through entries to see who fits your criteria and make sure there are no duplicate comments!
Doing all these manually looks implausible in effect. But you can't back down so easily! You can simply automate almost all the steps mentioned above. But how?
To automate your giveaways on Instagram, you can exploit AiGrow's giveaway picker! It practically makes the whole process of choosing the giveaway winners effortless! However, this feature is not the be-all and end-all for AiGrow. So, let's see what fantastic features await us if we connect our IG account to AiGrow. 
AiGrow Features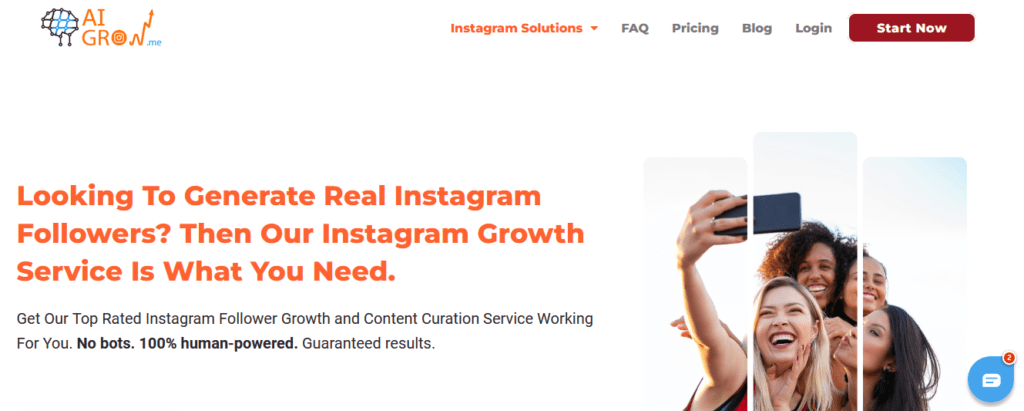 AiGrow brings a lot to the table! With this unique platform, you can:
Grow your followers organically,

Find the best hashtags for Instagram,

Access post analytics,
And much more. Now let's see how the efficient giveaway picker works!
AiGrow Giveaway Picker
The giveaway picker feature on AiGrow is the best tool you could ask for. Whether you run a small giveaway or a large one, this tool finds your giveaway winners in a blink of an eye. But how can you access it?
Just follow the steps below:
Sign up for free

and connect your IG account.

Then, select 'Manage account.'
Among the tabs available, pick 'Giveaway Picker.'
Once it opens, choose 'Start Giveaway Now' and enter the link to your giveaway post.

Finally, you can specify the number of winners and substitute winners and your rules, including the number of hashtags or mentions the participants should have.

Finally, enter the deadline and press 'Submit Contest Settings.'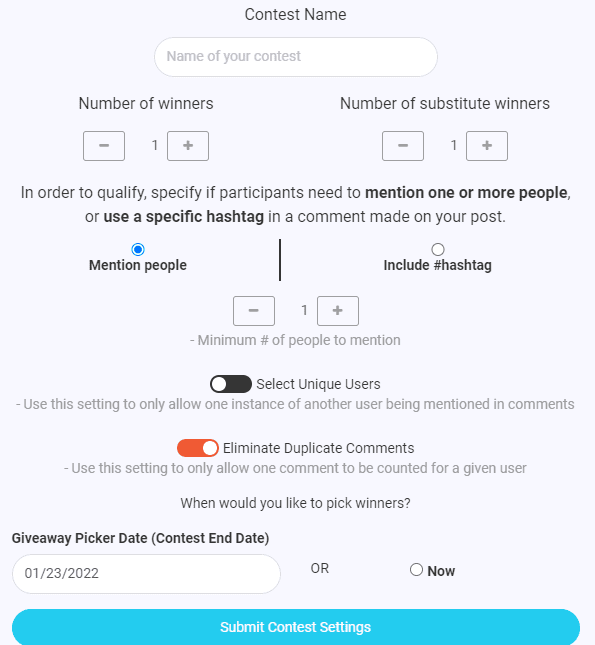 And you are done! It's impressive what a few clicks can do, right? Don't waste more of your valuable time. Finally, you know how to run a giveaway on Instagram efficiently. And how to do a raffle on Instagram? is not a big deal any more. 
Sign up for AiGrow now to gain access to its fantastic features! 
Conclusion
According to recent studies, Instagram accounts holding giveaways grow their followers 70% faster. That's why giveaways on Instagram present the best opportunity for those who would like to make remarkable progress! In this article, we learned how to host a giveaway on Instagram.
But before hosting giveaways on Instagram, reread the article to find out how it works. And if you wish to save your time, don't forget to consider using AiGrow!