Sometimes, you want to protect your privacy on Instagram by hiding your followers or following from your friends or other people. You may have various reasons for this, such as limiting your nosy family members or your ex from seeing your list of followers. No matter what your reason is, you can find out how to hide Instagram followers and following by reading this post.
With more than one billion monthly active users, Instagram is a super popular platform among all types of people, especially Gen Z, who are screen addicts and love to share their lives online! It seems Instagram is a great way to make a name by tapping into people's social proof traits. However, some people respect their privacy more than others. Let's see if there's a way to hide followers on Instagram. 
How to Hide Followers on Instagram?
"Can you hide followers on Instagram?" this might be a question in your mind right now. Unfortunately, you cannot hide your followers on Instagram entirely, at least when your account is public. However, there are ways to hide your followers' list from some friends or other users. 
Here they are: 
1- Switch to Private Mode
If you only want to hide your following list from people who don't follow you, simply switch to private mode. When you do this, only those who are following you can go through your followers' list. 
To switch to the Instagram private or personal account, follow these steps:
Go to your profile and tap the three-line icon in the upper right corner.

Tap Settings.

Tap Account.

Tap Switch to Personal Account.

Tap Switch Back to confirm.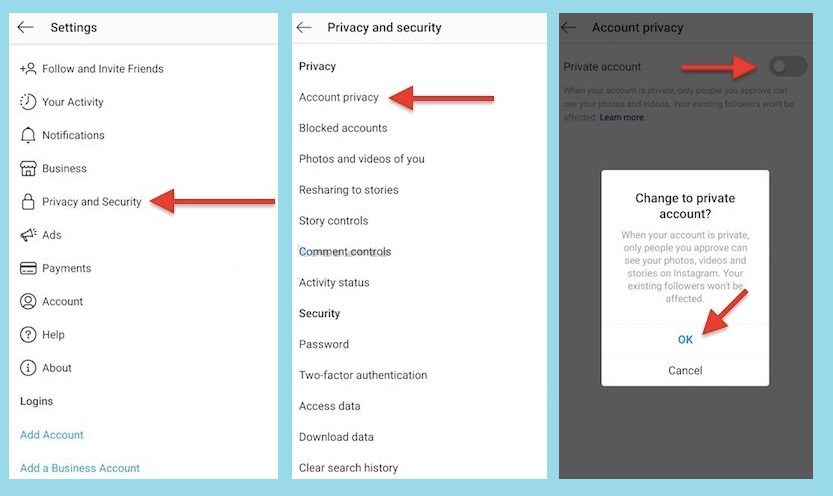 Can You Make Your Followers List Private on Instagram?
Unfortunately, and as I mentioned before, it's impossible to make your followers list private, just like what you do with your account. 
2- Remove Accounts
If you have one or several people in mind that you wish them not to see your followers list, you can remove these accounts (sorry, no way to hide your list from nosy relatives you can't remove!). 
Removing an account on your Instagram following list is easy:
Go to your profile picture in the bottom right to go to your profile.

Tap Followers at the top of the screen.

Tap Remove to the right of the follower you'd like to remove, then tap Remove to confirm.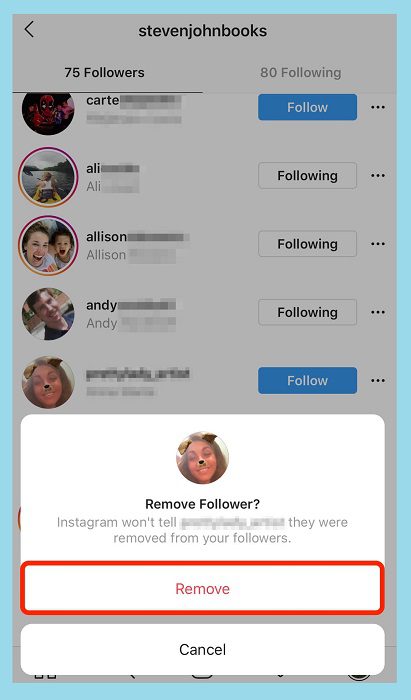 3. Block Followers from Instagram
As a last resort, if you don't want to make your account private, you can stay public and block the account(s) you wish, so they don't see your followers list. 
To block (or unblock) someone on Instagram:
Tap their username to go to their profile.

Tap on the three-dot icon in the top right.

Tap

Block

/

Unblock

(iPhone/Android) or

Block

/

Unblock this user

(computer).

Tap

Block

/

Unblock

again to confirm.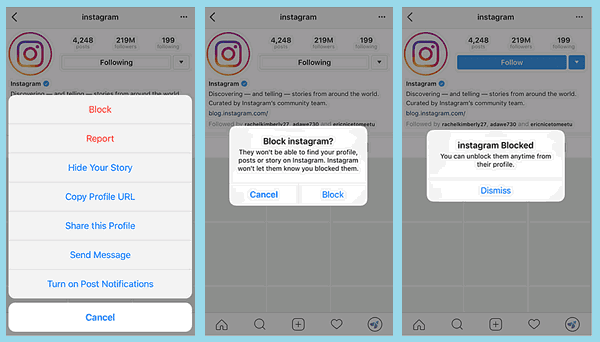 As Instagram puts it, when you block someone, that person won't find your profile, posts, or story on Instagram. People aren't notified when you block them.
Also, after you block someone, their likes and comments will be removed from your photos and videos. Unblocking someone won't restore their previous likes and comments.
So, you might want to be careful with this option!
Now that you know how to hide your followers on Instagram let's move on to the next option; hiding your following!
How to Hide Instagram Following List?
Are you thinking about "how to hide who you follow on Instagram?" or "how to hide my following list on Instagram from followers?" Well, the answer is exactly like hiding followers. You (almost) can't hide your following list. The only thing that you can do is to do the same thing that I mentioned above. 
Here are some of the other questions around this topic that you might have in your mind:
How to Hide Mutual Friends on Instagram?
If you check someone's follower or following list, you can see the mutual followers there. Unfortunately, Instagram does not allow you to make yourself invisible in this part.
Can You Hide Followers on Instagram Android or iPhone?
No, there's no app out there that enables you to hide your followers and followings from your friend. The only way is to wait for a new Instagram update that allows this option. 
How to Promote My Instagram Account Without Expanding My Followers List?
The follow/unfollow method is a very effective way to gain more followers on Instagram. However, some people prefer to maintain their following list clean so that other people don't peek into their list. So, the follow/unfollow method is not for them. However, there are many other ways to gain followers, such as:
1- Mother-Child Growth Method
In the mother-child growth method, you promote a single Instagram page (the mother account) using a number of other Instagram subpages (child accounts). This way, your main account stays secure and safe. 
Read all you have to know about this method in our article: Do Mother-child Instagram Growth Services Really Work?
2- Post at the Best Time
Another way to promote your account without following other people is to publish posts at the best time. But you may have so many other responsibilities that forget to post at the best time. No worries! You can use an Instagram scheduler to do the work for you!
Our suggestion is AiSchedul, a smart Instagram scheduler with many options such as a social calendar, listening and repost, and post and rewards. 
Sign up for AiSchedul to enjoy even more features such as an all-in-one bio link:

3- Influencers Shoutouts
If you wish to become an influencer and need more followers without following others, you can do shoutouts with other influencers!
Final Words
Although it's a little bit difficult to hide your followers from other people on Instagram, using the methods that I've mentioned above, you can do this to some extend!