Do you want to market your business on Instagram? You want to increase your Instagram followers, boost engagement, and grow all the other essential elements on your Instagram account. But you don't want to spend money as your competitors? What should you do? It's simple! Bootstrap growth hacking Instagram and become a paid influencer in 2021!
What is Growth Hacking or Growth Marketing Approach?
According to Hubspot growth marketing is an innovative strategy for developing your company and maximizing your content marketing activities through continuous testing across many marketing channels. If you need some examples of growth hacking to understand what differentiates it from traditional marketing, the video below shows the most cited growth hackers in recent years. 
Nowadays, there are new channels including Facebook, Twitter, Instagram, Snapchat, Printest, and etc. In this article, we are going to talk about growth hacking Instagram. 
What is Growth Hacking Instagram or Instagram Growth Hacking?
Instagram growth hacking or growth hacking Instagram is a rapid process that significantly increases your follower number, boosts your engagement, and creates influencing opportunities for you. Also, if you have your own business, Instagram growth hacking can build your brand awareness on one of the most popular social media platforms these days. The process of Instagram growth hacking can happen through anything including content, hashtag, comments, DMs, page design, shoutouts, scheduling posts, Stories, Lives, IG TVs, call to action buttons like polls, giveaways contests, follow/unfollow method, interaction with competitors, etc.
Now, we know how crucial growth hacking is for your Instagram account. But the question is how to bootstrap growth hacking Instagram with an inexpensive method? Should you ask Instagram growth hackers? Or you can bootstrap Instagram growth hacks by yourself? 
Of course, everyone is free to develop any strategy they want but Which costs them more?
As we said before, basically, there are two ways to start your Instagram growth hacking. 
Ask a perfect growth hacker to help you

Do Instagram growth hacking by yourself
Let's check them both!
#1. Steps Before finding a Perfect Growth Hacker for Instagram
Actually, this depends on your business and where you are standing among competitors. First of all, you should be aware of your marketing funnel. 
What is a Marketing Funnel?
Your customer's experience with you is represented in a marketing funnel. This journey starts when someone hears about your business which is the first stage and ends with the purchasing stages. 
Understand Your Marketing funnel to Better Optimize Instagram
Bear in mind that if you have a company that has already passed the awareness stage, then Instagram should be viewed as a marketing tool. It should be part of the whole marketing funnel, not a stand-alone way to develop the brand. 
But if you don't get enough traffic,  or if you don't have enough people aware of your existence, that's okay. Don't worry. Lots of startups and fresh Instagrammers face this. Lots of small businesses face this. You can find some growth hackers to solve your awareness issue first. 
First Build Your Instagram Sales Funnel
It doesn't matter whether you are going to growth hacking Instagram on your own or hire Instagram growth hackers to help you. You should have an Instagram sales funnel if you desire to make money from your Instagram. If you don't know how to build your Instagram sales funnel, the video below may help you a lot.
Best Instagram Growth Hacking App
Now, you know what you want from your Instagram. It's time to start growth hacking your Instagram. Fortunately, we have found an app called AiGrow with various growing plans. It means their growth hackers have whatever you need for your Instagram growth hacking. You can see some of their other packages below: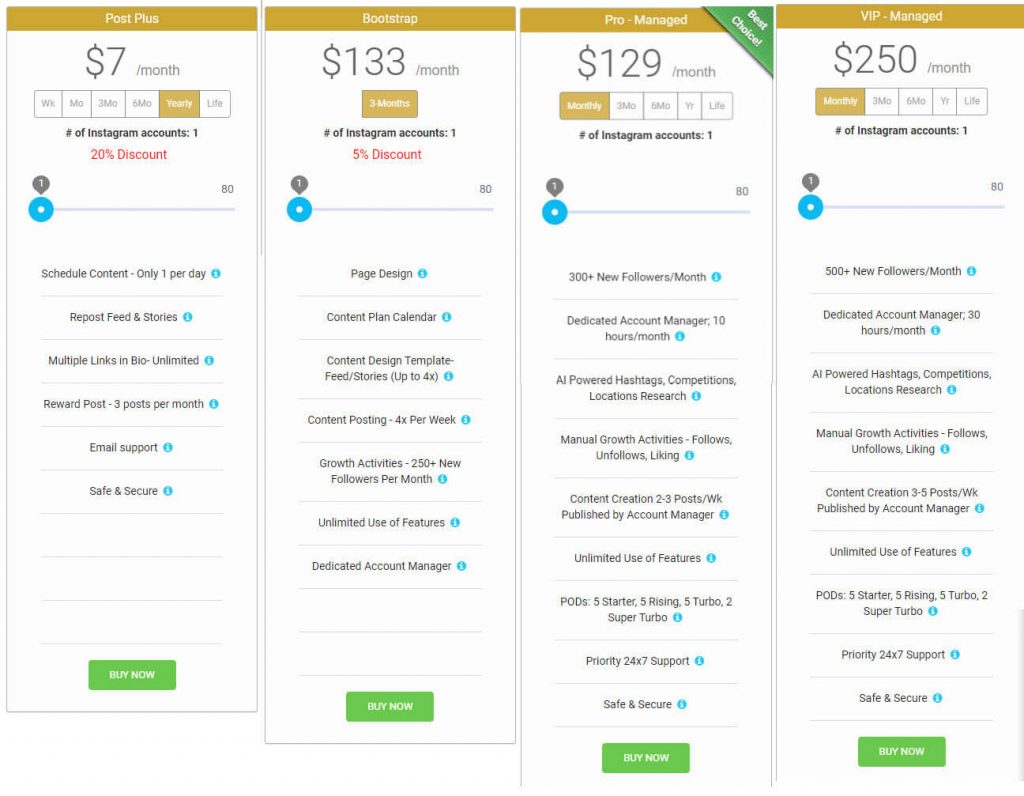 If you are interested and want to test their trial, you can sign up free from here and bootstrap growth hacking Instagram for 2021! 
#2. How to Growth Hacking Instagram on Your Own
Growth hacking for an organization involves all channels, not just marketing. In a similar way, Instagram growth hack consists of some steps including:
Pick a niche and know competitors in your niche

Create a page design for your Instagram

Discover your best time to post on Instagram and post everyday

Be aware of Instagram daily limits and do not cross the line

Don't forget about hashtags

Analyze your competitors and engage with their audience

Conduct Instagram giveaways contest

Optimize your Instagram Bio 

Have a Social calendar to not miss any International or Special days
Let's check them one by one.
1. Pick a niche and stick to it
If you really want to grow your Instagram page, you should have a niche and stick to it. Basically, your niche means the type of content that you post. Not only your style but also what you are talking about. For example, imagine that you love nature and following a page that is always posting wonderful travel shots. But suddenly they start posting video game stuff. Then, what will you do? Did you expect that? Did you know that page for something else? Many times people will unfollow with the first irrelevant post. 
Therefore, that's not necessarily a good thing. You want to have a cohesive vibe for your page. This makes people know what to expect. If you just posting because you like it then don't worry about this. But if you desire Instagram growth hacking to gain more and more followers to like rain down on you, then you have to start getting really specific on what you are posting on your Instagram account.
How can having a niche help you grow?
First of all, if you have a specific niche, you can easily start collaborating with other Instagrammers and this is the number one way of growth hacking Instagram. Because when you are posting a type of content on Instagram, there are over 20 other Instagrammers for example, who are posting that. So, it's very possible for their audience to like your content too. Now, this is where you can start collaboration to get the target audience that will engage with your content as well. 
Another advantage of having a niche on Instagram is that it's going to help you post consistently on Instagram. Because when you become an expert in a specific area, it will be much easier to post astonishing content. 
A lot of times you will grow faster if you niche down more and more. It means specific niches have a higher potential for growth hacking Instagram. In this case, for more information about how to find and pick the best Instagram niches to grow faster in 2021, you can read our previous articles.
2. Have a consistent Feed to Impress the audience with your Instagram grid layout
At first look, it seems that the Instagram grid layout is not very important because for many of us we will go to somebody's page to see their grid only if we need to hit the message button. But have you ever thought about converting all your views into followers? Even for those who are coming to your page after receiving direct messages or when you are in their Instagram suggestion list!
Nowadays, many people use Instagram to search for their favorite businesses and brands. It means that your Instagram profile is now just like the homepage of your website. And the very first thing that can impress users when they visit your profile for the first time is your feed. Then, it's very crucial you are making a good impression when a visitor lands on your feed. 
If you are interested in planning your Instagram grid, the video below will show you how to plan your Instagram grid using suitable apps. 
3. Post when your audience is online and do that consistently 
Imagine that you have created a perfect content. You've written a great caption for it and have spent so much time finding the best trending hashtags for it. You think this is a particular Instagram post that your audience will engage with it more than any others. Then, you hit the publish button without realizing the most crucial part. Yeah! Unfortunately, you have published your post at the wrong time and lots of your target audience miss your amazing post. 
So, if you want your followers to engage with your posts or to share it more and make it viral, then you have to know when they are online. And of course, that's the right time to post on Instagram. Fortunately, there is an article on our blog which offers a step by step guide to find the best time to post on Instagram. Reading this study supported the article is recommended because it helps you find your vital time to post. 
4. Be aware of the limitations or Instagram limits you
Instagram has recently updated the number of actions that you can do such as follow, unfollow, likes, comments, etc. So, if you want to start growth hacking your Instagram, you have to know the platform limits and avoid doing something that makes Instagram block your actions. 
Bear in mind that Instagram limits are not hard and fast rules because nobody (outside of Instagram) knows what Instagram's true limits are and how they are calculated. It all depends on different factors such as the number of your followers, the rate of your engagement, the age of your account, etc. 
The only obvious thing about Instagram's limits is that if you want to have a consistent growth on Instagram, you should know and beat all Instagram action limits. So, the limits that are mentioned in every article in this area are from their own personal experience or the experience of other Instagrammers. In other words, these are just stuff that is figured out through trial and error. 
5. Some Instagram Hashtag Hacks Really Help You Grow Faster
Many Instagrammers asked us, is there a way to beat the new Instagram algorithm by using a hashtag hack that not a lot of people are using? Or what hashtag hack can help you rapidly grow your following? 
As you know, using hashtags will build your following and social reach on Instagram by allowing strangers to find you. So, you should think of hashtags in the same way you think about keywords tags or metadata on a website. Then, hashtags play a key role in your Insta SEO. For those of you who might not know what SEO stands for search engine optimization. 
In 2018, over a hundred million people searched for hashtags so that you need to be utilizing it in the best way you can. So to start you can use 20 to 28 hashtags per post, not 30. Instagram does let you max out at 30 but we suggest using 20 to 28 because it keeps Instagram happy and you under the radar. Instagram said that shadowbanning doesn't exist on their platform but smart Instagrammers always consider it. 
Moreover, it would be better if you use long-tail keywords or long-tail hashtags rather than generic hashtags that are oversaturated. For example, the hashtag #travel has 488M post results while #travelengland has only 64.7K post results. You want to use hashtags that will have you ranking higher in the search results. Then, in our experience, the sweet spot is between 15,000 post results and 250,000 post results.
Ultimately, ranking in the top search results is going to rapidly grow your following as opposed to not using the hashtag strategy at all. Therefore, we always suggest finding very specific, very targeted hashtags to use that have enough competition that there's going to help you rank higher in the search results. 
The next hashtag hack is posting all 20 or 28 hashtags as the first comment of your Instagram post before anybody else has a chance to comment. Doing this not only looks better but also has the exact same effect as if you were to cram all those hashtags into the actual post caption itself. But if you insist on having hashtags on your captions, you can use only 1 to 3 of the best ones.
Consequently, we really suggest spending some time on Instagram to do your research and find those sweet spot hashtags that are gonna have the biggest impact on your account. We want you to take those sweet spot hashtags and build lists, build groups of 28 that have variety, and have different subject matter. 
If you're posting about travel and maybe fitness you want to build separate lists. Now, copy and paste them into your notes, paste them into some type of document on your phone. So, they're readily available to you. But if you don't want to have to go back and copy and paste because it can kind of be tedious, you could create keyboard shortcuts on your phone. Then, your phone will be triggered to generate all of those hashtags based on a certain word or certain sequence of letters and numbers.
But if you don't have time to do all of these processes for your hashtags, there is an easier way to optimize your hashtags. Yeah! Fortunately, there are good apps out there that can do all of these things for you. In this case, we have an article "6 Best Instagram Hashtag Apps for more Followers and Likes" which will guide you through the best hashtag apps in the marketplace.
6. Analyze your competitors and engage with their audience
Competitors' account analysis is another growth hack that is going to improve your Instagram marketing quality. Moreover, by looking into your competitors' audience, you will learn a lot about your target audience. Basically, this helps you what type of audience they have and what type of posts they are publishing. There are some apps and services that can help you easily steal your competitors' Instagram followers and engagement as well. Read more here!
7. Conduct Instagram Giveaways Contest
Instagram competitions are a perfect way to encourage people to think about your company and raise your followers. Basically, it's one of the best Instagram growth hacks. If you've ever worried about hosting an Instagram contest, here are some awesome ideas and suggestions for a good contest. 
First of all, when you are organizing or supporting some sort of event on Instagram, you have to obey those guidelines. Specifically for an Instagram competition, these guidelines are called contest rules. If you don't know about them make sure to read this our previous article, "2021 Guide to Instagram Contest Rules" and follow them in your contest. 
Secondly, If you're looking to run an Instagram campaign or contest, you're going to have to determine what type of contest to conduct, how it should function, and whether people will participate. Therefore, in this step, you have to pick your contest type. Here we are going to consider the two common ones:
Instagram Comment Contest
This is a common form of Instagram contest where you ask your fans to engage with your post by their comments. For instance, you might ask your audience to talk about their own experience or tell their own story, or even give their solutions. Then you choose the unique one as the winner. 
You can also ask them to tag a specific number of their friends in the comment box. Or set a hashtag that they must use in their comment to win. 
Instagram Content Contest
Another type of Instagram contest is an Instagram content contest or Instagram post-contest. In this type of contest, your fans should tag you in their posts on Instagram or use a specific hashtag for their own Instagram content. Then you will select the winners and repost their content on your Feed. 
Bear in mind that their rewards can be anything valuable. So, it's up to you!
Best Tool to Manage Instagram Giveaway Contests
If you want to run an Instagram giveaway contest on your own, there are a lot of factors that have to be considered. For example, finding the best time to post, posting on multiple accounts, looking for the best hashtags to post, writing your hashtags in the first comment, deleting your contest after a while, managing and replying all DMs, and lots of other things like these. 
If you want to automate your giveaway contest on Instagram there is a perfect tool that can all of these for you puls managing your contest in the right way. This tool is called AiGrow. If you want to know more about it, the video can teach you how to go through your first Instagram contest in the right way. 
8. Optimize Instagram Bio
Your Instagram bio is your identity on Instagram. It's the first thing that people will judge you with that. And as you might hear many say that you have only three seconds to get visitors to keep going through your content. So, the first impression is your last impression. In this case, your bio can play a key role in converting a profile viewer to an active follower. 
Moreover, if you optimized your Instagram bio considering SEO, your visitors will significantly increase through typical googling. And with a catchy Instagram bio, of course, more visitors equals more followers. 
Ultimately, there are 5 main bio hacks that help you growth hacking Instagram in 2021. We are going to briefly outline them below but if you desire to know all Instagram bio hacks our previous articles can help you a lot. 
5 Instagram Bio Hacks
Share links in bio

Use relevant searchable keywords in your bio

Have line breaks in your bio

Use appropriate Instagram bio alignment

Specialize your Instagram bio characters 
If you need more help with your Instagram bio, how to add enters and spaces in your Instagram bio, for example, we have a lot of articles in this case.
9. Publish Instagram Content on specials days using the event hashtags
It doesn't matter whether it's International Nurse Day, Star Wars Day, Golf Day, Mother's Day,  or even No Socks Day. Almost every day on the Internet seems to be a holiday. So, this constant affluence of special days creates a great opportunity for those who don't have enough content to publish on their Instagram account. 
Moreover, some of these holidays might be even new to you, the one who is posting that content and greeting that event. Therefore, this is an excellent Instagram growth hack to boost your Instagram engagement and attract lots of new followers. There are some apps and services like AiGrow or Aischedule that provide you with a great and complete social media calendar to help you not to miss any global events. 
Conclusion
There is no doubt that Instagram is one of the most popular social media platforms in the world, right now and as you might know, the popularity equals money. So, growth hacking Instagram and getting famous is a great way if you don't know how to start making your first $25K per month. Growth hacking Instagram means growing your Instagram account followers, likes, views, and boost your engagement by optimizing bio, running ads, creating catchy designs, utilizing appropriate hashtags, tracking competitors, and many other things as we said above. If you do and grow all of these things together mean growth hacking an Instagram account.
Ultimately, there are two ways for Instagram growth hacking:
First, you can do all on your own which is not impossible but vert time consuming and needs hark working, maybe over 7hours a day. 

Let a professional team do that for you. This way you spend a little money at first but earn 10 times greater, or even more. 
AiGrow, as a perfect tool for growth hacking Instagram, has several upgrade plans. Most of them are for those Instagrammers who already have an account and want Instagram growth hacking, for example, +500 new active and organic followers per month.
But, if you are new to Instagram and wanna start your business on Instagram or become a new influencer of 2021, there is a plan for you called bootstrap. With purchasing this package, everything will start from the basics, even your page design, and a great Instagram growth hacker team will guarantee to get +250 new active and organic followers per month. 
Bear in mind, each active follower has the potential to bring you over 10 followers without doing any extra activity on your side.