The Facebook marketplace launched in 2016 to let users buy and sell items locally and at a reasonable price. Learning how to use the Facebook marketplace can be very useful because it allows you to quickly find free or paid items near where you live and around what you're interested in having. By learning how to sell on the Facebook marketplace, you can generate income through the Facebook platform. If you are interested, you can also check out our guides about making money on TikTok or monetizing Youtube.
Moreover, you can leverage this new feature directly within the Facebook app to grow your local business through social commerce strategies. The best part is that there are no fees, which means all the profit is yours.
If you are interested in knowing how to use the Facebook marketplace, please continue reading this step-by-step guide.
Here, you will learn how to get a Facebook marketplace and start selling and buying goods on the platform. Furthermore, this comprehensive guide about how to use the marketplace on Facebook will attempt to answer the most common questions you may have about it. Therefore, without further ado, let's dive in!
Boost your knowledge on Instagram: 16 Best Instagram Growth Services Compared
How to Sell on Facebook Marketplace
Businesses and individuals alike can list items for sale, whether they are used or brand new. To learn how to sell on the marketplace, please follow the steps below:
1. Go to Facebook Marketplace
If you log into the Facebook app, you should notice a new marketplace icon
on the left menu. If you see it for the first time, the marketplace Facebook will inform you of more details before proceeding further. To get started on the Facebook marketplace, click the icon.
The process is similar for learning how to use the Facebook marketplace on a desktop. Just click the marketplace icon on the navigation menu in the upper-left corner of the page. By clicking on the marketplace icon, the marketplace will open on a new page, showing the most popular posts in your area.
Click on ➕to create a new listing, then click Item for sale.
2. Upload Images to Marketplace Facebook
The marketplace on Facebook will ask you to add a photo of the product you are selling. In contrast to some online marketplaces, the Facebook marketplace will not charge you for listing multiple images. Therefore, you can add up to 10 clear photos of the item you wish to offer more detailed information.
Please note that Facebook prefers original photos to stock or company photos. Please follow the correct social media image sizes and specs to maximize your chances of success in the marketplace.
3. Provide a Title for the Item
Next, the marketplace Facebook will ask you to write a title. Your title should be concise and clear about what you sell in the market. It is important to note that the Facebook marketplace app has a 100-character limit on titles.
4. Add a Description on Marketplace Facebook
Now marketplace Facebook will ask you to add a description to your item. You should provide as much information as possible about items for sale on the Facebook marketplace, including size, color, condition, and more.
5. Add a Price to Items for Sale on Facebook Marketplace
You should set a price for the item you're selling on the Facebook marketplace. If you want to find out the value of your item before posting it, you can go to eBay's advanced search for sold items. Type your item into the search bar, then select the sold listings on the left-hand bar.
6. Include a Location & a Category When Advertising
You need to choose a location to advertise an item you are selling on the Facebook marketplace. Moreover, you should select a category that best fits this selling item.
Boost your knowledge on social media: What Does Meta Mean [The Best Guide]
7. Finish the Sales Process
If you've followed the steps correctly, the Facebook marketplace app will activate your listing so that it will be visible to the public. Thus, anyone in your area can find your item and message you if they want to buy it. Additionally, marketplace Facebook will take you to your items management area, where you can communicate with potential buyers or make changes to your items.
That's it. Now you have your first item for sale on the Facebook marketplace app.
Boost your knowledge on social media: A Sneak Peek Into The Metaverse[The Best Guide]
How to Use Facebook Marketplace Search
First, go to the marketplace Facebook.
Then, type your keyword in the top search bar and press Enter.
Now, click on "Sort by."
You can choose how to sort your Facebook marketplace search at this stage. You can sort your search results by location, price, color, category, and so on. The marketplace has a location tool that allows you to adjust your region. Please select "Local Listings" if you want to discover listings in your area.
How to Buy from the Marketplace
When you search and find something you are interested in, tap the image to view more details about it, including a product description, the seller's name, profile photo, and location. You can also save the item to view it later. Take a look at this article if you are interested in learning how to download Facebook photos.
Once you decide you want it or are interested in it, you can contact the seller in two ways. If you click on Facebook Messenger, you can send a personalized message to the seller. But if you click on the "Send Offer" button, you will send a default message that says, "Is this available?"
To view your list of items you want to buy and your conversations with sellers, click "Your account," then click "Your listings."
You can check out this article for more information on using Facebook Messenger Story Like a Pro.
How to Get Paid on Facebook Marketplace
Marketplace Facebook does not offer any built-in payment or delivery services. So you have to arrange payment options with the buyer. Facebook itself suggests cash or payments via Facebook Messenger or PayPal. Be careful not to share your private checking/banking/login information with anyone.
How to Use Paypal on Facebook Marketplace
You can add PayPal as a payment method on FBMP. To learn how to use Paypal on the Facebook marketplace, please follow these steps:
First, go to your Facebook settings and Privacy.
Select Payments.
Then click or tap on Facebook Pay in the left panel.
You're now in the Facebook Pay settings. From here, you can link your PayPal account to Facebook.
At this point, select "Add Payment Method," then add "Paypal," and sign in with the PayPal account you want to use.
Here, select "Agree and Continue." Doing this adds your Paypal account to your Facebook Pay. You can also set it as the default payment method for purchases.
Finally, click on "Save."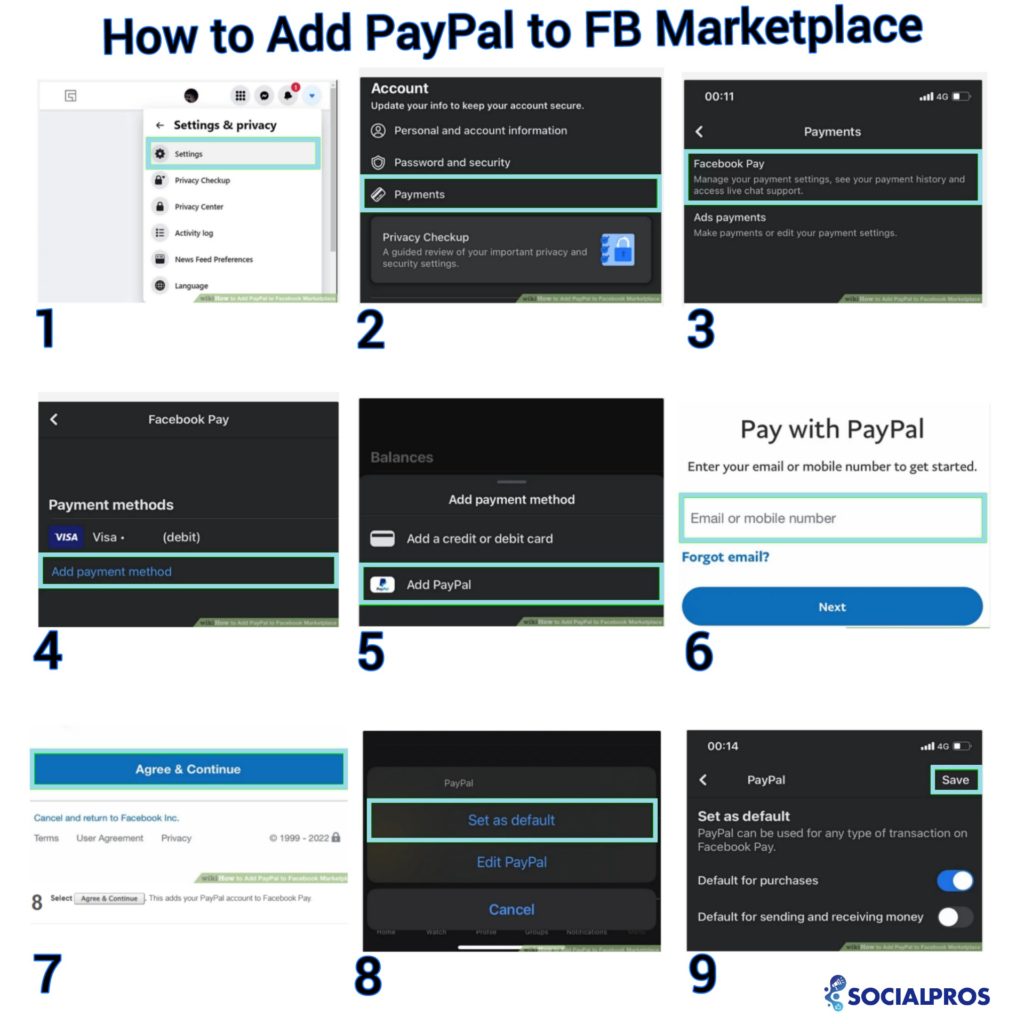 Paying for Items with Paypal
Go to the marketplace.
Click on the item you wish to buy.
Then, click "Buy Now."
Now, enter your shipping information. If you've used Facebook Pay before, your shipping information will already appear under "Delivery Information."
Choose PayPal as your payment method. Review your payment information and select "Place Order."
Pro Tip
Once you select the order, the seller has three days to ship the item. When the seller marks the item as shipped and enters a tracking number, the money will be removed from your PayPal account. But, it won't be sent to the seller until 4 to 5 days after the buyer receives the item.
Boost your knowledge on social media: 17 Interactive Facebook Posts Ideas to Boost Engagement
How to Create Ads for the MarketPlace
Did you know that you can develop a Facebook ad strategy to reach a broader audience in the marketplace? Facebook announced the option of placing ads in the market in June 2018. To do so, please follow the steps below:
Go to Facebook Ads Manager, and choose your objective (whether it is to raise brand awareness, gain more traffic, reach, etc.).
Then, define your target audience.
Now, select Automatic or Manual Placements. Our recommendation is to use Automatic Placements.
Once you have finished setting up your ad, click Publish. When Facebook approves your ad, users will see it while browsing the marketplace on the Facebook app.
If you've run out of ideas, check out the best Facebook ad examples to get more practical tips for creating your attention-grabbing Facebook ad.
Facebook Marketplace FAQs
Now you know every detail information you need to launch your FB marketplace. However, there are some common questions that may ocur to you. In the following, you'll read some of them.
1- Why Can't I Use Facebook Marketplace?
You may not be able to see and use the marketplace icon for a variety of reasons, including:
1. Age and Region: The marketplace is only available to users aged 18 and older in supported countries, such as the US, Canada, and Australia. The marketplace icon won't appear when your Facebook home address belongs to a country that isn't supported.
Device: The FB marketplace only works on the iPhone 5 and later versions, Android, and iPads. It does not run on the iPod touch.
The Age of Your Facebook Account: Also, you may not be able to use your FB marketplace due to the age of your account. As such, if you have a new account, the marketplace may not be immediately accessible.
Infrequency in Using the Item: The icon may disappear if you don't use the marketplace very often.
Access Denied: If you violate Facebook policies or standards while using the marketplace, you may lose access to the feature.
2. How Long Do You Have to Be on Facebook to Use MarketPlace?
As mentioned earlier, the marketplace will not show up for new users. It will be available on their account after 11-12 months. It is a new restriction imposed by Facebook to prevent scammers who frequently delete and set up new profiles in order to sell fake or illegal items that Facebook authorities have banned.
3. How Can I Avoid Facebook Marketplace Scams?
Now, let's answer the next most common question: how do I use Facebook marketplace safely?
Safety should always be your top priority. If a message or profile looks suspicious, go with your gut and walk away. It is also safe to exchange your goods in a busy public place.
If the exchange must take place at your home, you shouldn't feel compelled to let anyone into your home. Also, make sure you have someone else at home. For example, consider asking a friend to be with you.
Rather than using PayPal, bank transfers, or checks, always ask for payment in cash. The risk of fraud increases when you give out your bank account information. Also, there is no guarantee that checks will clear.
Here are some excellent tips from Facebook on buying and selling safely in the marketplace. By doing your due diligence before buying and following Facebook marketplace rules, you can stay safe while making profitable transactions on the platform.
4. Why Are Facebook Marketplace Cars So Cheap?
The 'Facebook marketplace cars' is a popular place for used-car buyers and sellers. However, it's also a haven for scammers hoping to make a quick buck without actually selling anything. Thus, to make a good deal, you should be careful to protect yourself from potential scammers on the site.
First, trust your instincts to determine whether or not a car listing is reliable or not. Moreover, meeting the car seller in person is essential. If the seller cannot meet with you in person at a public place like a police station or a bank with surveillance cameras, kindly dismiss the transaction.
You can also use sites like Kelley Blue Book and Edmunds to find out the car's current market value. Thus, you will know whether it is a fair price or not.
Please take note that the car's actual price is in the description when you click through. Thus, sellers usually set an unreal price for the listing so that it shows up at the top when people filter by lowest to highest price. To put it another way, car sellers set a low price on their listings as a trick to beat Facebook's algorithm and get more eyes.
Boost your YouTube algorithm knowledge: Know and Easily Outsmart YouTube Algorithms.
Additional Tips for Car Buyers on the FB Marketplace
Here are some tips to keep in mind when purchasing a used car from a private seller on the marketplace:
Request the VIN (vehicle identification number) and run a CARFAX report on the vehicle before viewing it. It only costs you a few dollars. If the seller refuses to provide the VIN, avoid doing business with them.
If you message a seller on Facebook and they immediately ask you for your email address, it may be a scam. Therefore, try to remain on Facebook throughout the conversation.
Once you test-drive the car, have a reliable mechanic inspect it. Additionally, bring someone you trust when you visit the seller.
Never share your personal or banking info with another person, even if that person is trying to deposit money into your account.
The seller should sign the title over to you and notify the DMV to relinquish responsibility for the vehicle.
Read More on Instagram: How to Find Someone's Email on Instagram + Best Instagram Email Finder.
Final Words
In this post, we talked about the Facebook marketplace and how to use it effectively. We also answered some of the most common questions you may have about the marketplace. I hope you enjoyed reading this guide on how to use the Facebook marketplace. However, please keep in mind that the marketplace is not well regulated. Therefore, you should give it some thought before using it at your discretion.
Crazy low prices should not trigger you to buy items because some may be fakes or scams. Make sure you also take other critical factors into account, like the credibility of the seller, security measures, and your due diligence and attention.
Thank you for taking the time to read this article. I wish you the very best with your dealings in the marketplace. Good luck!