Increasing your number of followers on Instagram has always been a hot topic among all types of IG users. It's best to say having lots of followers has become an obsession for most. As a result, almost everybody is searching for Instagram followers apps that can help them grow their IG followers organically. You've probably heard a lot about using top hashtags, curating engaging content, and writing a catchy bio as effective, proven ways to attract target audiences to your IG account. Although these methods are definitely practical, we want to introduce a more effective alternative; the best Instagram growth services.
Top Instagram growth tools like AiGrow are by far your best option to gain more followers on Instagram and level up your game.
Due to Instagram's immense popularity over the past decades, numerous Instagram growth companies were established to help people use the app to its fullest potential.
So with the help of the best organic growth service, you can bring about real Instagram growth. And we're sure this is not something you'd ignore. After all, having a big follower count is eventually a significant deciding factor in showing your account's authority on the platform.
In this article, we'll dive deep into covering everything you need to know about the best organic Instagram growth service currently available. And we will introduce 19 other services to give you a broad range of choices.
We'll discuss each of these Instagram growth services separately and point out their strengths and weaknesses. So let's not hold you up and get to the fun stuff!
Why Should You Use the Best Instagram Growth Services?
Here are the benefits of using the best organic Instagram growth services:
Save more time:

We all know that

social media marketing

is a tedious process. A top Instagram growth service helps automate the process of gaining more genuine followers, doing the legwork for you to focus on more vital tasks that you can't automate.

Increase your social credibility:

If you're trying to

build your brand on Instagram

, then you need credibility. Having many Instagram followers establishes your brand as an authority figure in your field, leading to more sales, partnerships, and growth opportunities.

Improve customer satisfaction:

Organic Instagram growth services ensure that your accounts expand steadily, keeping customers pleased.

Boost engagement rate:

Given the recent modifications to the

Instagram algorithm

, a high engagement rate is now just as crucial as a large following. To ensure a high engagement rate, using the best Instagram growth companies is a must.
Increase your sales:

Having more followers means a better chance for

selling your products on IG

, especially with Instagram's Shopping feature.
Do Instagram Growth Services & Companies Really Work?
An IG growth service can mean one of several things:
Growth services could be an Instagram marketing service or agency, a virtual assistant freelancer, or an automated program to boost your profile metrics. There are significant differences in approaching each option and the kind of results they produce.
For most companies and individual accounts, an Instagram growth agency is the most reliable solution because they have to consult with you every step of the way. A freelancer would be just as good if experienced, but they will require more oversight than an agency would.
The final route – automation – often involves bots to spur action from users or take over foreign accounts to follow your account manually. This method's effectiveness depends on individual services but is usually frowned upon, both by Instagram and expert marketers.
According to Gerald Smith, an SEO expert and copywriter at some top college paper writing services, "bots do more harm than good. Even if they do work, it's almost impossible to do anything with hundreds of thousands of followers that you can't convert. It's best to stay away."
The Best Instagram Growth Service You Can Rely on + 19 Other Growth Tools
We've prepared some of the best social media growth services you can use to grow your social media accounts effectively and consistently. However, some questions arise in this regard. Can these tools lead to safe and real social growth?
Let's focus on a number of these platforms, starting with the best Instagram growth agency, and then you can decide for yourself! Here they are:
1. AiGrow – The Best organic Instagram Growth Service
You asked, 'What is the best Instagram growth service?' Here's our honest, professional answer summed up in one word: AiGrow!
AiGrow sits at the top of our list as the safest Instagram management service available on the market. Unlike most popular automation services that allow you to buy followers, this program helps grow your audience by increasing your IG engagement levels.
Its rise to fame has been thanks to its positioning as the safest Instagram growth service that comes with a number of other excellent features, including:
Scheduling posts

, stories, and reels

Creating CTA buttons

Identifying the best IG hashtags

Reposting content

Sending and receiving DMs on Desktop
The best Instagram growth companies provide several growth tools and services. But AiGrow is indeed different! One of the essential advantages of AiGrow is that everything is organic. Their growth service consists of a team of Instagram experts who best know how to reach real Instagram growth with no bots and automation.
Plus, they will guarantee the numbers!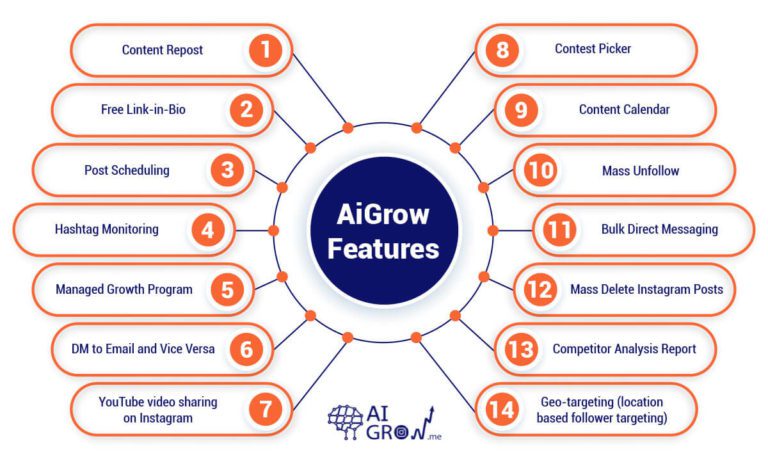 All you need to do is sign-up now on the platform, choose your desired plan based on the number of followers you wish to get, set your targeting options (you can target followers based on the hashtags they use, accounts they follow, or the location they're from). Keep in mind that you can try the 1000 free and interested Instagram followers trial which is unparalleled!
An account manager will then start working on your account and attracting users to visit and follow your page. You can be sure that the followers you get are 100% real, and they are interested in your page and might become customers of your business.
All these features ensure that AiGrow is the best IG growth service. By the way, you can read the AiGrow review to know more about features and services.
Start your journey to Instagram organic growth right now and enjoy all the perfect features AiGrow can offer you!
2. Combin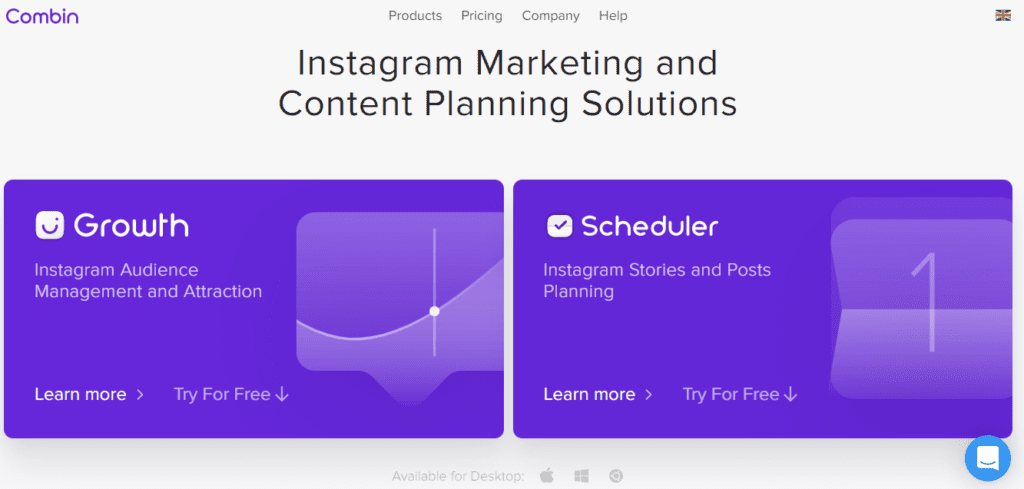 Combin seems to be one of the best Instagram growth services available. This platform sports both growth and scheduling features but it will charge you separately for each.
As for its growth service, Combin promises to find the target audience for your content, check your real Instagram growth, and find Instagram influencers in your niche. They will also check your unfollowers and ghost followers. So, Combin is often considered an IG unfollowers app as well.
Compared to some of the best Instagram growth companies, Combin has reasonable pricing plans. It offers a starter free trial plus a monthly 15-dollar plan for personal accounts and a monthly 30-dollar plan for business accounts.
3. Upleap: One of the Best instagram boosting services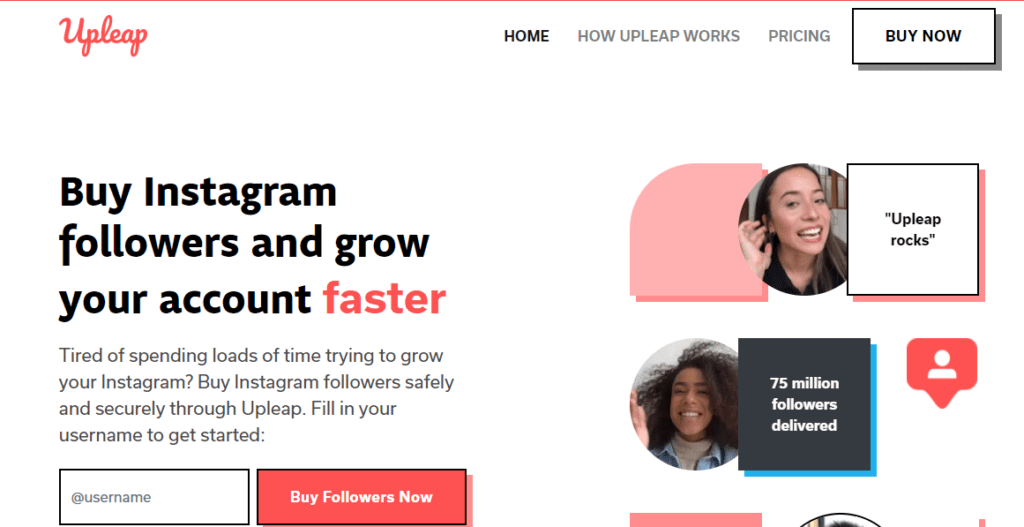 Another tool that claims to be among the best Instagram growth services is Upleap. This platform allows you to buy Instagram followers and grow your account fast. On the upside, their delivery time is expected to be short and optimal and they don't ask for your Instagram password. So, we can say that it's a relatively safe app.
However, if you search for the best Instagram growth companies on Reddit, you will see that those Instagrammers who have bought followers from various platforms weren't happy with the outcome. At some point, you will notice that you're losing your Instagram followers as quickly as you gained them. And if you run a shadowban test on your account later, you might even realize that you have even been shadowbanned because of buying followers.
4. SimplyGram
SimplyGram comes fourth in our list of the best Instagram promotion services. This platform uses the mother-child Instagram growth method to improve your Instagram account. That is, they will create 25-100 accounts on your behalf and with those accounts, they send messages to other Instagrammers.
They have a strong claim as an Instagram growth service(no password required). But of course, they use AI tools to ensure that those users will be interested in your content and will happily interact.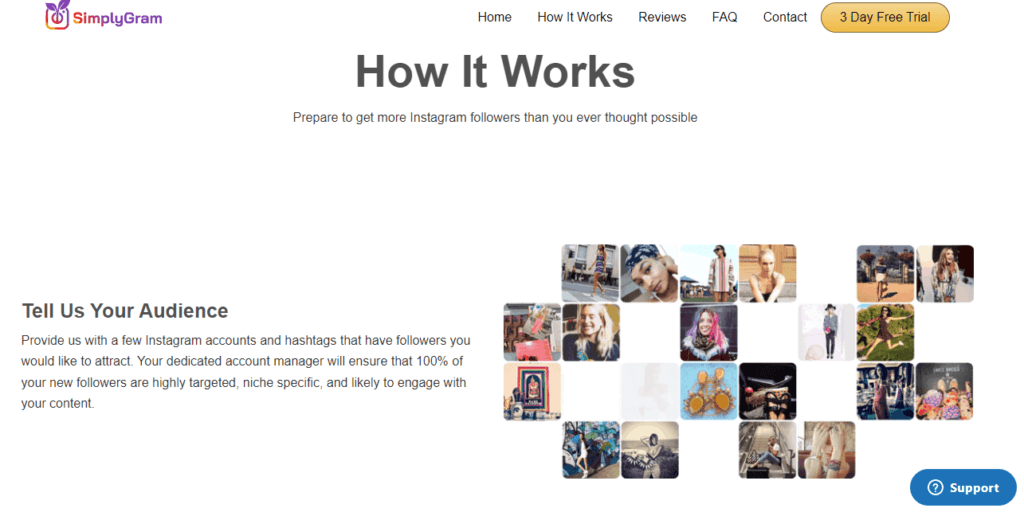 Perhaps one of the reasons why they're one of the best Instagram growth companies is ]because they don't literally manage your IG but direct followers to your account. However, as effective or safe as this method might be for some Instagrammers, it could be quite irritating for those who receive the messages from those accounts.
5. Mr. Insta: An IG Growth Service Bot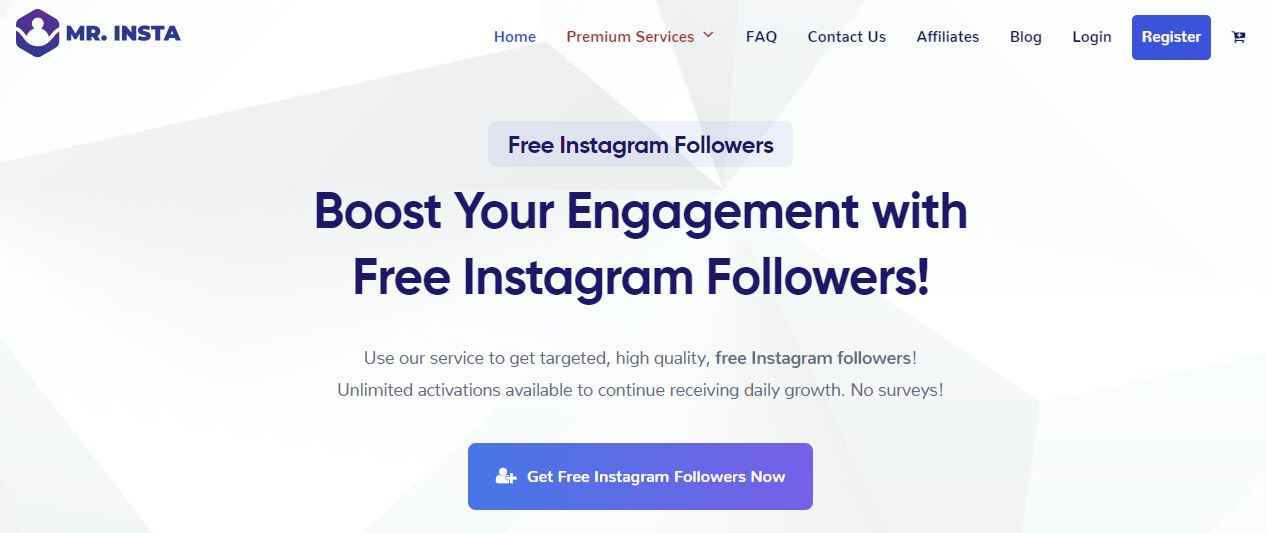 Another growth service that can perfectly meet your needs is Mr. Insta. Actually, Mr. Insta is a social media growth service that helps you grow your accounts on platforms like Instagram, Pinterest, Facebook, Twitter, and more.
Using this tool, you can buy IG followers, likes, views, and comments. So, there aren't any tools to help you attract your targeted audiences with it.
Also, you can read our complete review of Mr.Insta to decide whether it is exactly what you are looking for or not. But suffice it to say that it might not be a legit Instagram growth service since it uses bots and can't boost your account organically.
6. Nitreo: One of the Best Instagram Growth Companies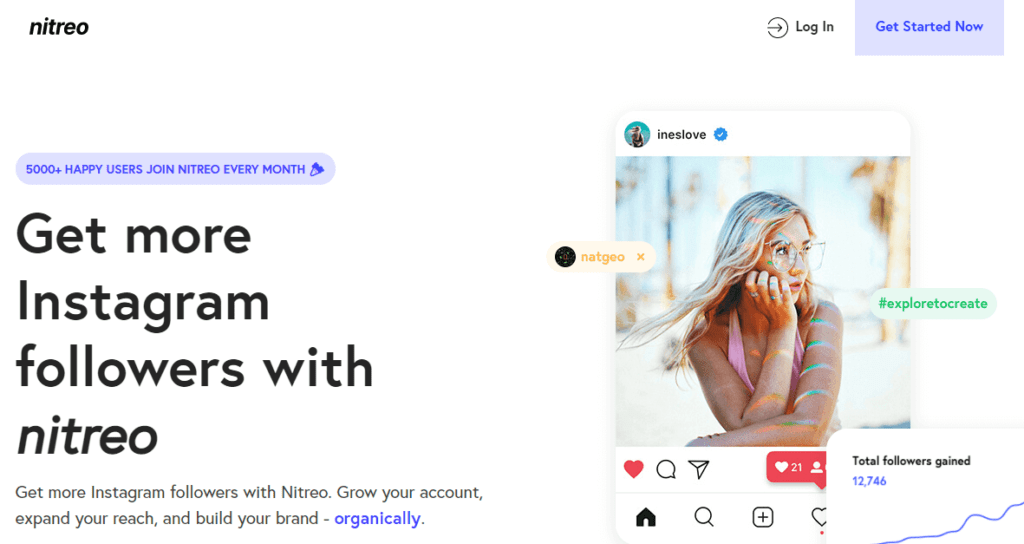 The next best tool among organic Instagram growth services is Nitreo. With its straightforward setup and user-friendly features, this tool promises real followers that will engage with your content. Plus, Nitreo is believed to double your IG engagement rate.
You can try Nitreo and hold them to their word. See if it can work well for you!
7. SocialBoost: One Of The Best Instagram Growth Companies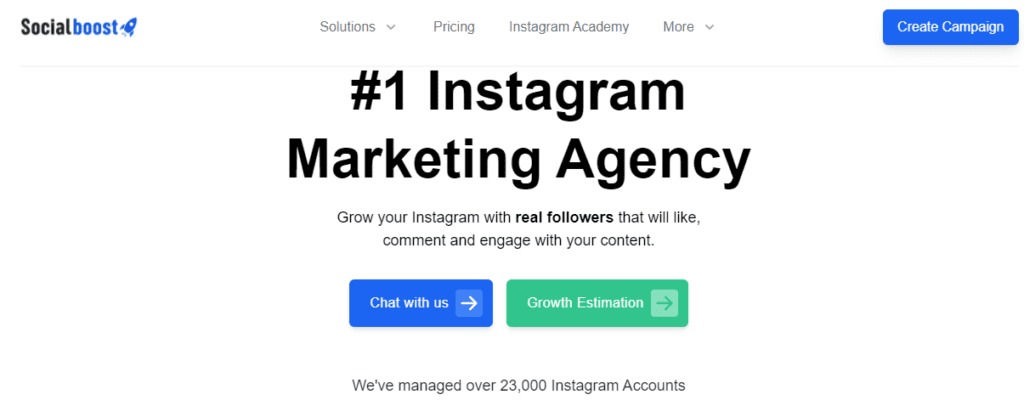 SocialBoost also introduces itself as the best Instagram booster. It seems to use a professional team of experts who are experienced in growing IG accounts. One of the best features they promise is that they will offer analytics to help you understand where you stand.
Besides, they deny using any sort of automation or bots. So, if these features are real and they deliver their promises, this app could be a safe option.
8. Ampfluence: An Instgram Marketinvg Service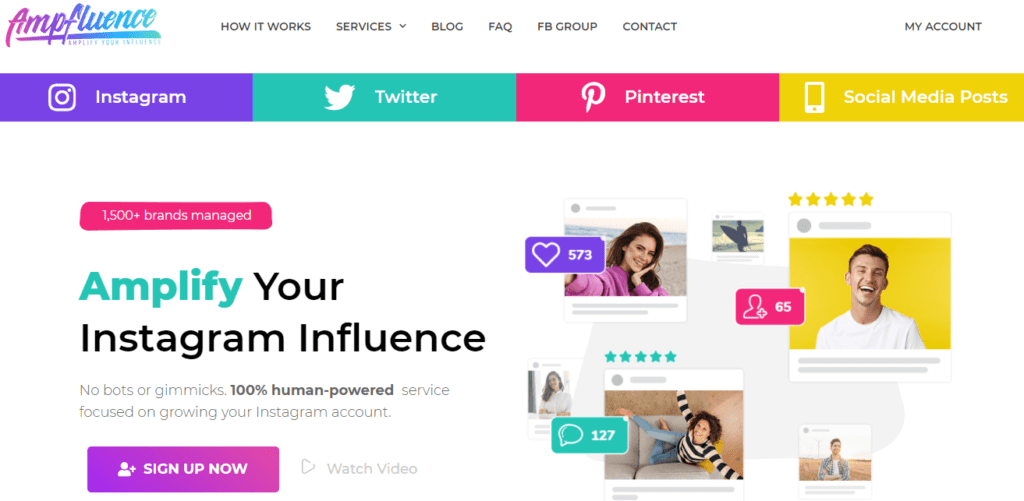 Next on our list of Instagram growth services is Ampfluence which claims to be entirely human-powered. Ampfluence aims to amplify your IG influence and success with its features and tools. In addition, they claim to provide you with an excellent and professional team that uses organic strategies for your growth.
Yet, one of its main drawbacks is that they use your account to interact with your followers, which means you have to leave your password in their hands. Plus, entirely leaving your account to a tool, even if it's among the top Instagram services, is risky and takes all the fun and authenticity out of your social media presence!
9. FollowAdder – Automated Followers Growth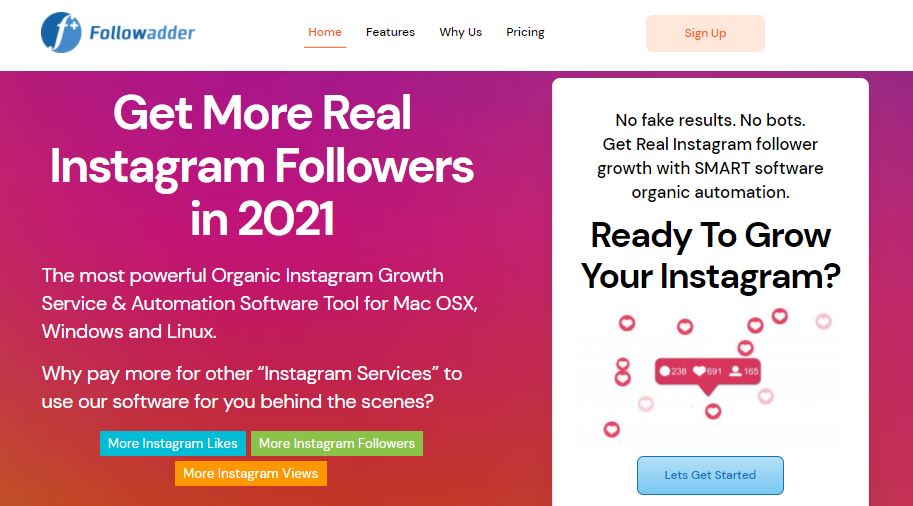 FollowAdder is a promotion software app that employs automation to get the job done. Instead of manually doing the follow/unfollow Instagram users, FollowAdder does it for you.
With this app, you can also schedule posts, like back photos, send auto DMs, search by hashtag and geotags. Also, Follow Adder allows you to manage multiple IG accounts and grow each of them individually.
Yet, you need to bear in mind that the best Instagram growth services never use automation. Such bots can only deliver fake followers who won't engage with your content or buy from you.
10. Instalike – Use Photos & Stories to Increase Engagement
Instalike is an Instagram follower growth service to help you increase followers. This app offers many useful tools. Here are some of them:
Automatic Likes, Comments, Following, and Unfollowing

Promoting Unlimited Accounts of Instagram

Offline Service: No Need for Installing an App

Showing All Instagram Chats in One Place

Schedule Videos

Send Direct Messages Automatically
However, perhaps you should think twice before you trust it as a top Instagram growth service because there are not many verified reviews of this platform. That is, no one can ensure organic growth because there are no authority reviews.
11. Likepool – Automated Instagram Likes Growth

Coming next on our list of the best Instagram growth services is Likepool. It is a simple and free Instagram Google Chrome extension that works automatically. It claims that it is 10 times better than other Instagram followers bots.
Likepool only offers likes, and there is no news of auto comments. Basically, this bot creates a pool of users and uses these accounts for give-and-take likes.
As you have already noticed, LikePool may perform well for Instagrammers who are obsessed with seeing more numbers. Obviously, it is not the best alternative for those who wish for the best Instagram growth service that can offer engaged followers.
12. Instazood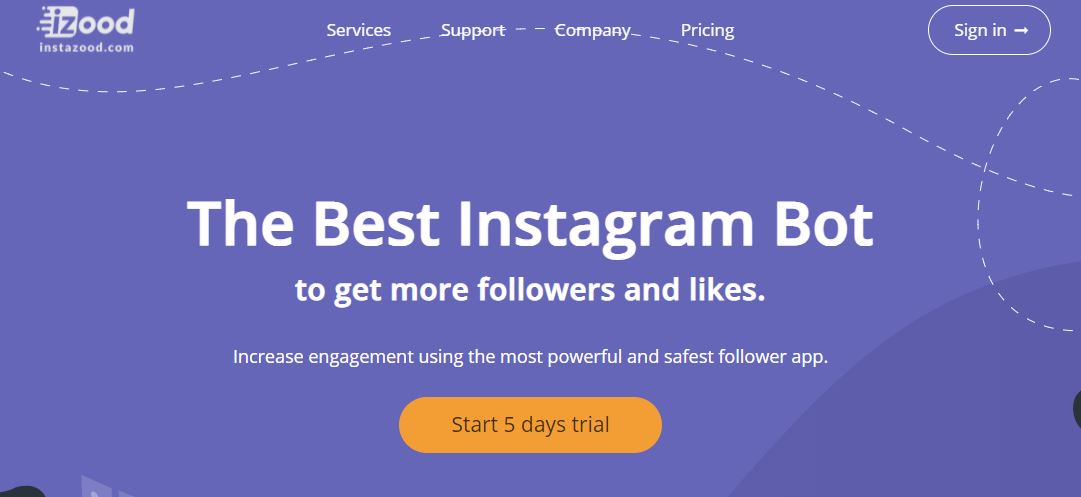 Instazood is another platform that claims to be one of the best Instagram growth services. A dashboard that also includes DMs, posts, and comments make customers select the accounts they want to target. Their bot will then interact with these accounts automatically, from viewing Stories to sending DMs and everything in between.
You can also examine the click-through rate of a certain post on your dashboard and use their marketing analytics tool. Yet again, it is a bot we're talking about so you need to be careful.
13. Skweezer

Skweezer is yet another best organic Instagram growth service you can consider to gain IG followers. The service allows you to buy Instagram likes, comments, and followers.
Like most other IG followers growth services, Skyweezer claims to provide you with genuine followers. These followers are accounts made by their network members who are compensated for following you. So, buying followers is purportedly safe and risk-free. Just choose what you want to buy, fill out your personal information, and their service will deliver it to you.
However, you need to consider the important truth that you can't turn your new followers into customers or loyal fans. After all, these accounts are not genuinely interested in your content.
14. SocialViral: One of the Best Instagram Growth Companies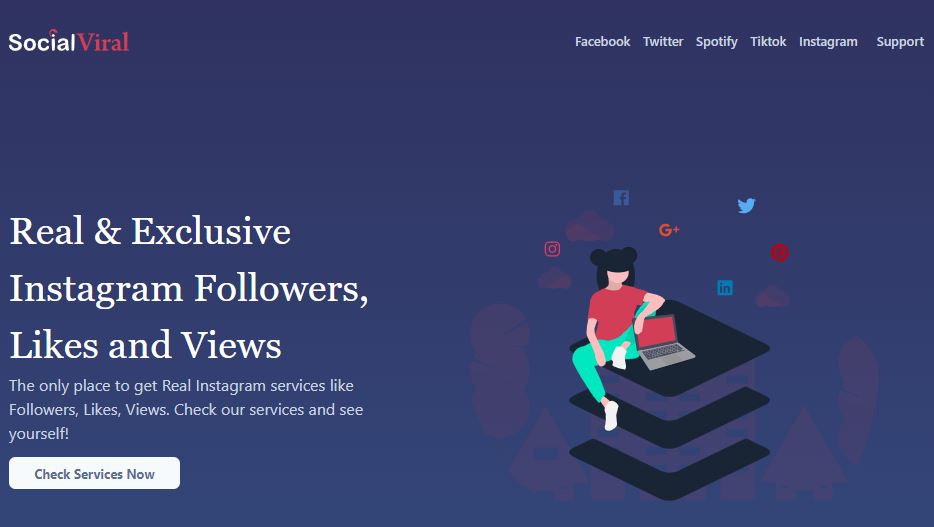 Instagram followers, likes, comments, views, and auto likes are all for sale on SocialViral. It is listed among the best Instagram services and promises to be the only platform where you can receive genuine Instagram followers.
The followers you gain are of excellent quality and behave realistically. This, however, is most likely not the case. Buying Instagram followers is not a good way to grow your account and will not result in genuine growth.
15. IGClerk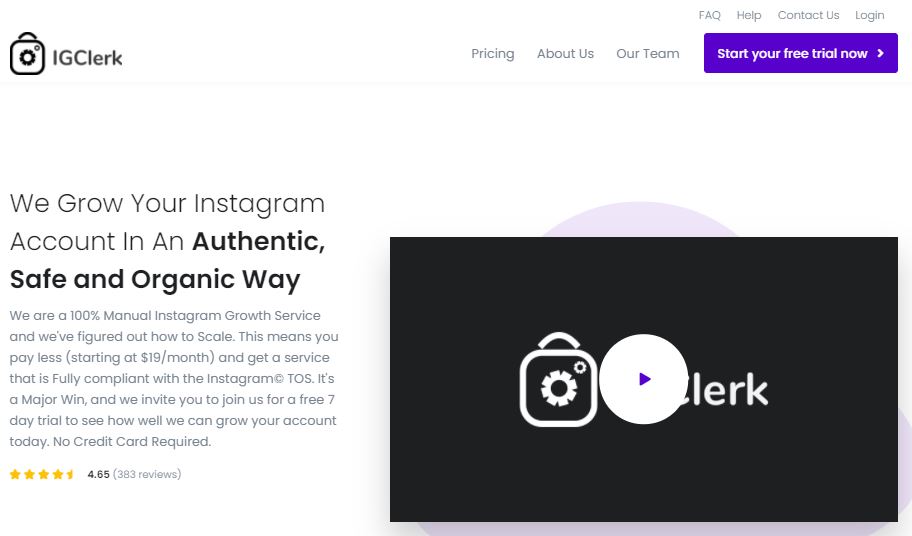 IG Clerk is another Instagram account growth service claiming to help you grow your account organically. This social media growth service specifically employs 'Instagram clerks' to help clients expand their Instagram accounts. This ensures that IG Clerk doesn't rely on automated bots.
On the other hand, IG Clerk makes no mention of what its personnel does to increase your account or how its crew can handle numerous clients at once. This lack of information can be a deal-breaker for any Instagrammer.
16. Social Buddy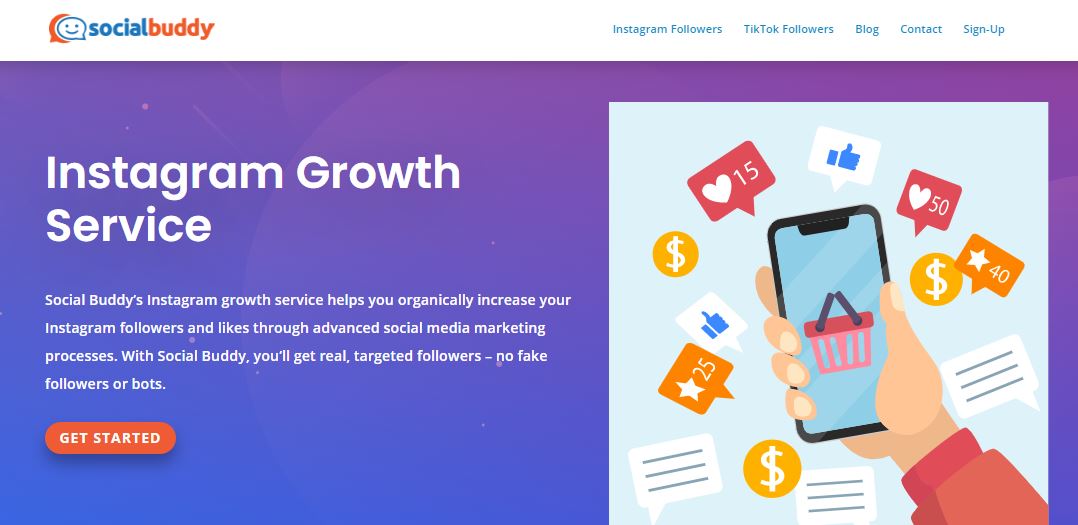 Social Buddy promises real followers. They use information you share, such as niche, competitors, and hashtags, to target individuals. Then, Social Buddy alerts these accounts to the existence of your page, encouraging them to visit and follow you. They'll also go after social media influencers and followers of your competition. They claim that you'll gain between 150 and 500 new followers per week.
You can check it out to see if they are one of the best Instagram growth companies, as they claim to be!
17. Jarvee: A Social Media Growth Service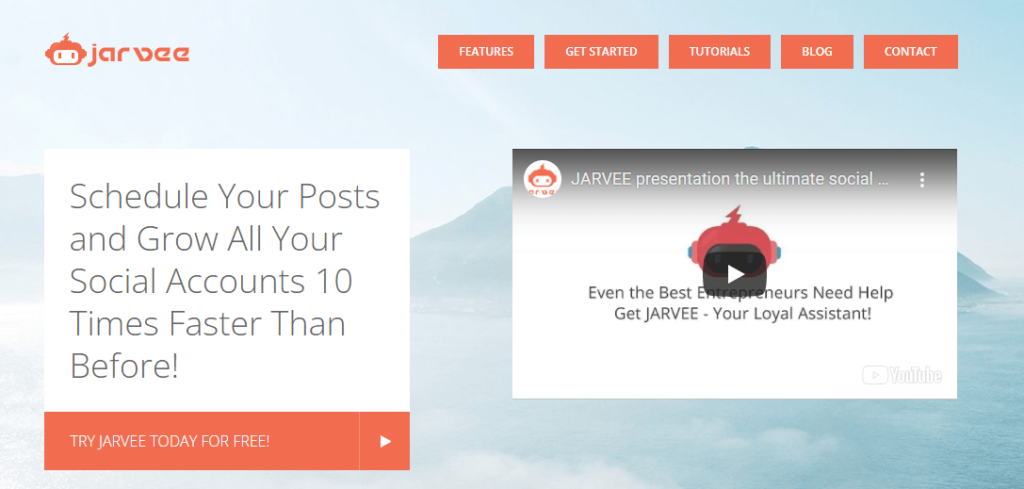 Jarvee, an automation software, offers 24/7 support for those who wish to use it to drive more traffic to their website, grow fast, and automate accounts.
If you're looking for such services and have no problem with automation, you can use Jarvee for YouTube, Instagram, Facebook, Twitter, LinkedIn, Pinterest, Quora, Reddit, and Tumblr.
18. ThunderClap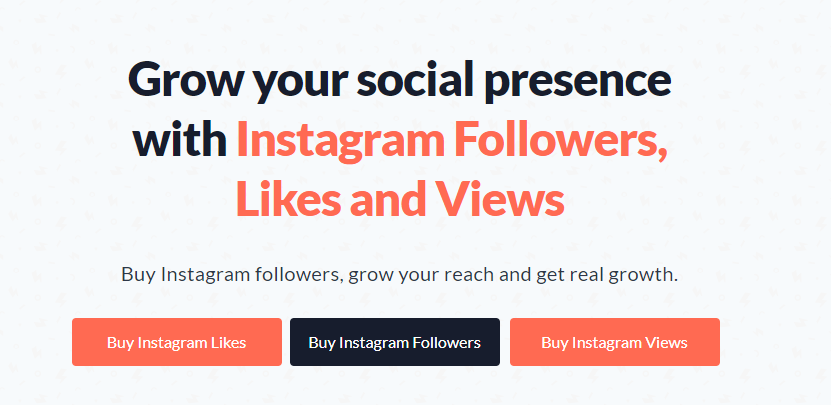 ThunderClap allows you to purchase Instagram likes, views, followers, and anything in between. We are aware that such tools can be risky since you would be buying ghost followers. However, this service distinguishes itself by promising a refund.
Having your money back won't solve anything if Instagram bans you. However, if you're bound on buying followers, you might as well buy from an agency that offers a refund for the worst-case scenario.
19. Ampya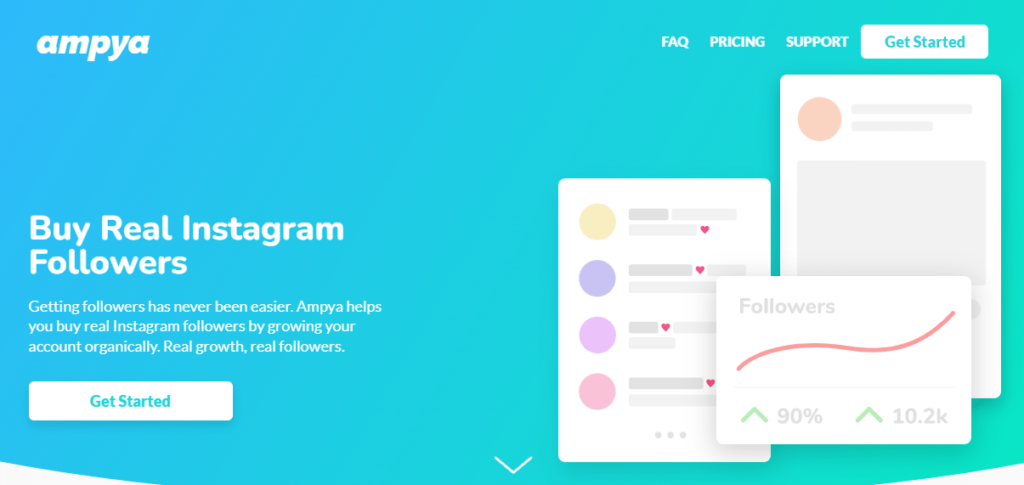 This platform offers real, organic growth to clients. And it does look like a legit Instagram growth service, yet we have our reservations because you should buy followers.And as mentioned multiple times, purchasing Instagram followers is never a good idea.
So, if you're in a hurry and would like to settle for quantity alone, Ampya can be one of the best Instagram promotion services for you.
20. Trusy Social: Instagram Organic Growth on Autopilot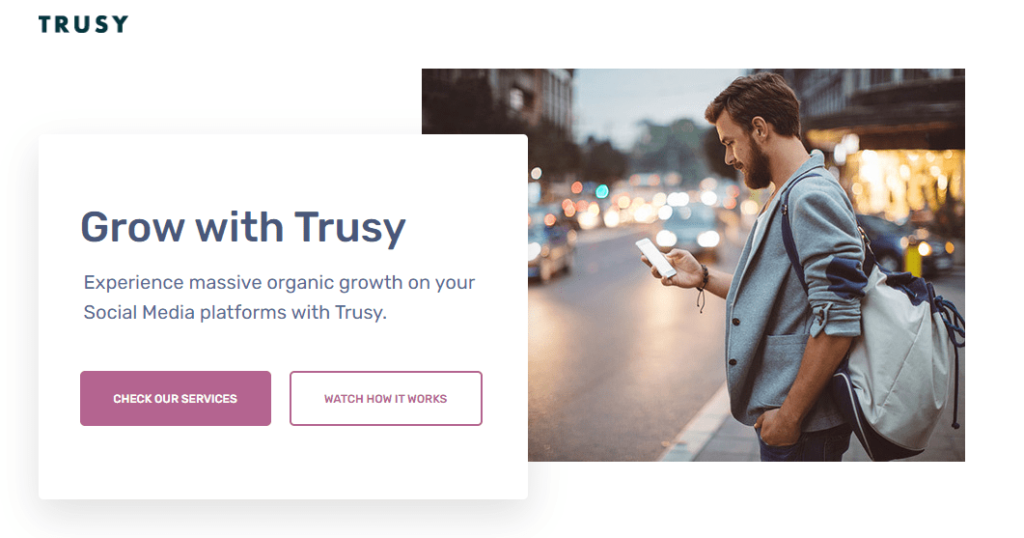 Trusy social claims to be the number one Instagram growth agency. And their motto is that you get to build a following on autopilot. Using this top Instagram growth service, you can build brand awareness on IG, attract new followers and bring about relatively safe growth.
Like AiGrow, this platform promises to dedicate human managers to your account. Yet, we don't know if they deliver that promise like AiGrow or only use it to get customers.
Conclusion on the Best Instagram Growth Services
Instagram has established itself as a platform no marketer can ignore. However, considering the fierce competition, it's not an easy social media network to crack. To facilitate faster integration, you need some assistance, and top Instagram growth tools can provide it. If you ask, 'How to grow my IG followers?' from us, we recommend AiGrow as your best, safest shot.
Can you expand our list of the best Instagram growth services? Please drop us a comment below and share your thoughts.